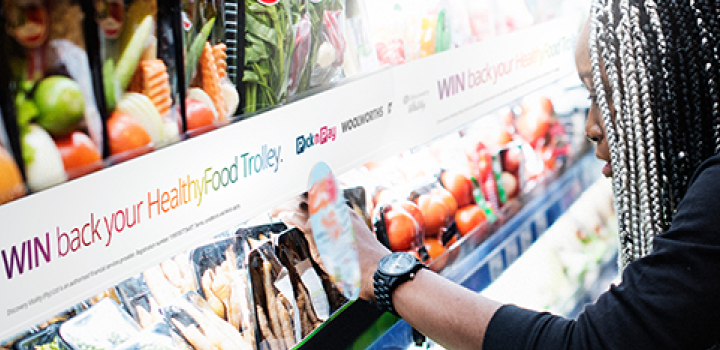 Over the next three months, we're going to take you on an experiential nutrition journey, where we'll encourage you to shop, cook and share. Plus two lucky members will stand in line to win a Masterclass with a celebrity chef!
We'll be taking you on an experiential nutrition journey over the next three months. On this journey, we'll encourage you to shop and cook with HealthyFood items. Share your food creations and stand a chance to be one of two super lucky winners to attend a Celebrity Masterclass of your choice at the HealthyFood Studio!
Previously, Vitality members have spent time in the HealthyFood Studio with the likes of Kamini Pather, Matt Manning, Pete Goffe-Wood and Jessica Sepel, to name a few.
Vitality members can win awesome prizes over the next three months. Simply follow the easy steps below and you could win one of these prizes that are up for grabs:
One member will win their HealthyFood trolley spend back to the maximum of R10 000.
10 Discovery Card holders will win a bonus 10 000 Discovery Miles each.
Two members will each win double tickets to a Masterclass of their choice at the HealthyFood Studio.
We'll help you find the perfect recipes and encourage healthy shopping at Pick n Pay and Woolworths, our HealthyFood partners. We'll even rope in a celebrity chef for a fun cooking session and cover your experience on social media.
In May we'll have you shopping for HealthyFood items and in June we will encourage you to get cooking and share your best tips and recipes with us. In July all you'll need to do is share your HealthyFood cooking with us and stand in line to win the grand prize of a Masterclass with your chosen celebrity chef. Look out for more details on the promotion coming your way over the next two months. If you're up to the #ShopCookShare challenge, here's how to enter:
Step 1: Shop for HealthyFood items this May
Think healthy! In May, we'll encourage you to make healthier shopping decisions by using our HealthyFood catalogues and the great nutrition tips available on our website. We've made it easy for you to spot healthy options easily. Just look out for HealthyFood items marked with the Vitality stamp when shopping at our HealthyFood partners, Pick n Pay and Woolworths.
You could win 10 000 Discovery Miles, plus your HealthyFood spend back
We also have an exciting competition giving you the chance to win back your entire HealthyFood spend for May. This is your chance to save hundreds on groceries this month. To enter the competition, simply stock up on HealthyFood items at Pick n Pay or Woolworths, and you could win back what you've spent on your entire HealthyFood trolley!
That's not all - 10 lucky Discovery Card holders, can win a bonus 10 000 Discovery Miles. Terms and conditions apply.
Step 2: Share your best tips and recipes in June
Don your chef's hat in June as you try your hand at healthy cooking, using our delicious HealthyFood Studio recipes. Download your favourite recipes and remember practice makes perfect, so keep trying to make these delicious healthy meals, which could get you into the draw to win big in July. Don't forget to use the healthy ingredients you bought in May when cooking these healthy meals.
For those of you that are in Johannesburg, you can visit and book a course at the Vitality HealthyFood Studio and start making scrumptious, nutritious meals!
Step 3: Win a Celebrity Masterclass experience at the HealthyFood Studio
You could be one of two lucky Vitality members to win a Celebrity Masterclass of your choice. This includes fine dining at its best at the HealthyFood Studio where you and your partner can learn how to cook a nutritional full-course meal from start to finish.
Make sure your trolley is filled with healthy foods, keep reading our newsletter and follow us on social media to get competition updates, tips on healthy eating, exciting Vitality offers and lots more!
Vitality incentivises healthier food choices - and gets results!
Changing what we buy when grocery shopping can be encouraged through incentives. The Vitality HealthyFood benefit shows that when members received a discount and earned Vitality points for buying healthy items, they purchased over 9% more healthy foods, 8.5% more fruits and vegetables, and just over 7% less unhealthy foods.
Read the full report in the 2017 ObeCity Index and activate the HealthyFood benefit to start being rewarded for healthy food choices!