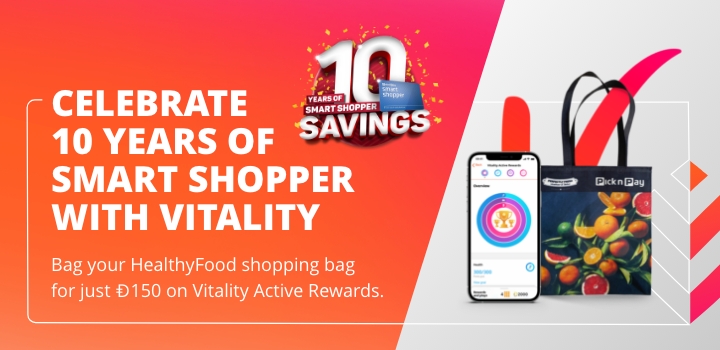 Hi Smart Shopper, in celebration of Pick n Pay's Smart Shopper anniversary you can now get a reusable Citrus shopping bag valued at R25, for just 150 Discovery Miles. Only on Vitality Active Rewards.
The Pick n Pay Smart Shopper programme is turning 10! And to celebrate, we're rewarding you with a massive discount on a reusable HealthyFood Citrus shopping bag from Pick n Pay.
1 exercise goal = a stylish (and sustainable!) bag for your groceries
You certainly deserve a beautiful shopping bag to go with that very healthy groceries list. You can get yours at Pick n Pay with just Ð150, until 30 November 2021. Don't have enough Miles? Simply achieve one exercise, drive or money goal and play the game board to earn enough Discovery Miles for your bag.
The HealthyFood shopping bag is valued at R25, so you get a 40% saving if you get yours for Ð150 on Vitality Active Rewards.
To collect your reward, simply show the QR code in your Discovery app to the cashier at any Pick n Pay store nationwide. This limited offer is valid from 18 October to 30 November 2021 - so don't miss out!
Keep an eye out on our Facebook, Twitter and Instagram pages for more updates and information.
Get healthy. Get rewarded. Live life with Vitality.