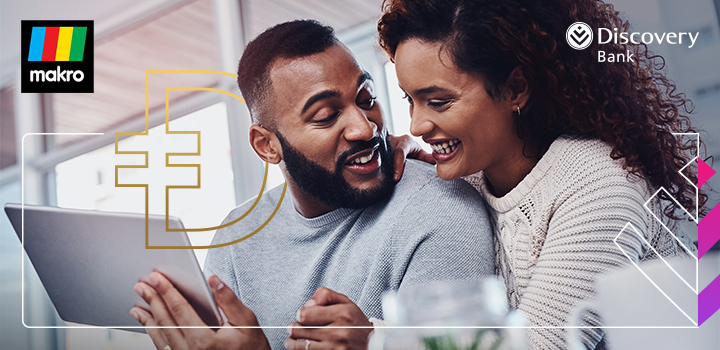 You can now save between 5% and 20% when you spend your Discovery Miles with our new online retail partner, Makro.
Fantastic news, Makro fans. The popular and versatile retail chain is now part of the Discovery Miles online partner network.
Shop online at Makro and save up to 20%
If you're a Vitality member and a Discovery Bank client with Vitality Money, you can now save between 5% and 20% when you spend your Discovery Miles* online at www.makro.co.za.
Imagine the world of quality branded products you can unlock with your Discovery Miles at Makro. Get everything you need for your home, office, holiday, school, DIY, leisure and more at competitive prices, and now at an up to 20% discount.
How does the up to 20% discount work?
You'll get 5% off for every Vitality programme that you've activated - Vitality Health, Vitality Drive and Vitality Money - plus an additional 5% for having a Discovery Bank Suite with Vitality Money. Learn more about your 20% Discovery Miles discount.
Plus, double your Discovery Miles discount on Miles Ð-Day
Discovery Miles are already more valuable than cash. But on Miles Ð-Day, they're worth even more!
With Discovery Bank, you can now get up to 40% off when you spend your Discovery Miles at our online and in-store partners on the 15th day of every month.
But hurry! Miles Ð-Day only runs for 24 hours. One day. Every month. Find out more about how you can save on Miles Ð-Day.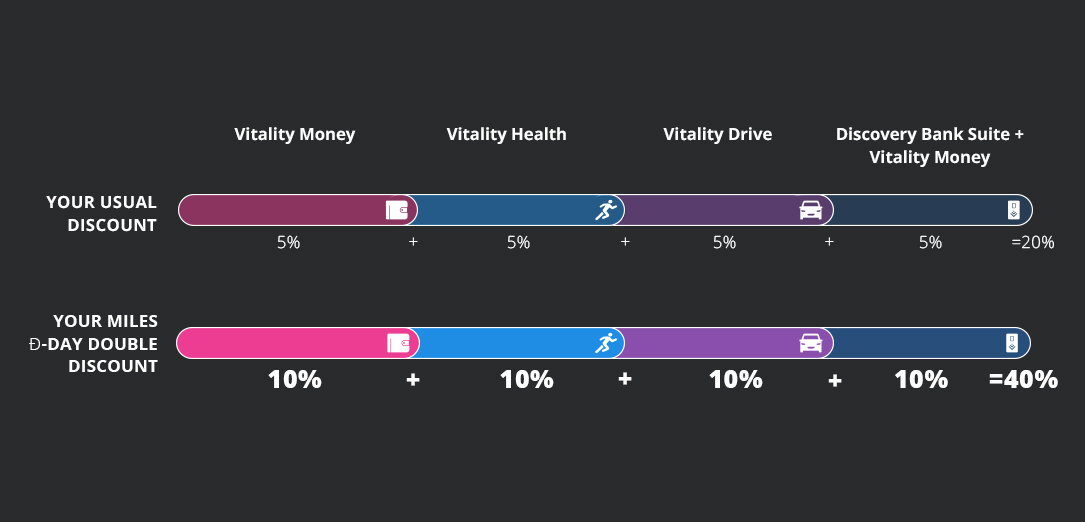 How to get your discount at Makro
Make sure you have enough Discovery Miles in your account to cover the full amount, because you won't be able to pay the rest with your Discovery Bank card yet. We'll let you know when multiple payment methods are enabled when spending Discovery Miles.
Complete your online shopping on www.makro.co.za.
At checkout, select Discovery Miles to pay for the total value of your basket.
Log in to the payment platform using your Discovery details.
Your 5% to 20% discount will be applied automatically to your purchase during checkout.
Keep an eye on our Vitality latest news page or Facebook, Twitter or Instagram for more updates and information.
*Discovery Miles do not constitute currency or any other medium of exchange in circulation in South Africa. Rewards based on your engagement in Vitality programmes, Discovery products, and monthly qualifying card spend. Discovery Bank, Auth FSP. Limits, Ts&Cs apply.