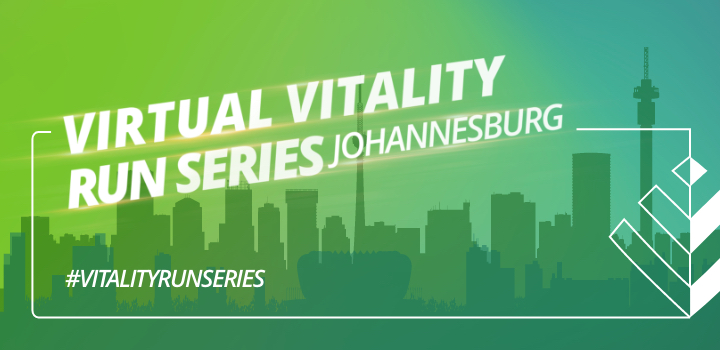 Don't miss the Johannesburg Virtual Vitality Run Series from 7 August to 19 September 2021. You can earn 600 Vitality points for each race you complete. Plus, stand a chance to
win

when you run all four.
It's your time to shine! Get ready to run for fun (and great rewards) in the next Virtual Vitality Run Series.
Why enter the Johannesburg Virtual Vitality Run Series?
For the rewards, of course! You can earn 600 Vitality points for each event you complete. Plus, complete all four events in the series and you could stand a chance to win a Fitbit Inspire 2. What are we missing? Your virtual medals, of course. You will receive a virtual medal for each race you complete, remember to complete all four races to complete your medal!
Of course, Team Vitality members get 50% back on their race entry fees. Plus, enjoy exclusive VIP hospitality (even virtually) from Woolworths.
But that's not all! The beauty of a virtual race is that anyone can run anywhere in our gorgeous country without leaving their hometown. All you need is a Vitality-linked fitness device or the Strava app, and you can paint Joburg orange with us!
Race entry details
Challenge yourself - choose between a 5 km, 10 km or 21 km distance for each event:
You can choose to run on a Saturday or Sunday. Each event is R90.
Don't have the Strava app? Team Vitality members get 50% off a 12-month Strava subscription. Feeling too cold to run? Join Team Vitality before 31 August and get a special edition Team Vitality buff, socks and a myrun timing band. Need extra practice before the series? Stay on top of your game with weekly virtual challenges.
What are you waiting for?
How to earn Vitality points and get rewarded
To earn your 600 Vitality points, run for at least 5 km and remember to link your fitness device or your Strava app to Vitality. Here's how:
Open your Discovery app and go to Vitality > Devices and apps > Link a device or app to link your Vitality-approved fitness device or Strava app.
This allows us to receive your distance and heart-rate data so we can award your Vitality points.
You can start your run or walk anytime on the Saturday or Sunday of the virtual race, which will end at 23:59 on the Sunday of each event.
Stay safe on your run and make sure you follow all COVID 19 regulations for exercise.
Please note:
Accumulative steps and distance over a day won't be eligible for points.
A workout needs to be started and ended within an acceptable time frame for the distance completed. If your fitness device cannot track a start/stop workout, please download the Strava app and link it to the Discovery Vitality app to record your workout.
Participants may complete a minimum distance of 5 km and record a walking or running workout on their fitness device or Strava App that is linked to the Discovery app. When selecting a walk workout, 5 km needs to be completed within 2 hours.
Make sure to sync your fitness device after each event to ensure Discovery Vitality receives your data.
Vitality points will reflect 5 to 7 working days after completing each event.
Keep an eye on our Facebook, Twitter or Instagram pages for more updates and information.
Stay active. Stay safe. Stay rewarded.
The Vitality Running World Cup is almost here!
Join in for free from anywhere and run for South Africa. Download the Vitality Running World Cup app to get started.