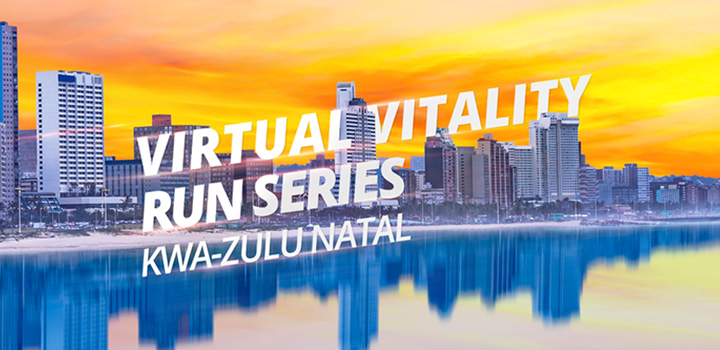 KwaZulu-Natal, your Virtual Vitality Run Series is here! Join us for three incredible virtual races from 1 to 30 May 2021. You can earn double Vitality points for each race PLUS stand a chance to win amazing prizes when you run all three!
The Virtual Vitality Run Series is back by popular demand - this time in KwaZulu-Natal.
Why enter the next virtual Vitality Run Series?
The beauty of a virtual race is that anyone can run anywhere in our amazing country without leaving their neighbourhood. All you need is a fitness device or the Strava app and you can paint the whole country orange with us. So, achieve your exercise goals safely, get rewarded and earn 600 Vitality points for each event you complete.
To earn your 600 Vitality points, remember to link your fitness device or your Strava app to Vitality and run at least 5 km.
Plus, complete all three events in the Virtual Vitality Run Series to stand a chance to win one of six Huawei Watch Fits from Huawei! (T&Cs apply)
Race entry details
2 down, 1 to go! Congrats to all those who took part in the Stella Run and Checkout Challenge. You still have 1 more race to give it your all. You may choose between a 5 km, 10 km and 21 km distance for the event.
Checkout Challenge - 15 & 16 May 2021
ENTER NOW
Upon completion of each event, you will receive a R50 virtual voucher to use towards an online purchase at Solly M Sports. (T&Cs apply)
Team Vitality members get all the perks!
Team Vitality members get up to 50% cash back on race entry fees and a VIP virtual hospitality voucher from Woolworths.
Plus, get 50% off a 12-month Strava subscription for access to in-depth performance data, safety features, route planning and tracking, and much more.
What are you waiting for?
How to earn Vitality points and get rewarded
You can earn 600 Vitality points for running at least 5 km. Don't forget to track your workout on Strava or with a Vitality-linked fitness device to earn your points.
Link your Vitality-approved fitness device or Strava app to the Discovery app: Vitality > Devices and apps > Link a device or app.
This allows us to receive your distance and heart-rate data so we can award your Vitality points.
You can start your run or walk anytime on the day of the virtual race, which will end at 23:59 on the Sunday of each event.
Please make sure you follow all legal government regulations for exercise.
Watch this space and our Facebook and Twitter for more announcements on the upcoming Virtual Vitality Run Series in Gauteng.
.
Stay active. Stay safe. Stay rewarded.
Event terms and conditions apply.