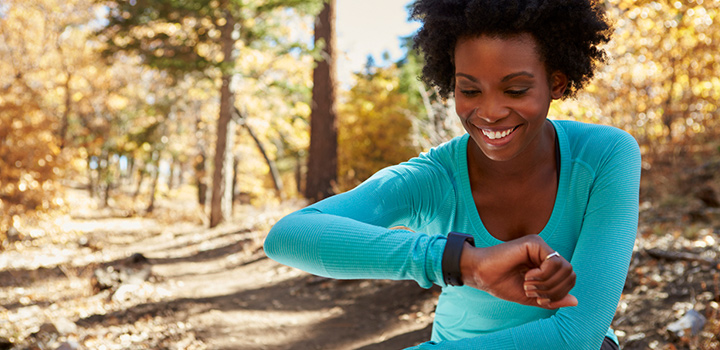 Vitality offers you many exciting ways to earn points and get to your next status. There are points-earning activities for everyone, from physical activities, healthy eating and screening and preventative tests.
The healthier you get the more you're rewarded. We are here to help you understand how healthy you are and provide you with the tools and support you need to improve your health, and we offer great rewards to motivate you along the way.
Every time you do healthy activities like going for a preventive screening test, buying healthy foods and getting physically active, you can earn Vitality points and increase your Vitality status.
At the start of every year, your Vitality points reset to zero, but you still keep the rewards and status level that you earned the previous year. This is to help encourage you to keep healthy each year.
Earning your points by getting active and staying fit
As a Vitality member, there is something for everyone when it comes to getting active and staying fit - whether you enjoy the fresh air of the great outdoors or you want to challenge yourself and build strength.
Here are some ways you can earn Vitality fitness points and achieve your Vitality Active Rewards goals each week:
Get rewarded for eating healthy
Healthy eating plays a major role in your wellness. Make healthier eating choices and we will reward you for your diet. To earn Vitality points by eating healthier you can:
Visit a dietitian and learn about healthier eating habits. You can earn 1 000 Vitality points for your consultation per year.
Earn up to 12 000 Vitality points per year for buying HealthyFood.
Click here to read more about earning Vitality points through nutrition.
Understand your health through screening and prevention tests
Take a proactive approach to your wellbeing and learn about your health by going for various health checks suited to your age and gender. Start by finding out your Vitality Age to find out how healthy you are relative to your actual age and earn 1 500 Vitality points. Then complete your Vitality Mental Wellbeing Assessments and earn 500 points twice a year.
Do a Vitality Health Check and earn up to 22 500 Vitality points depending on how many results are in range.
Do a Vitality Fitness Assessment at a biokineticist in the Vitality Wellness Network and you can earn up to 7 500 Vitality points depending on how fit you are.
Do further health checks at a GP or specialist to earn more Vitality points:
Pap Smear - 2 500 points
Mammogram - 2 500 points
Colonoscopy - 2 500 points
HIV Test – 7 500 points for the first HIV screening then 1000 points per year thereafter.
Dental Health Check - 1 000 points
Flu vaccination - 1 000 points
Senior activities up to 7 500 points
Senior Vitality members (60 years and older) get additional points for doing a vision test, going for certain vaccinations and activating Vitality Active Rewards. Visit www.discovery.co.za for more information.
Don't forget that you can also use the Vitality Calculator to see how you can earn points throughout the year as you get healthier with Vitality and earn greater rewards.
The Vitality Calculator
Get healthy and rewarded has never been simpler
Would you love to eat healthier, but not sure where to start? Do you need a little motivation to get off the couch and get active? What if we told you that we would reward you as you get healthier?
Use the Vitality Calculator to show you how every time you take a step to understand and improve your health, you can earn Vitality point and enjoy great rewards.