Helping Orange Farm go green
Arbor Day is celebrated globally each year as a reminder of the role that trees and forests play in our ecosystem. We know that without trees there would be no life.
In South Africa, Discovery joined the celebration of National Arbor Week from 3 – 7 September 2018 through an initiative to plant trees and herb gardens at Mfundo-Mtoti and Pohopedi Primary Schools in Orange Farm. This took our environmental efforts beyond Discovery and into a community where we have a long and cherished relationship.
Discovery also has a long-standing partnership with Food & Trees for Africa (FTFA), who joined us in planting 30 trees and 50 herbs at the schools. The Karee Tree, River Bushwillow and Wild Olive are all fast growing, frost and drought resistant indigenous trees. As measured by FTFA, it provided a total carbon offset of 11.7 tonnes of CO2 over the lifetime of the trees.
With the participation of leaners, teachers and principals, it was an opportunity to educate everyone about the benefits of trees, care and maintenance, while helping to transform the surrounding environment.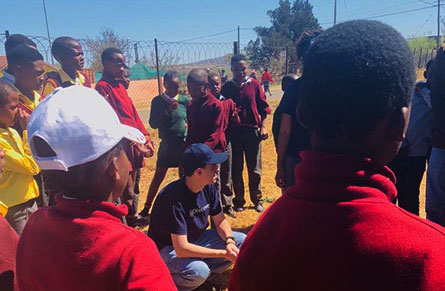 Across our Discovery campuses, we have implemented greening initiatives to maintain a green and healthy office environment. At 1 Discovery Place we celebrate our rich African bio-diversity in the atrium and rooftop gardens, with a variety of indigenous tree species chosen for being water-wise, beautiful and for their air-purifying abilities. We have at least one plant per square meter – amounting to over 2 424 plants in total. Our water features are also chemical-free, using natural gravel and plants to filter and clean the water.
And on Arbor day itself, employees could collect wildflower seeded paper to take home and plant, as a gift that truly keeps on giving.
In Sable Park in Cape Town, we have 168 pot plants scattered across the building, with three of the plant species well-known for their air-purifying abilities.