Expanding and deepening shared value for all
Healthier people live longer, enjoy better quality of life and require less medical attention.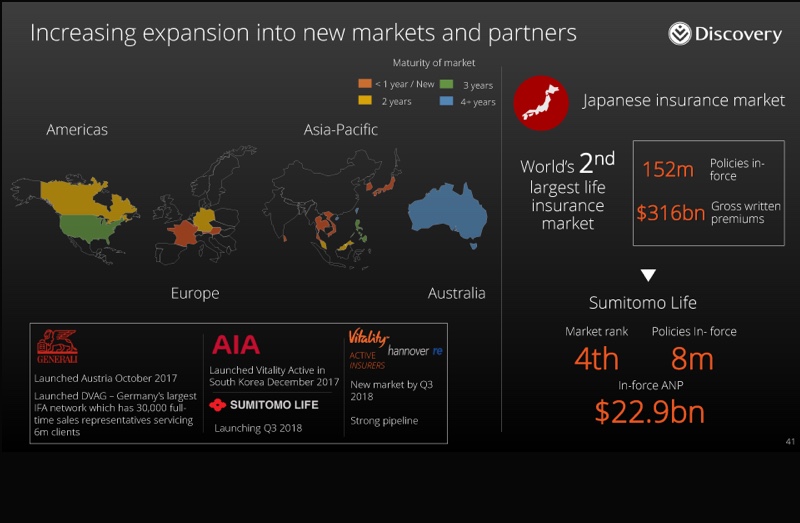 In line with our twin ambitions of being the best insurer in the world as well as a force for social good, the 2018 financial year was about accelerating and amplifying the Discovery shared-value model so that its benefits might be extended to as many people as possible, both in our home market of South Africa and globally. Discovery has put energy into new markets, new partnerships and new products designed to extend access and coverage.
With strong performance from our established products in South Africa and the United Kingdom, 2018 saw Discovery expanding in four global markets –China, Japan, Australia and the United States.
The Vitality model underpins all our businesses, and Discovery is committed to understanding the unique features of each new market to give full expression to what 'shared value' might look like in different geographies. Ping An Health in China saw 70% year on year growth in 2017 showing that the shared value model can have universal appeal. Sumitomo Life in Japan and AIA Vitality in Australia have also continued to develop and grow, and in October 2017 we launched a new venture with Generali in Austria.
New partnerships have also amplified our reach and impact in delivering on our ambition to be a force for social good. The partnership between Discovery Insure and the rental car company Avis, aimed at improving driving and reducing harm on South African roads through technology, has enjoyed great success. Our ongoing partnerships with Apple, for our Active Rewards programme, and Disney for Vitality Kids in South Africa and Healthy Kids in the UK continue to encourage more physical activity, more often.
The announcement of the arrival of Discovery Bank signalled the introduction of a new banking model to the market. Discovery Bank intends to extend and expand our shared value philosophy into the banking sector. We will report on the Bank's new and innovative services and products, and their contribution to a healthier society, in our 2019 report.