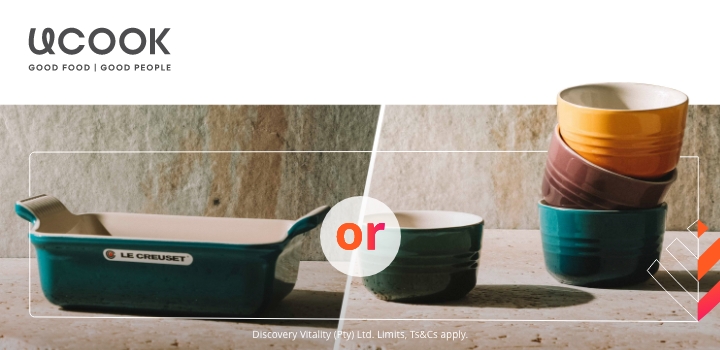 Summer suppers (and breakfasts and lunches) are sorted with UCOOK and Vitality HealthyDining. Save on time and money when you make healthy eating choices. Plus, get a free Le Creuset gift with your first purchase!
We're taking back summer this year, so don't let planning healthy meals for the week eat into your time off. With Vitality HealthyDining and UCOOK, you're guaranteed a delicious, nutrititious meal that cuts out the prep time, so you can maximise your well-deserved time in the sun - and save, too.
In addition to getting up to 25% back on HealthyDining Meal Kits and ready-made Frozen Craft Meals from UCOOK, Vitality members who are new to UCOOK will get a free Le Creuset gift with their first UCOOK order. Ts & Cs apply. The gift you'll receive will be a set of 4 ramekins or a 19 cm rectangular dish, if you order by 15 December 2021.
How to get started:
Step 1: Makes sure you've activated Vitality HealthyDining on the latest version of the Discovery app.
Step 2: Login to UCOOK or sign up for a UCOOK account on www.ucook.co.za.
Step 3: Under your UCOOK profile settings or at check out, enter your ID or passport number for a once off activation to verify your Vitality account. This applies to existing profiles or if you are creating a new profile.
Step 4: Activate your UCOOK subscription on the subscriptions page: https://www.ucook.co.za/me/subscriptions.
Step 5: Select meals with the Vitality HealthyDining indicator and add them to your cart.
Step 6: Add the code #DISCOVERUCOOK on check out to ensure that your Le Creuset gift is added to your cart.
Step 7: Complete your order by clicking 'Save'.
Once UCOOK has received your HealthyDining order, your Le Creuset gift will be included with your UCOOK delivery. Vitality will also give you up to 25% of your HealthyDining spend back the following month. You can read a detailed statement in the Discovery app after placing your order.
How to get started with Vitality HealthyDining
Haven't activated Vitality HealthyDining yet? Follow the steps below to get up to 25% back on convenience and ready-made meals, PLUS 50% back on healthy kids' meals.