Discovery is a proudly South African-founded financial services organisation that operates in the healthcare, life insurance, short-term insurance, long-term savings, banking and wellness markets.
Since inception in 1992, Discovery has been guided by a clear core purpose - to make people healthier and to enhance and protect their lives. We have been able to do this by pioneering the Shared-value Insurance model, which delivers better health and value for clients, superior actuarial dynamics for the insurer, and a healthier society. The success of the model in the markets where we operate has been testament to its importance to society.
Our Shared-value Insurance model
To make people healthier and enhance and protect their lives, we must look at what compromises their health, wealth and safety, and the context we operate in. Our Shared-value Insurance model delivers better health and value for clients, superior actuarial dynamics for the insurer, and a healthier society. Key to delivering on our model, is a deep understanding of the reasons for the shift in the nature of risk.
The nature of risk is behavioural
4
lifestyle behaviours
4
chronic conditions
---
Responsible for
60%
of all deaths worldwide
5
driving behaviours
3
driving conditions
---
Responsible for
60%
of fatal accidents
3
financial behaviours
3
outcomes
---
Responsible for
90%
of South Africans having inadequate retirement funding
5
financial behaviours
3
outcomes
---
Responsible for
80%
of credit defaults and retirement shortfalls
4
lifestyle behaviours
---
Responsible for
85%
of personal and household CO2 emissions
Improving risk through our Shared-value Insurance model
The model provides clients with access to a range of pathways and incentives to lessen their personal risk and improve their behaviour through three programmes - Vitality Health, Vitality Drive and Vitality Money.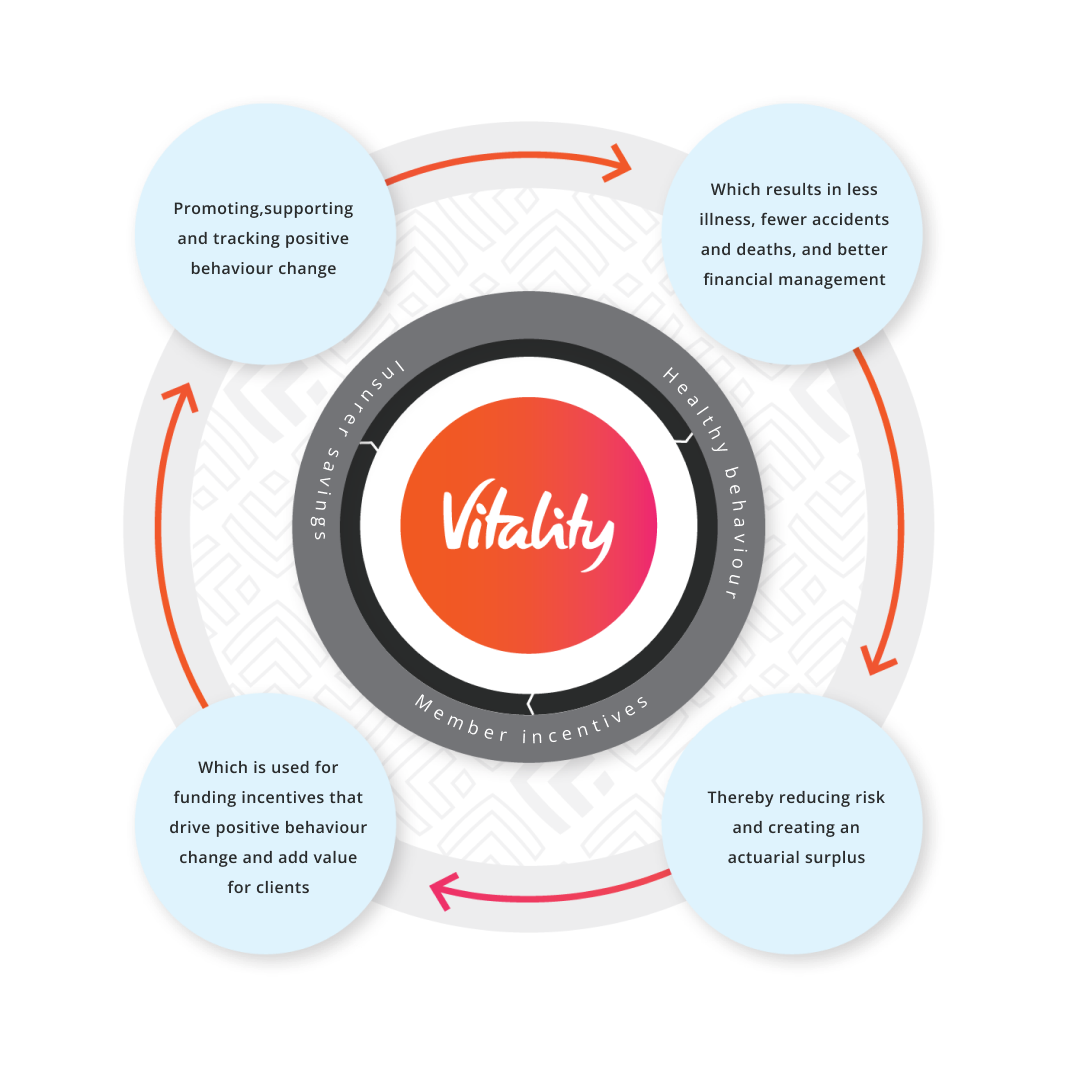 Independent research validated our model for its positive impact on reducing healthcare costs, resulting in improved profitability - a portion of which is channelled back into funding and incentives that drive positive behaviour change, thereby creating ongoing value that is shared between our clients, the business and society. In this way, Insurance and financial risks are no longer a function of a person's circumstances when taking up the product, but rather how they manage their behaviour across health, driving and financial management.
Where we operate
Shared-value Insurance is exported and scaled through the Global Vitality Network, an alliance of some of the largest insurers across key markets, including Asia-Pacific, Europe, North America and South America. In 2021, Vitality Health International introduced shared-value health insurance to employer groups and Travel for Treatment service to the rest of Africa.
Geographical presence
Operational in
41 Markets
Market capitalisation of
R100 Billion
as at September 2023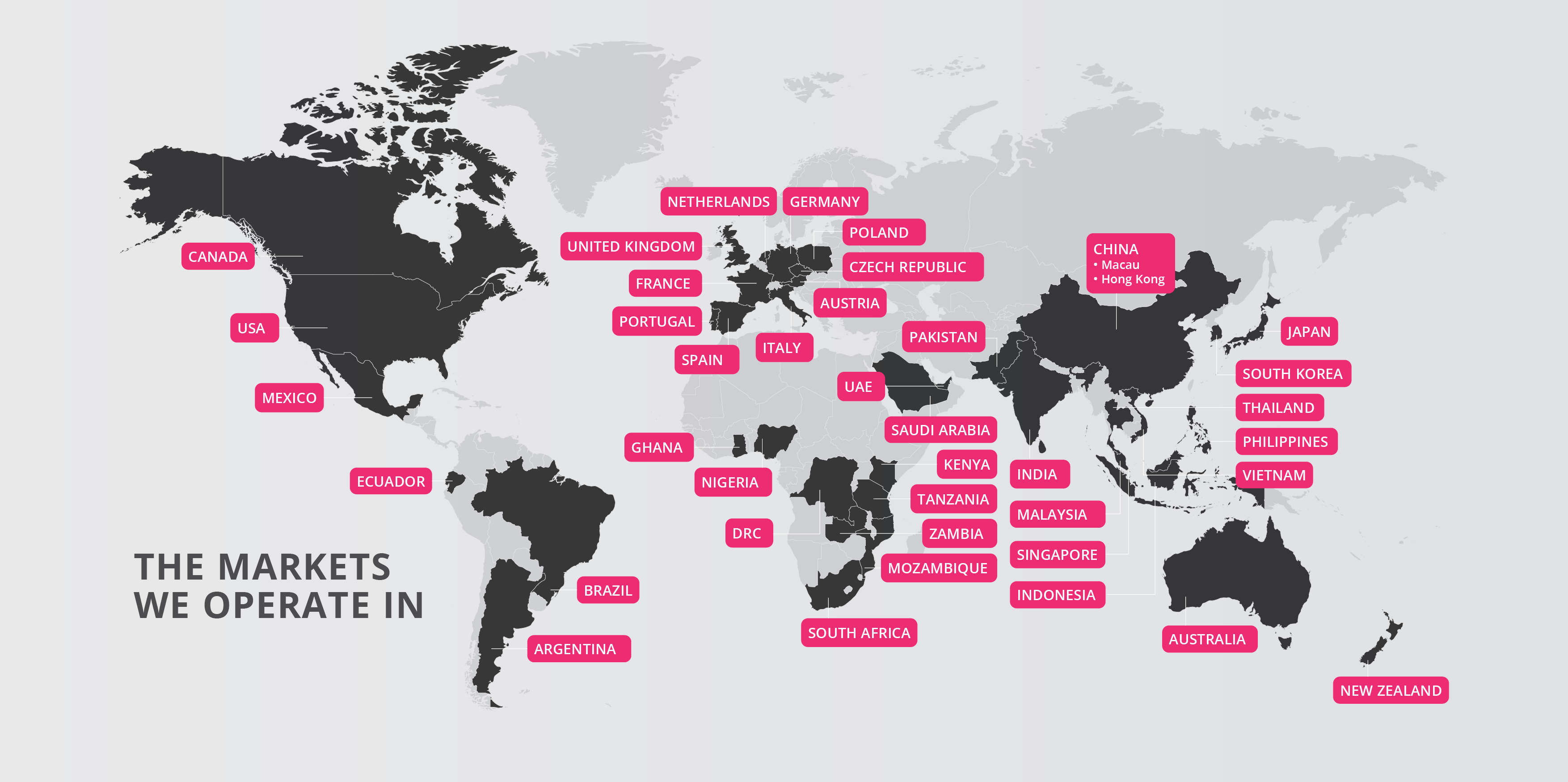 What we do
We seek disruption as we lead a global transformation in financial services. Our market-leading businesses are built to create a compelling value proposition for clients through products that are innovative and can deal with complex issues. We build businesses from the ground up that grow organically and our shared-value approach - which is scalable, repeatable and globally relevant - is central to each business. We apply our Vitality behavioural platform to any institutional capability - banking, savings, health, life or other insurance - in a Discovery-owned business or through our strategic partnerships.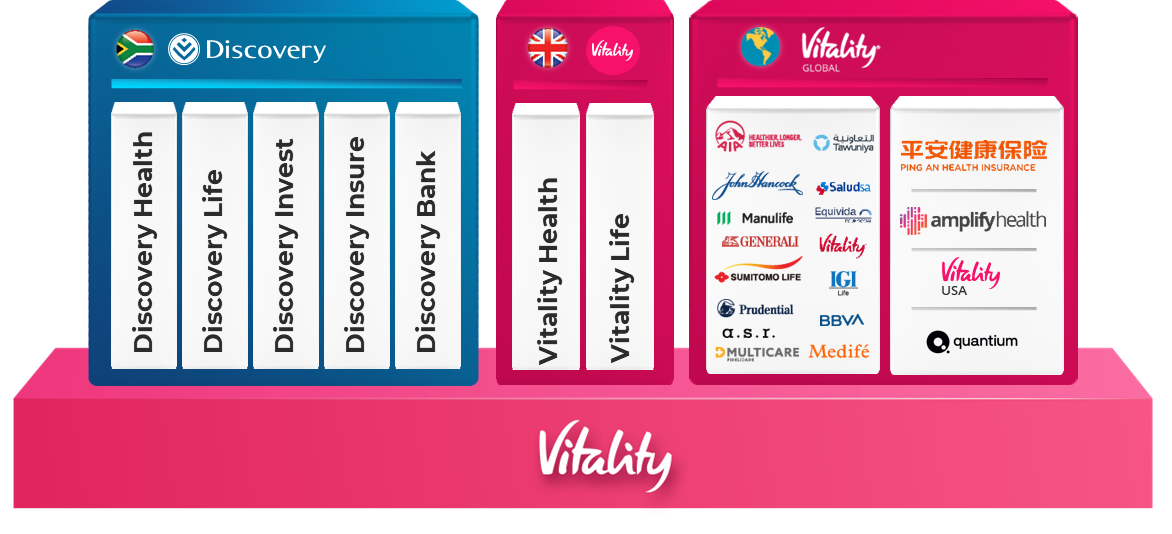 South Africa
We are a market-leading South African company with a dominant presence in the life insurance, medical scheme administration, short-term insurance, long-term savings, and banking industries. The South African operations are made up of the following businesses:
Discovery Health is South Africa's largest medical scheme administrator and managed care provider, managing over 39% of the total membership of South African medical schemes. Non-medical scheme-related products such as gap cover, Flexicare and Healthy Company are also offered.
Discovery Life offers comprehensive life, capital disability, income protection, severe illness, and funeral cover, to individual and business clients with a retail-affluent market share of 30%.
Discovery Insure offers innovative and comprehensive car, home, and business insurance and has been entrusted with over 285 000 cars on South African roads.
Discovery Invest offers a comprehensive and flexible range of local and offshore investment plans to both retail and corporate clients and has over R120 billion in assets under administration.
Discovery Bank is a full-service digital retail bank offering a range of products. It has attracted over 1 million accounts within three years of the launch date.
United Kingdom
Our success and learnings in South Africa allowed us to launch in the UK market with great success, with Vitality UK comprising the following businesses:
VitalityHealth specialises in Private Medical Insurance, providing unique and comprehensive health and wellbeing solutions to individuals, corporates, and small and medium businesses.
VitalityLife provides long-term life, serious illness, and income protection cover to individuals.
Vitality Global
Vitality Global is responsible for expanding Discovery's Shared-value Insurance model outside South Africa and the United Kingdom. Vitality Global has two distinct business units:
Vitality Network operates by licensing the Vitality programme and related expertise, data and technology to insurance partners across the globe.
Vitality Health International leverages both Discovery Health and Discovery Vitality's IP to create strategic partnerships, primarily through equity arrangements, with health insurance players in markets. In other countries in Africa, the business launched Vitality Health International and the two key partnerships in Vitality Health International are Ping An Health and Amplify, in which Discovery owns 25% and the balance owned by Ping An Group and AIA, respectively.
1992

Discovery Limited is started up and initially established as a small specialist risk insurance company with the support of Rand Merchant Bank.

1993

Discovery launches Discovery Health

1997

Discovery launches Vitality

1999

Discovery lists on the JSE

2000

Discovery launches Discovery Life

2004

Discovery launches Discovery Card

---

Discovery and Prudential plc announce joint venture and launch PruHealth in the UK

2007

Discovery launches Discovery Invest

---

Discovery expands its UK presence through the launch of PruProtect in partnership with Prudential plc

2009

Discovery expands into China by acquiring 25% of Ping An Health, a wholly owned subsidiary of Ping an Group

2010

Discovery expands PruHealth book by acquiring Standard Life Healthcare

2011

Discovery launches Discovery Insure

2012

Discovery launches Vitality to Ping An Health clients in China

2013

Discovery announces joint venture with AIA group to form AIA Vitality

2014

Discovery takes full ownership of PruHealth and PruProtect in the UK and rebrands to VitalityHealth and VitalityLife

---

Discovery expands into Australia in partnership with AIA

2015

AIA Vitality is launched in the Philippines, Hong Kong and Macau

---

Discovery expands into the United States in partnership with John Hancock

---

AIA Vitality is launched in Singapore and Australia

2016

AIA Vitality is launched in Thailand and Malaysia

---

Generali Vitality is launched Germany

---

Discovery expands into Canada in partnership with Manulife

2017

Generali Vitality is launched in France

---

AIA Vitality is launched in Sri Lanka

---

AIA Vitality is launched in Vietnam

---

Generali Vitality is launched in Austria

2018

Discovery expands into Japan in partnership with Sumitomo Life Insurance co and SoftBank corporation

---

AIA Vitality launched in South Korea

---

Discovery launches Umbrella Funds

---

Discovery launches VitalityInvest in the UK

---

Discovery launches Discovery Business Insurance

2019

Discovery expands into Pakistan in partnership with IGI Life

---

AIA Vitality launched in New Zealand

---

Discovery expands into Ecuador in partnership with Equivida and Saludsa

---

Discovery expands into the Netherlands in partnership with a.s.r

---

Discovery launches Discovery Bank

2020

Discovery expands into Argentina in partnership with Prudential

---

Discovery expands into Saudi Arabia in partnership with Tawuniya

---

Discovery expands into Portugal in partnership with Multicare and Fidelidade

2021

Discovery introduces Vitality Health International

---

AIA Vitality launches in Indonesia

---

Discovery expands into Mexico in partnership with BBVA Bancomer

---

Discovery expands into Spain in partnership with Generali

---

Discovery launches into Brazil in partnership with Prudential

---

Discovery expands into Italy in partnership with Generali

2022

Discovery launches Amplify in partnership with AIA

---

Discovery expands into Mozambiquť

---

Discovery expands into Nigeria

---

Discovery expands into Kenya

---

Discovery expands into Ghana

---

Discovery expands into Zambia

---

Discovery expands into DRC

---

Discovery expands into Czech Republic in partnership with Generali.

---

Discovery expands into Poland in partnership with Generali

---

Discovery expands into India

2023

Discovery expands into Tanzania