Experience revolutionary payments

- all from the palm of your hand
With Discovery Bank, you have so many convenient, innovative and secure ways to pay, right at your fingertips.
You can pay in seconds using just a phone number, a virtual card, or through instant payments, 24/7. Pay on the go with Apple Pay, Fitbit Pay, Garmin Pay, Google Pay and Samsung Pay, and even settle your medical bills instantly.
Use your
Discovery Bank card
To pay
in-store
Make tap-and-go payments wherever you see the contactless payment symbol. Simply tap your Discovery Bank card on the contactless reader and enter your PIN, if requested. When tap-and-go isn't available, you can also insert your Discovery Bank card to make secure chip-and-PIN transactions or swipe your Discovery Bank card (at the merchant's discretion).
To pay
online
Shop online using your Discovery Bank physical and virtual cards' unique 16-digit card numbers, expiry dates and CVVs.
You can view these details for both physical and virtual cards in the Discovery Bank app.
Bank smarter with
a virtual card
Our virtual card gives you a seamless digital banking experience with state-of-the-art security for safe and secure contactless payments. Virtual cards are a digital alternative to physical cards. They offer additional levels of security and convenience, and the same benefits and rewards. Virtual cards are issued instantly, so you can start shopping immediately. You can add as many virtual cards as you need on the Discovery Bank app, at no cost.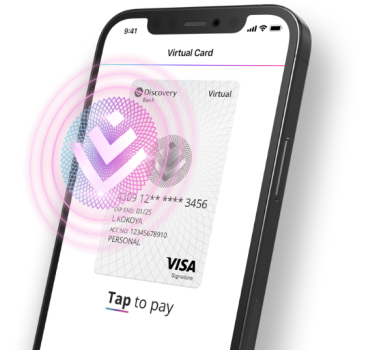 Pay in over
60 foreign currencies
With a Discovery Bank Forex Account, you can make secure online payments in over 60 foreign currencies. Plus, get a real-time conversion quote instantly in your banking app before you make a payment. Planning an overseas trip? Add a free, smart virtual card to make secure payments anywhere outside South Africa, or add a smart, physical debit card to withdraw money and make in-store payments abroad.
More on Discovery Bank Forex Accounts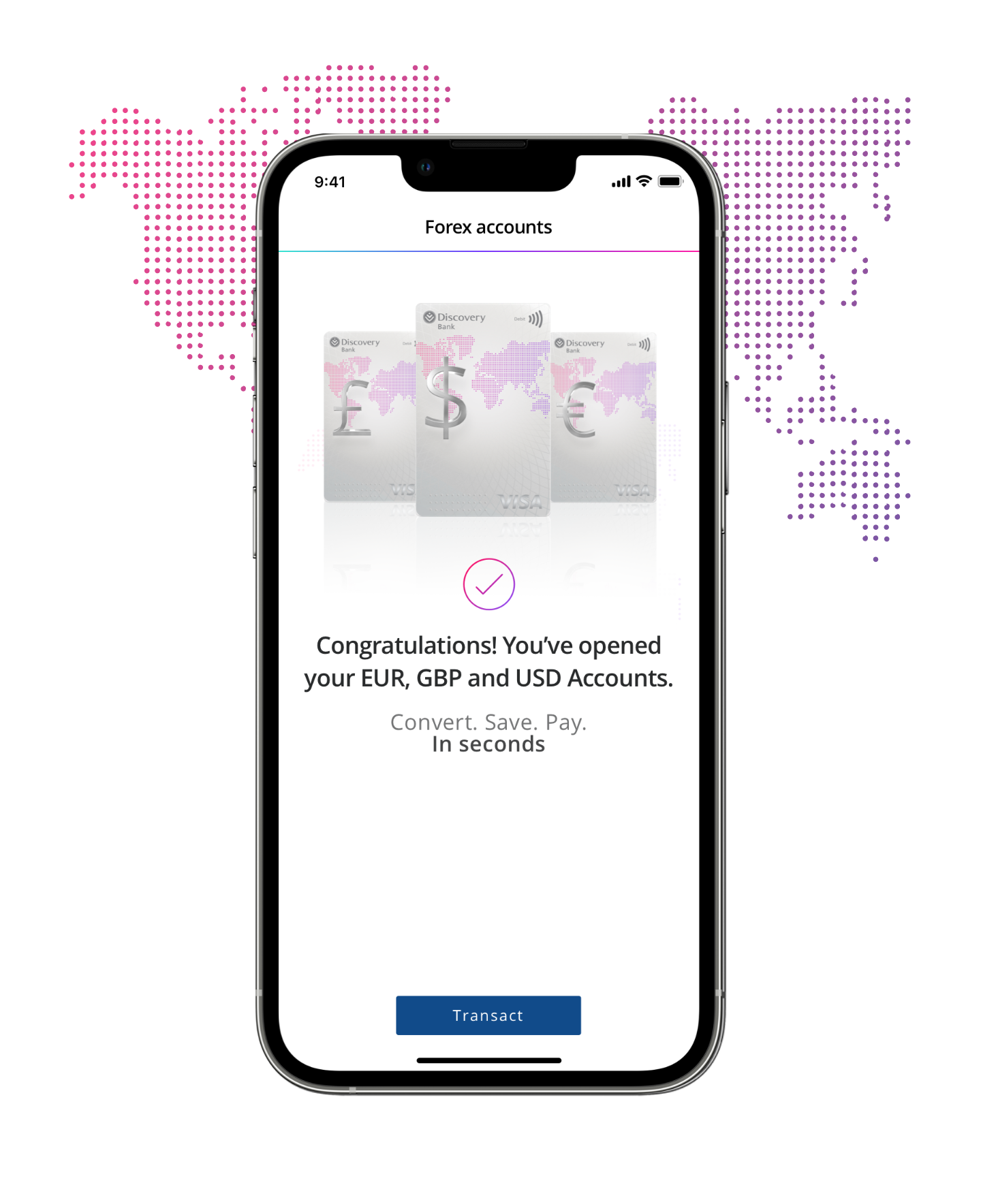 Tap to pay

with Discovery Bank
Discovery Bank brings you banking on the go. Link your bank card to your digital wallet of choice to make tap-and-go payments through Apple Pay, Fitbit Pay, Garmin Pay, Google Pay and Samsung Pay.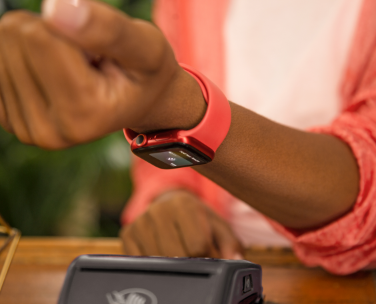 Pay with your
Discovery Miles
Get up to 15% off when you spend your Discovery Miles at our in-store and online retail partners and on airtime, data, and prepaid, water and electricity through the Discovery Bank app. You can also spend them on travel, pay friends and family or even exchange them for cash.
And, on Miles D-Day on the 15th of every month, you can double your discount and save from 10% to 30% when you spend your Discovery Miles at our online and in-store retail partners.
More on Discovery Miles
Discovery Pay
Discovery Pay is our integrated payments platform that makes payments faster, smarter, and more convenient.
With Discovery Pay, you can instantly settle medical bills without the hassle of queues or paperwork and avoid the need to exchange banking details and pay other Discovery clients in your contact list using just their cellphone number.
More on Discovery Pay
Discovery Instant Pay

and

PayShap
We offer simple, seamless and affordable real-time payments where you can make a payment to any South African bank account instantly from as little as R1. And now with PayShap, you can also make payments of up to R3,000 instantly to anyone in South Africa with just their ShapID.
Make and receive your
payments securely
Keeping your money and details safe is very important to us, which is why we use state-of-the-art security and market-leading technologies to protect you and your money. For peace of mind, read our resources on banking security with Discovery Bank to better protect yourself from criminals.
More on mobile banking security