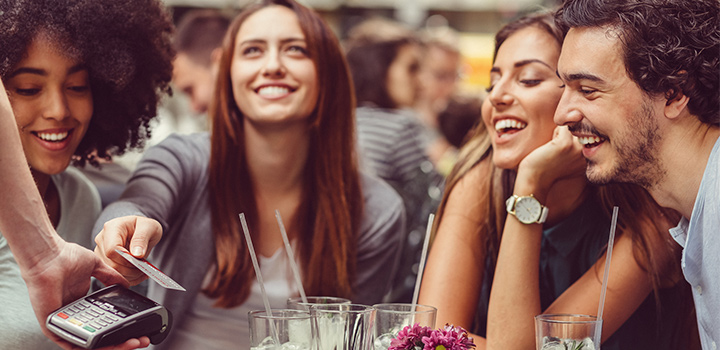 "One's range of choice is nearly always limited only by one's range of vision," author Monte Taylor once remarked. And what better way to open up new vistas than with Discovery Card's wide range of partners and rewards!
Christmas presents, end-year parties, travel, family time - sometimes it seems like cash just flies out the window over the December holidays. But since it's the season of giving - that's exactly what we're doing.
All this month, you can win your weekly spend back just by swiping your Discovery Card for any purchase, made anywhere. Every week, 10 lucky cardholders will win their spend back, up to R10 000 each. So don't forget to swipe, and who knows what Santa might bring you!
Plus, get up to 10x Discovery Miles on all your holiday shopping
In addition, you can still get rewarded every time you spend. Simply activate the Discovery Miles benefit for a yearly linkage fee and earn Discovery Miles everywhere you shop.
Not only can you earn and spend Discovery Miles at leading retailers in South Africa, both in-store and online, you can also get up to 10x Discovery Miles if you shop at partners in our ever-expanding Discovery Miles Multiplier Network.
Some of our most popular partners include:
@home
Dis-Chem
iStore
Toy Kingdom
Toys R Us
Big Concerts
Exclusive Books
Sportsman's Warehouse

Clicks
Hamleys
Sunglass Hat
Yuppiechef.com

Cape Union Mart
Incredible Connection
takealot.com

Click here to view all our partners.
So whether it's groceries at Pick n Pay, personal care products, electronics, games and toys, sports and outdoor equipment, or even fuel at BP or Shell filling stations, you can rack up enough Discovery Miles over December to see you through till the New Year.
Give, get, share and celebrate with Discovery Card this season
Spending your Discovery Miles digitally is also easy. Use them to shop online at partners like Dis-Chem and Sportsman's Warehouse, or use them towards your next holiday. Enjoy a fun-filled and rejuvenating break this December, and remember to keep swiping your Discovery Card to stand a chance to win!
If you haven't yet - don't wait to get rewarded for healthy living - apply for a Discovery Card or activate Discovery Miles today! Limits, terms and conditions apply.
Awesome discounts if you pay for your Uber trips with your Discovery Card
If your social calendar this December is buzzing, why not use Uber to get in and around town more safely - and get rewarded with Discovery Card while you're at it!
All Discovery Insure clients with Vitalitydrive who are already Uber users get a discount of up to 25% on Uber trips. But if you pay for your Uber trips with your Discovery Card, you can receive a total discount of up to 40%! Cash back rules and limits apply.
Check the Discovery Card Uber benefit guide for more.