Join Danny K and Kabelo, in protecting SA's healthcare heroes with Vitality MoveToGive and Shout4Masks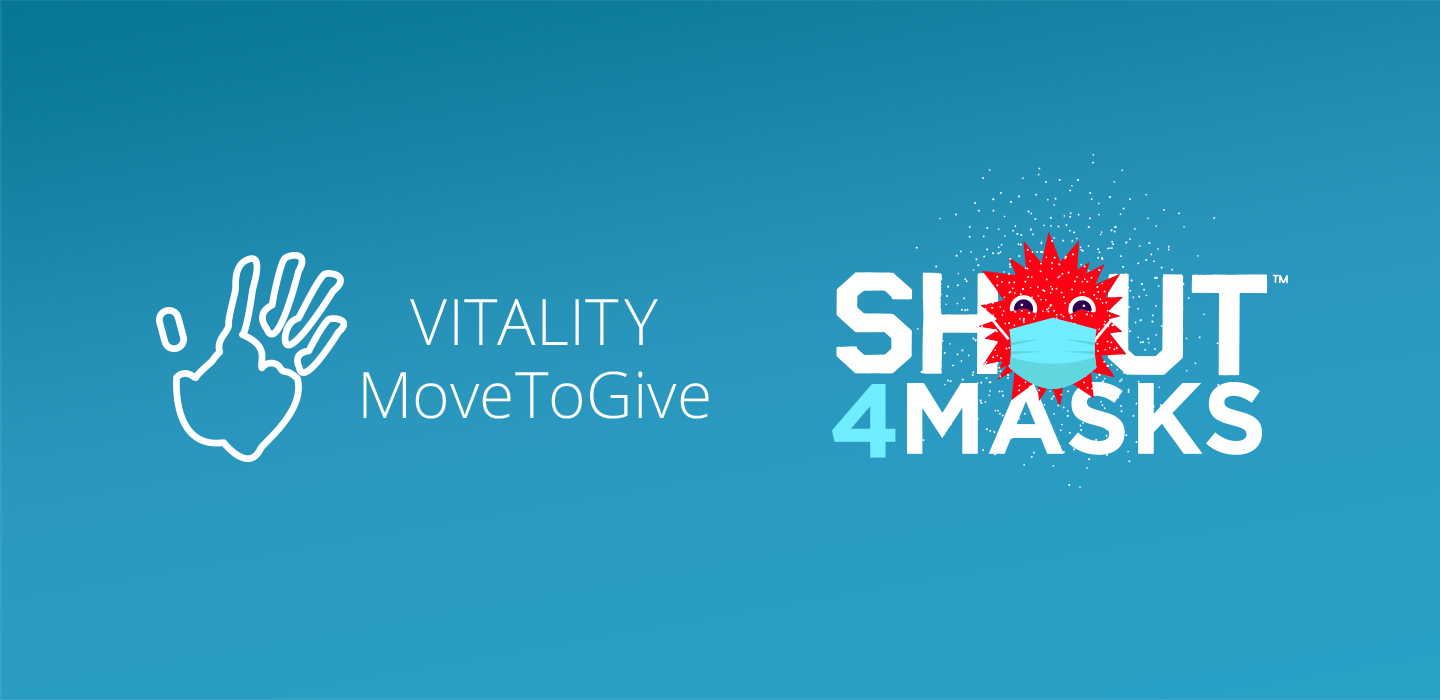 You can help make South Africa safer by protecting those who protect us. Donate your Discovery Miles in support of the Shout4Masks campaign though Vitality MoveToGive. Your donation will help supply thousands of vital masks to healthcare workers in South Africa.
Shout4Masks and keep our healthcare heroes safe
Discovery Vitality has partnered with Shout4Masks to help donate thousands of vital masks to healthcare workers on the frontline fighting COVID-19.
Shout4Masks is a new public service initiative spearheaded by local SA musicians, Danny K and Kabelo Mabalane. This is an emergency shout out to all South Africans to help address the dire shortage of personal protective gear. The organisation is raising money to buy masks directly from factories and supplying them to healthcare workers and patients in vulnerable communities. Learn more about Shout4Masks and this inspirational initiative.
Achieve your Vitality Active Rewards and donate through Vitality MoveToGive
When you get active, drive well or spend responsibly, you can earn Discovery Miles through Vitality Active Rewards. Once you have earned them, why not donate them to the Shout4Masks campaign through Vitality MoveToGive.
For 150 Discovery Miles, you can donate six surgical masks to a healthcare worker on the front line. And for 1 000 Discovery Miles, you can donate a hospital mask combo – a pack of twenty surgical and N95 masks – to those who keep us safe.
To donate to this initiative through Vitality MoveToGive, all you have to do is:
Download the latest version of the Discovery app and activate Vitality Active Rewards.
Achieve your exercise, drive or money goals to earn a play on the gameboard.
Pick a tile on the gameboard to reveal Discovery Miles.
Donate your Discovery Miles on Vitality MoveToGive charity donations.
Your donation will help lower the risk of infection for doctors and patients and vice versa and in turn will support our healthcare system during this challenging time.
You can also donate directly to Shout4Masks
Visit www.shout4masks.co.za now and help raise money to buy masks directly and urgently get them to healthcare workers and patients. This public service initiative by SMD Technologies and Shout benefits and supports the healthcare sector, fulfilling the needs of our nation to unite and give back.
See even more ways you can #PayItForward using your Discovery Miles.
Get active to get (others) rewarded.
Not on Vitality Active Rewards? Activate it for free in the Discovery app so you can take part in this important cause.
Vitality MoveToGive is a series of campaigns that lets members who reach their weekly goals donate their Vitality Active Rewards to a preselected cause or charity. Instead of claiming their reward with one of the Vitality Active Rewards partners, members can donate their Discovery Miles to the preselected cause.