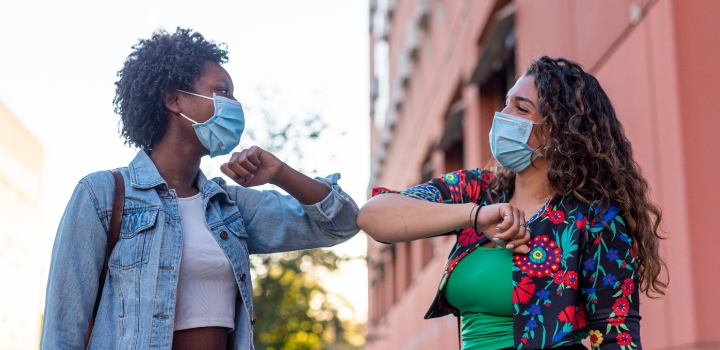 Welcome to Video 8 of our series on Understanding Vaccines with Dr Noluthando Nematswerani, Head of the Discovery Health Centre for Clinical Excellence. In this article, we delve into why it's so important for everyone in the country to be vaccinated against COVID-19.
People who are at a high risk of severe COVID-19 illness are those most strongly encouraged to get vaccinated. These are individuals who have chronic conditions like diabetes, hypertension or lung disease, those with cancer, and all those over the age of 60, and who are more likely to become severely ill or pass away if they get infected.
What if you're not at high risk - do you still need to get vaccinated?
Yes! Even if you're not a high-risk individual, it's still important for everyone to get vaccinated
To help limit the spread of the COVID-19 disease, South Africa needs to ensure that a significant amount of people in the population are vaccinated. If we all have trained immune systems that are ready to fight COVID-19, the risk of us getting infected and spreading the infection is significantly minimised.
There are a number of good reasons why almost everyone who is eligible to get vaccinated should register and go for their vaccination as soon as they can. This will help save lives, livelihoods, and free up precious healthcare resources for everyone. Watch Dr Noluthando explain it here:
Get support on your COVID-19 Vaccination journey
Discovery's COVID-19 Vaccination Navigator is available for anyone looking for more information and guidance on their vaccination journey. Once you register on the national Electronic Vaccination Data System (EVDS), use our navigator to book for your vaccination at a Discovery-managed site near you.
Learn more about COVID-19 and vaccines here, and join the millions of South Africans who can proudly say, #IGotMyVaccine!
All medical information found on this website including content, graphics and images, is for education and information objectives only. Discovery publishes content to help to promote a better understand of COVID-19 and COVID-19 vaccinations. The content covered is an overview of key concepts and is not exhaustive in nature. We encourage further reading from other credible sources where necessary.
South African organisations:
International Organisations: