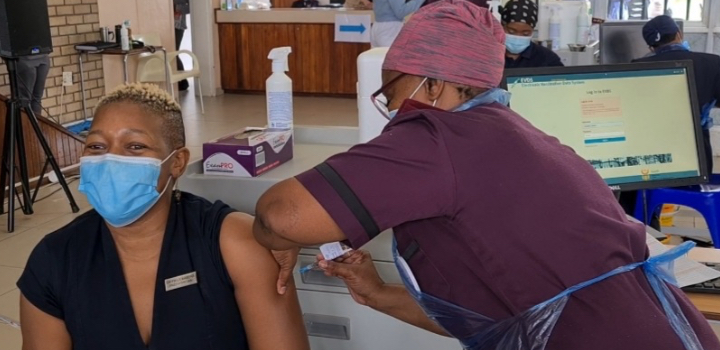 Paediatrician and infectious disease specialist Dr Fikile Mabena shares her experience of the COVID-19 pandemic, and encourages all South Africans to help their elderly family members, friends and colleagues to register and get vaccinated.
Listen to a podcast with Dr Fikile Mabena, who gives her message to all South Africans about the COVID-19 vaccine.
Dr Fikile Mabena is a paediatrician and infectious disease specialist at Chris Hani Baragwanath Hospital. She has an important message to share with all of us:
"My message for the South African public is that we can't get our COVID-19 vaccines soon enough. I was really excited to get the vaccine on 23 February 2021. I'm lucky that my husband is also a healthcare worker. He was vaccinated in mid-May. But the elderly - my parents, his parents, and everybody else's elderly loved ones - are the ones who most need to get the vaccine soon."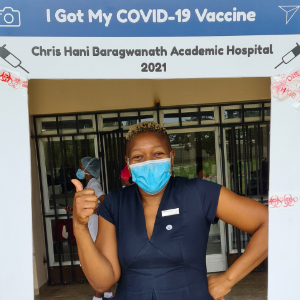 "Having a COVID-19 vaccine offers us an opportunity to prevent severe disease, hospitalisation and possible deaths," Dr Mabena says. "I'm excited about the vaccine and I'm eager to see the national mass vaccination rollout succeed."
We must help the elderly get vaccinated
Dr Mabena adds it is our responsibility to assist the elderly to get vaccinated against COVID-19. "Young people are more tech-savvy than the elderly, so it's important for each of us to help the elderly register for the vaccine," she says, "and to make it easy for them to get to vaccination sites."
"Having the vaccine will, over time, make it safer for us to visit people again. To know when we gather with our loved ones that we and they are at decreased risk of getting sick and dying from COVID-19. I look forward to that."
An infectious disease specialist's view of the pandemic
In 2015 Dr Mabena received a Discovery Foundation Award to sub-specialise in paediatric infectious disease.
She shares her experience of the COVID-19 pandemic working in the neonatal unit and the mortuary at Chris Hani Baragwanath Hospital.
"It was very stressful," she says. "I work in a paediatric setting so it wasn't as overwhelming in our wards, but the worry about being infected was heightened."
"On a personal level, like most people, I was worried about my family. I have elderly parents so I was particularly worried about contracting the virus and infecting them," she adds.
How did the vaccine alleviate some of this worry? "When the Sisonke study started and healthcare workers were able to get the vaccine, I was grateful," Dr Mabena says. "More than that, I was, and remain, very eager for the next phase - which is currently underway - when the more vulnerable elderly people will be getting their vaccines."
-->