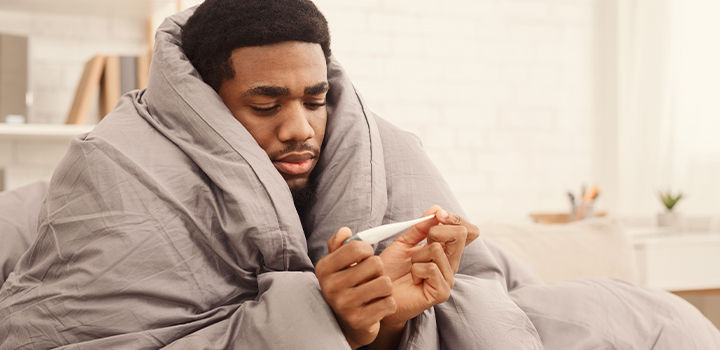 Coronaviruses are zoonotic, which means they're known to be transmitted between wild animals and people. Coronaviruses are part of a large family of viruses; the illnesses these viruses cause (like COVID-19) range from mild to serious. Here are the signs and symptoms of COVID-19 you need to look out for.
Currently a global public health concern, health officials around the world are learning more about novel coronavirus 2019 each day.
Our knowledge of coronavirus disease 2019 (COVID-19) is continually increasing. This knowledge allows healthcare professionals to better treat people, and even prevent more people around the world from falling ill.
What are the signs and symptoms to look out for?
Since the COVID-19 strain of coronavirus had not previously been identified in human beings, it's difficult to say who is most at risk of becoming ill. No one is considered to be immune to becoming ill once they're exposed to the COVID-19 virus.
The signs and symptoms of COVID-19 are non-specific. This means that the disease presentation or its signs and symptoms can range from asymptomatic people (no obvious signs or symptoms) to those with mild symptoms (like those associated with the common cold), as well as severe respiratory illness (such as pneumonia). In the case of severe or critical illness, the risk of complications increases and the complications can be life threatening.
Typical signs and symptoms
Most common symptoms:
Fever
Dry cough
Fatigue
Coughing up slime (producing sputum in the lungs)
Shortness of breath
Sore throat
Headache
Muscle or joint ache or pain
Body chills
According to the World Health Organization, in more than 80% of all reported cases, fever is the most typical symptom. This is followed by a dry cough (in around 68% of cases), fatigue (38% of cases), producing sputum (33% of cases) and shortness of breath (nearly 19% of reported cases).
Less common symptoms:
Nausea or vomiting
Nasal congestion
Diarrhoea
Coughing up of blood or blood-stained mucus
Intensely red eyes, watery discharge from the eyes, swollen eyelids and light sensitivity.
Once a person has been exposed to coronavirus, signs and symptoms may start in as little as 2 days or take as long as 14 days.
In most instances, the most obvious signs of infection are mild respiratory symptoms and fever. The time it takes for symptoms to appear is called the 'incubation period'. On average, official reports indicate that signs and symptoms typically develop five to six days after being exposed to the COVID-19 virus. This is often called the 'mean incubation period'. The full incubation period ranges between 1 and 14 days.
Should I be worried if I display any signs or symptoms?
The most important thing to remember is that there isn't an immediate need to worry. To date, most people (as many as 80%) who have become ill with confirmed COVID-19 have displayed mild to moderate signs and symptoms (including mild pneumonia), and have gone on to recover fully.
The average time for clinical recovery for a mild to moderate case of COVID-19 (from the start of the disease) has been reported to be around two weeks. For those with more severe or critical illness (from the start of the disease), the average time to recover is between three and six weeks with medical treatment.
It's considered rare for people to be diagnosed with COVID-19 without showing symptoms (be asymptomatic). Very few of these patients have gone on to develop signs and symptoms of COVID-19. At this stage it isn't clear how many people contract COVID-19 without showing symptoms, but this is not considered to be the main way the virus spreads.
- Have pets? Read up on the CDC's considerations for COVID-19 patients under home care and isolation who have pets or other animals.
All medical information found on this website including content, graphics and images, is for educational and informational objectives only. Discovery Health publishes this content to help to protect and empower all South Africans by promoting a better understanding of COVID-19.

Outbreak of the 2019 novel coronavirus
The 2019 novel coronavirus (2019-nCoV) has caused an outbreak of fatal respiratory illness first detected in Wuhan, China. This is a completely new strain with no vaccines available. The best way to prevent infection is to avoid being exposed to this virus.


Feeling the flu? Why and when to taper back on training
Feeling under the weather? There's a reason doctors always prescribe rest when you're ill. Here's how to be mindful of your body's needs, plus an easy way to earn 1 000 Vitality points for keeping the flu at bay with a flu vaccination.