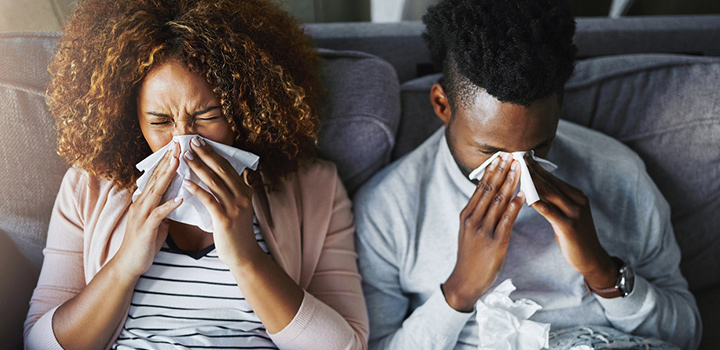 Feeling under the weather? There's a reason doctors always prescribe rest when you're ill. Here's how to be mindful of your body's needs, plus an easy way to earn 1 000 Vitality points for keeping the flu at bay with a flu vaccination.
Ever hear the theory about "sweating out" a cold or flu virus? It's false. In fact, strenuous activity when you're ill can be dangerous to your health. You could also collapse if you return to an intense exercise programme too soon after having the flu or other flu-like illnesses.
This is because viral infections, such as the flu, can cause temporary muscle weakness that extends to the muscle cells in your heart - and a heart weakened by a viral infection can be further weakened by strenuous exercise. Placing strain on an infected heart muscle can lead to further inflammation, or even paralysis, of the muscle.
But remember, a cold is not the flu! Here's how to tell the difference, and what it means for your exercise regime.
Take it easy with a cold, stop the clock for the flu
The common cold is an inflammation of the upper respiratory tract. Symptoms include a runny nose and sore throat, but no fever or body aches and pains. If you have symptoms of a cold, doing mild to moderate exercise (a brisk walk or slow jog) doesn't appear to be harmful, but avoid high intensity exercise until a few days after the symptoms have disappeared.
If you have flu-like symptoms - fever, extreme tiredness, muscle aches, or swollen glands - it's best not to exercise at all until you've seen your doctor. If they confirm you have an acute illness like the flu, then resting until you are completely recovered is the only way to get fighting fit without too much delay.
You'll know by the neck test
A simple guide to whether or not you should exercise is 'the neck test', says Dr Deepak Patel, Principal Clinical Specialist at Discovery Vitality. If your symptoms are from the neck up, it should be alright to do low to moderate intensity exercise. Cut back on the amount you do and listen to your body - if you feel exhausted after you've exercised, skip the next 2 to 3 days.
If your symptoms are primarily below the neck (a deep chest cough or a fever), take a break from exercise until your fever subsides and you feel much better. It's best to stop exercising while you're sick until about a week after recovering.
Patience makes for a quicker recovery
Ask your doctor when's the best time to return to full-on physical activity. The decision should be based on factors like any underlying chronic illness; whether or not you're infectious to others; and your ability to perform safely without any chance of relapse.
Going back to a pre-illness training programme too soon can result in further illness, so be patient. And while it can be frustrating not to exercise, especially if you're training for specific events, rather rest and recover completely before putting on your training shoes again.
Your first workout once you've recovered should be very light. Start with low-impact active recovery exercises, such as walking, yoga, swimming or cycling at a low intensity. You can then progress slowly to return to your normal routine.
Don't let flu call the shots this winter
"Prevention is always better than cure, so take a holistic approach to your wellness," Dr Patel adds. He suggests loading up on nutritious foods (especially vitamin-rich fruit and vegetables); washing your hands regularly; getting enough sleep so that your immune system isn't compromised; and getting a flu vaccination.
"Remember, it's possible to still catch the flu even if you get a flu shot, but if you do, your symptoms won't be nearly as severe as they would've been, and you'll also recover faster than you would've otherwise."
You can also earn yourself 1 000 Vitality points for getting vaccinated. So this March, be mindful of what your body's telling you. Don't push its limits when you're feeling ill and rather take steps to keep illness at bay!
Sources:
American College of Sports Medicine. ACSM's Guidelines for Exercise Testing and Prescription, 8th ed. Baltimore: Lippincott Williams & Wilkins; 2010.

AHA/ACSM Joint Statement: Recommendations for Cardiovascular Screening, Staffing, and Emergency Policies at Health/Fitness Facilities. Med Sci Sports Exerc 30(6) June 1998.

http://www.merckmanuals.com/professional/injuries_poisoning/exercise_and_sports_injury/approach_to_sports_injuries.html

The Team Physician and Return-To-Play Issues: A Consensus Statement. Stanley A. Herring et al Medicine & Science in Sports & Exercise, 2002.
Caught a cold? Save on over-the-counter meds with HealthyCare
From headache tablets to nose sprays and saline rinses - whatever home remedies work to soothe your symptoms, save when you buy them with the Vitality HealthyCare benefit. This benefit offers you up to 25% cash back on preventive care and everyday personal and family care items at Clicks or Dis-Chem.
The HealthyCare range includes hundreds of products for chronic care, dental care, eye care, first aid supplies and much more. Activate this handy benefit or join Discovery Vitality today!
Great minds? run alike! How 3 members are championing parkruns
Invigorating, addictive and healthy, parkruns have taken South Africa by storm. Best of all, these outdoor events take place weekly, so act as a regular prompt to integrate fitness into your lifestyle. Thousands of people take part in parkruns, but three passionate Vitality members stand out.
Team testimonies: Why two are better than one
Research is increasingly showing the importance of social interaction in influencing human behaviour. This is because the way we behave is strongly affected by our colleagues, friends and family. Here's how some Vitality members are making the most of this.