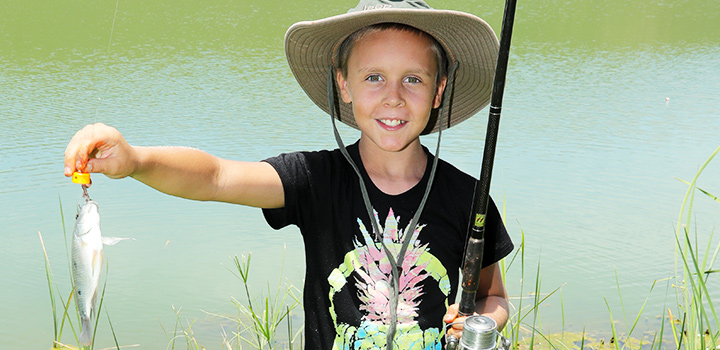 Hendrik Stopforth's Acute Myelodysplastic Leukaemia (AML), was a two-year trial by fire during which his family bonded strongly, received huge support from extended family and was financially buoyed by the generosity of strangers.
SHARE YOUR INSPIRING STORY WITH US HERE
In May 2015, Hendrik Junior's mother, Izel, then working as a pre-school teacher, got the dreaded call from her GP to say recent blood tests, done to check unexplained bruises on her son's legs, showed he had cancer. Their subsequent journey included a frightening ICU spell when a flesh-eating virus nearly cost Hendrik his leg, two rounds of chemotherapy, and his sister proving a match for a life-saving bone-marrow transplant. He was aged eight at the time, turning nine.
Little Hendrick Junior takes up the story together with his mother, to share their experience.
Izel Stopforth: From about January 2015, Hendrik started getting sick, on and off. He tired easily. We thought he was trying to get out of school because he had a runny nose, that kind of thing but then he got pneumonia in April that year and was hospitalised for a fortnight. They did blood tests and there was no evidence of cancer. We thought we should perhaps test his blood sugar levels, because he loves sweets. But the doctor said nothing was wrong. Then bruises began to show on his legs. I didn't think much of it, but the doctor said we must test his blood again. This time the cancer showed. I try to forget about that time - I got that call while I was at work at the pre-school. Our GP said we must be quick and get him to an oncologist.
Hendrick Junior: There was a time I thought I would die, especially after they cut the virus out of my calf. That was really sore. They all started praying for me and then suddenly I was told my sister's bone marrow was a match. Then I knew it would be OK. I knew for sure when they told me I must chose my dream for when I got out. That was easy - I wanted to go fishing for bass again! We live on a farm near Lydenberg in Mpumalanga. What I love most is fishing, hunting and golf. But when I was in Grade 3, I knew something was wrong because I was tired the whole time and wanted to sleep. I also got colds a lot. We went to the doctor and he drew blood a few times. After a while they told me I had cancer. At first, I just thought it meant I'd have to sit in the hospital a lot and get medicines. I was a bit scared of the doctors to start with but later I wasn't any more. My mum slept next to my bed every night. It's really lekker to be back at school with all my friends now. I've got a bit of dent in my leg where they did the plastic surgery but I love being able to hunt and fish again.
Cancer may run in the family
Izel Stopforth: We saw the same oncologist who had successfully treated my sister for liver cancer as a baby. I think cancers run in our family. My cousin was diagnosed with lymphoblastic leukaemia in the same year that Hendrik was diagnosed and his grandfather, on my husband's side, also had cancer.
Anyway, the cancer blasts in Hendrik's bloodstream were very high at 30%, so the first chemotherapy started in May 2015. The more blasts the more aggressive the disease. (Blasts are immature cells commonly present in bone marrow. In healthy individuals, they usually mature gradually in the bone marrow to become ordinary white cells, red blood cells and platelets.
He got really sick again with haemophilus pneumonia but pulled through. By September that year when the chemotherapy was over he had only traces of cancer in his bloodstream. The doctor said the rest would go away by itself. Everything stayed fine, but eight months later I saw a bruise on him again. They took blood and we were told it was definitely back, so the second round of chemo began. It's funny because you can have this type of cancer and it doesn't always show in the blood. Before we noticed the bruises the second time, blood tests showed no sign of cancer blasts. This time they were at 70%, so it was serious. It's just as well I saw that bruise or he might just not have woken up one morning.
We began searching for a bone marrow donor. Our family all tested and his sister, Izanli, was a perfect match. She was amazingly brave. Weirdly, the day before they tested her blood, she said her arm felt really sore and that she could feel the blood flowing in her veins. They took 15 ampules of blood just to test. She didn't cry at all.
I think the scariest for me was when that flesh-eating virus took advantage of Hendrik's low immune status. He'd developed a reaction to one of the platelet infusions and came out in bumps. He scratched one bump and the virus took hold. He was really very sick. The surgery to remove it left quite a visible hollow in his calf. He's a bit shy about it today. I spent many nights on the sleeper couch next to his hospital bed. We had a private ward which worked well because it's a bit like a bachelor flat with its own bathroom and cupboards. I was pretty scared before the bone-marrow transplant because it was a bad leukaemia and transplants are not always successful. It's fair to say that it consumed my life at that stage. Hendrik has always been a courageous boy. I think this experience forced him to deal with quite a lot of stuff kids don't normally deal with. He'll be 11 this December and has become very mature for his age.
Life only really returned to normal for us from about June this year (2017), which is almost a full year since the transplant. Today (September 4th, 2017), is Manus' fourth birthday, but Hendrik is out playing golf, which pleases my heart. He's now hale and hearty again.
Support from the Discovery Health Medical Scheme and elsewhere
I must say Discovery Health Medical Scheme was an amazing funder. They paid for just about everything. Because I'd given up work, we needed help to cover some of the shortfalls. So, celebrity singer, Karlien van Jaarsveld put on a fund-raising concert for us and the Cupcake Angels (a fund-raising NGO for children with cancer) also helped.
Expert clinician elaborates
Professor Alan Davidson, Head of the Haematology/Oncology at Red Cross War Memorial Children's Hospital in Rondebosch, Cape Town says a bone marrow transplant is reserved for high risk cases and costs between R300 000 and R400 000. "It's the last port of call for leukaemia, but many patients are cured without it," he says. He says the state covers the cost of local donation and transplant if you are a South African resident. However only privately funded patients have access to the international bone marrow registry which makes Hendrik particularly lucky to find a match in his sister. Warning signs of cancer can be mistaken for common childhood ailments. He recommends a check-up by a qualified physician if any symptoms persist.
Sisters fight Cervical Cancer together

It's hard to imagine that cervical cancer affected the lives of two sisters in the same year - and how differently. Alrita Groenewald, 41, was given less than 30% chance of survival, while her sister Tessa Supra, 46, chose to silently carry the burden of her subsequent diagnosis.
Beating the kidney dialysis odds
Brian Anderson, is a minor walking miracle. He's had 93 operations, including two kidney transplants and been on intermittent dialysis for 22 years. He's passionate about raising awareness around Chronic Kidney Disease and organ donation.