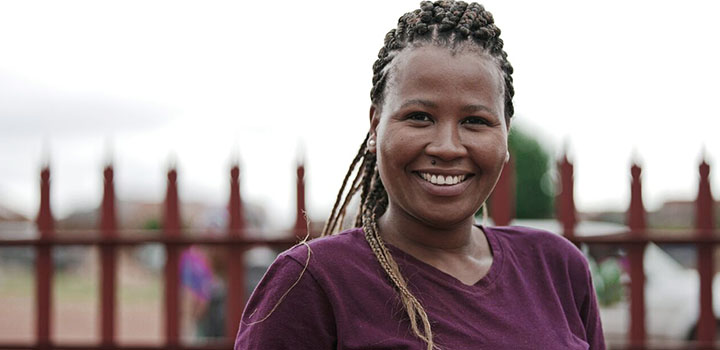 The deaths in three consecutive years of those Mickey lived with - her in-laws and then her husband, Mandla, followed by her own shock diagnosis of aggressive breast cancer would have been too much for most women.
It was a word she'd heard spoken a thousand different ways, but this time, in shock and facing her own mortality, it sounded very different. The word was "Mama" and it was uttered by her daughter, Gugulethu, 7, whose brothers Sinqobile, 11 and Nhlanhla, 16, were standing nearby. Mickey says she felt a surge of determination replace her despair, fear and hopelessness. "I told myself "Akukho muntu ozo vala lomuzi!" (Nobody is going to shut down this home!). She resolved there and then to not give up and to do whatever it took to stay alive and be there for her children.
Her general surgeon saw a different Mickey when she returned, having accepted his advice to take a few days off to process her mind-numbing September 2015 breast cancer diagnosis. From seeing a stunned woman who could not hear a word after he revealed her diagnosis, here she was telling him to get on with whatever treatment was required. He told her the affected breast would have to be removed, followed by chemotherapy and radiation, treatments she'd never heard of. He booked a surgical bed for her in the Life MidMed hospital in Middelberg, a week after her initial biopsy results.
Share your inspiring story with us here
Watch Mickey Mabuza tell her cancer survivorship story in her own words.
Mickey narrowly avoids mastectomy
After keeping her diagnosis from all but her work manager and bereavement support group, Mickey relented and began telling those who asked. She wasn't prepared for the negative response. "Some said it was worse than HIV, that I would be bedridden and wearing nappies for incontinence, others that it would eat me up. I decided to stop listening to that kind of input. I would face my challenge."
There was one bit of information she did take on board. A friend of Mickeys said there was a colleague who was seeing an oncologist in Pretoria and gave her numbers to get a second opinion. Mickey says her general surgeon hadn't mentioned the possibility of specialist referral. She duly consulted this oncologist who did a mammogram and several tests, detecting swollen lymph nodes under her armpits and advising against a mastectomy. He recommended immediate chemotherapy, warning of hair loss and nausea.
After her second chemotherapy session, Mickey said she got very emotional standing in front of the mirror watching clumps of hair come away with her brush and her eyebrows and eyelashes disappearing. "I was also so nauseous I couldn't eat or drink but luckily they gave me some tablets to control the nausea," she adds. She would stay away from work for two or three days after a chemo session but even if her body felt as if it was failing her, she would still return to work.
From September 2015 until February 2016 she did six chemo sessions, with a long break in between when her white blood cell count dropped dangerously low. The last session was the worst. She was sorely tempted to give up. That night she dreamt her smiling husband arrived and began spontaneously dancing with her. "It felt very real. It was like he was saying, you're almost there, don't give up," she says, her voice breaking at the memory.
Lumpectomy shows chemotherapy is working
A lumpectomy followed in March 2016 and three weeks later the oncologist told her the lumps had shrunk dramatically but that they needed to remove some tissue under her armpit and on the left-hand-side of her one breast. After this, more tests followed and she finally got the good news; there was no sign of cancer anymore. "I couldn't believe it. It was the happiest day of my life," she recalls.
However, the journey was not over. Six weeks of radiation followed to ensure any dormant cancer cells were killed. Her children visited her in Pretoria's Life Wilgers Hospital where she lay exhausted from adverse skin reactions. Her breast turned a dark black and began blistering. The clinicians pleaded with her to persevere. She summoned up her original determination and managed to stay positive and smiling.
"I wasn't going to let anything get me down now – Discovery Health Medical Scheme helped me a lot. I think by this stage I'd virtually used up the R200 000 annual oncology limit that I'd registered for. The hospital costs and operations were all paid for. I had to pay for the accommodation in Pretoria during the treatment and for the path lab tests and bloods samples and outside ofconsults. But I got regular statements and at the beginning when I asked to register for the oncology benefit there was a very helpful and friendly lady on hand, always available to take my calls. She even offered me counselling," Mickey says.
She finally went back to work on her birthday, July 22nd last year, to be greeted enthusiastically by overjoyed colleagues. "I think I'm still an inspiration to them. When I was under treatment I'd wake up, dress well and put a smile on my face and go to work, no matter how I felt. It was difficult. I would go into the bathroom, look at myself in the mirror and cry. Clients would cry for me. I'd always tell myself, I can weep the whole night but in the morning, I'd spend the whole day smiling, not showing anyone".
Instilling hope in other breast cancer survivors
Mickey has benefitted from some hard-won lessons. "I discovered that tears cannot kill you and that if you cannot eat you can still survive. I have some financial constraints but I thank God that I'm healthy, can see my kids and can motivate others." She's just helped a fellow cancer survivor who underwent a double mastectomy and wanted to give up. "She made it. It took a lot of energy to tell her I was once in her situation. That I felt like she did. That she would one day stand up and say, I made it," adds Mickey.
The Discovery Health Medical Scheme is an independent non-profit entity governed by the Medical Schemes Act, and regulated by the Council for Medical Schemes. It is administered by a separate company, Discovery Health (Pty) Ltd, an authorised financial services provider.
Sisters fight Cervical Cancer together

It's hard to imagine that cervical cancer affected the lives of two sisters in the same year - and how differently. Alrita Groenewald, 41, was given less than 30% chance of survival, while her sister Tessa Supra, 46, chose to silently carry the burden of her subsequent diagnosis.
Beating the kidney dialysis odds
Brian Anderson, is a minor walking miracle. He's had 93 operations, including two kidney transplants and been on intermittent dialysis for 22 years. He's passionate about raising awareness around Chronic Kidney Disease and organ donation.