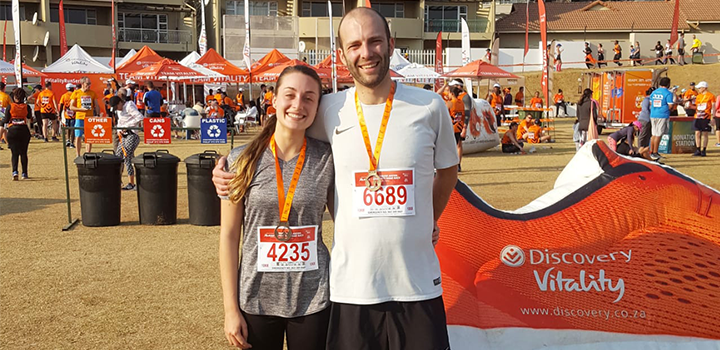 After unhealthy lifestyle behaviours led to a chilling stay in ICU, Vitality member Chris Yannakakis' eyes were opened to the preciousness of health. Today, he manages a chronic disease but still proudly maintains his Diamond status. Here's how reforming his diet helped.
The seeming tolerance of a younger body to an unhealthy lifestyle behaviours can blind people to its dangers. For example, younger people metabolise alcohol faster than those over 30, so they're more prone to exceeding the alcohol limit without realising its toxic effects. After a life-threatening experience, Chris Yannakakis (31) quit drinking, and is far the better for it. This is his story.
'I realised that life is too fragile'
"I was never a big guy, but I used to enjoy a few drinks with my mates," says Chris. "I think the turning point in my life came when I was rushed off to hospital in January 2018 after contracting acute pancreatitis." This condition refers to the sudden inflammation of the pancreas, primarily caused by gallstones, alcohol use and/or high triglyceride levels.
Acute pancreatitis causes severe abdominal pains and sometimes results in serious complications – in Chris' case: Type 1 diabetes, an incurable lifelong disease. "After a few months in ICU and being in an induced coma, I realised that life is too fragile," he recounts.
Chris credits his doctors at the Centre of Diabetes and Endocrinology as well as at the Sandton Mediclinic in Johannesburg for inspiring him as a diabetic to gain control of his life and pursue a healthy lifestyle. "My biggest step? I don't drink any sort of alcohol anymore, and I focus on a healthy diet. I used to have a Coke with dinner and sweet treats throughout the week – now I've drastically cut down on sugary foods and fizzy drinks."
'Most evenings, food prep is a priority'
"My parents taught me to cook," Chris continues, "and most evenings, food prep is a priority. Just like you would prioritise projects at work, you have to put the same organisation, thought and energy into what and how you eat. You need family support – and it helps that my girlfriend happens to be a dietitian!"
"She and I usually buy groceries on a Sunday – fresh ingredients based on a meal plan for the week. We almost always cook at home, and pack lunch for work the next day. This takes some forward-thinking and organisation. When we eat out, we often share a main meal and a salad. Vitality makes the choices easier, like at Nando's, as their Vitality-approved meals have already been pre-analysed for healthiness."
Chris now also gyms four to five times a week – a marked increase from his pre-ICU activity levels - and has become an avid runner. "Plus, I do regular Vitality Health Checks because they help me to understand my current health status – what's changed over the last few months, how that's affected my blood glucose levels, my waist circumference and so on. This helps me keep an eye on my diabetes."
Focus on 'small improvements, often'
The Bryanston-based MBA-grad, whose favourite Vitality perk is the travel rewards – "it's so nice to receive over a grand back on top of your discount as holiday spending money" – has this advice for others keen to get healthier while managing chronic conditions:
"Eat and drink healthy as often as you can because your body can only take so much. When it comes to exercise, start slowly and build up. If you can only do 1 km in 30 minutes, do that 1 km as often as you can, then slowly turn the 1 km into 5 kms. The only race you need to run is against yourself. And if you show small improvements often, you will never feel defeated."
Eating out? Get cash back on healthy options from your fav franchises!
Ordering healthy meals can be difficult. With Vitality's HealthyDining benefit, we've taken the guesswork out of choosing healthier options on the menu. What's more, we reward you with up to 25% cash back for making the healthier choice, plus 50% cash back for Vitality kids' meals through Uber Eats.
Our restaurant partners include Col'caccio, Doppio Zero, Nando's and Ocean Basket through Uber Eats. With HealthyDining, you can keep the convenient choice a healthy one too! SMS "Join" to 47751 to start getting rewarded for healthy choices with Vitality.
Get valuable help and access to professionals with DiabetesCare
The DiabetesCare programme helps you actively manage diabetes. It offers you access to various tools to better monitor your condition, as well as high-quality coordinated care through healthcare providers like dietitians and biokineticists.
Any Discovery Health Medical Scheme member registered on the Chronic Illness Benefit for diabetes can join the programme. Learn more or sign up here.
Feed your family good health with Vitality HealthyFood
Discovery Vitality's HealthyFood benefit, created by a team of nutrition and health experts, aims to promote good health and lower the risk of high blood pressure, high cholesterol and diabetes. Vitality members can earn up to 25% cash back at Pick n Pay or Woolworths for their healthy food purchases.
Check the Pick n Pay and Woolworths HealthyFood catalogues to see which products qualify. Then SMS "Join" to 47751 to start getting rewarded for healthy choices with Vitality.
Related articles
Why your kids need healthier options when eating out
The typical kids meal at restaurants is generally just one that's half the portion size of an adult meal, with a fruit juice and occasional plastic toy thrown in. But with obesity rates of South African kids rising, here's why that needs to change.
Plant foods will pave the way to better health, say scientists
The EAT-Lancet Commission was tasked with answering the question 'Can we feed a future population of 10 billion people a healthy diet within planetary boundaries?' Here's what they found, and how you can do your bit for your own – and the planet's – health.