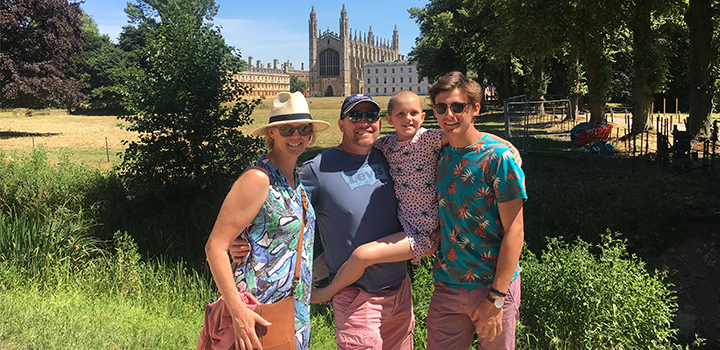 For Kerrin and Grant Bain, losing Jessica (their 20-month-old daughter) to cancer was gut-wrenching. Two years later they heard that their daughter Georgia, had brain cancer. The journey led them to starting The Cows, fundraising for CHOC.
With the support of the Childhood Cancer Foundation of South Africa (CHOC) they transformed their initial grief, bewilderment and heartache into fortitude, hope and inspiration, successfully overcoming their second child's cancer after a whirlwind journey.
It all led to them starting the CHOC-linked fund-raising organisation, The Cows. Their volunteers, athletes dressed in distinctive, spotted black and white cow-print outfits are today a familiar sight at many major athletic and swimming events across the country.
Listen to our podcast on Cancers in Children and hear Kerrin Bain share her remarkable experience as a mother to two young daughters diagnosed with cancer, here.
Says Kerrin, "When we found out in April 2007 that our daughter, Jessica, had cancer - Neuroblastoma, Stage 4 at 10 months old. Intensive chemotherapy followed, during which she briefly entered what looked like remission – about the time she took her first steps."
"Within another few months we were told that she had a few months left. On 27 February, 2008, she passed away. Just before that, we met Lynda Schutte, a social worker from CHOC who was our guide and pillar of support. She helped us with decisions like when to start morphine, what to do when Jessica passes on, how to deal with so much trauma and how to live each minute of every day and to use our support systems," she recalls.
The following year, Kerrin fell pregnant and just 20 days short of the second anniversary of Jessica's death, little Georgia entered the world to join her elder brother Ethan, then eight years old.
A second hammer blow
Another eight years passed with the family's grief and pain mitigated by the rigours and pleasures of work and child-rearing. Ethan was accepted at Hilton College, a private boarding school in KwaZulu-Natal. Then, one evening on 27 July 2017, while the Gauteng-based family was watching TV, Georgia, then seven, reached across the couch to grab the TV remote, inadvertently slipping and banging her head against the wall. Within 24 hours she was suffering headaches and appearing lethargic. A scan at the nearby Life Fourways Hospital showed a brain bleed. The swelling subsided and Georgia bounced back, leaving the ICU for a High Care ward after 10 days. However, doctors were puzzled by what appeared to be continued brain bleeding.
They consulted Jessica's paediatric oncologist who, following an MRI scan, confirmed that the bleed was due to a malignant tumour. The Bains were numbed by the totally unexpected scan results but readied themselves for a second battle that was to include surgery, chemotherapy and very precise radiation. The chemotherapy and radiation dramatically reduced her symptoms initially, and surgery was held in abeyance while the tumour was monitored.
"Had Georgia not hit her head and needed medical attention, her brain tumour may have grown undetected to lethal proportions," says Kerrin. Finally, well enough for a family road trip to visit her brother in Hilton, Georgia was excited. However, upon arrival in Hilton she suffered headaches and deteriorated quickly. Luckily for the Bains, there happened to be a resident neurosurgeon at the Life Hilton Hospital who performed emergency brain surgery to remove the life-threatening tumour. Georgia recovered remarkably quickly and handled the ensuring chemotherapy and radiation with courage and tenacity.
Says Kerrin, "Luckily, kids her age don't see things like loss of hair. It's been hard for her adapting back to school, her reading has fallen behind. We are going for an educational assessment and there may be medication to help her focus. She's in occupational therapy, seeing an educational psychologist and has a facilitator who sits next to her in class."
Giving life to The Cows
The Bains are full of gratitude for CHOC and also for family and psycho-social support they received along the way. They realised, through both their children's treatments, how absent this sort of support is for many other childhood cancer survivors and their families.
We are blessed with education and financial means – so many parents we met, just aren't," Kerrin stresses. So, they decided to tackle this societal problem.
"I had some friends at the company I worked for who thrive on a challenge so, in November 2008, Cordi van Niekerk, Albie Riccardi, Robby Riccardi, Grant Greeff, Steven Proudfoot, Richard Laskey, my husband Grant and I took part in the then Momentum 947 Cycle Challenge with Richard on an ice-cream bike, all cycling for CHOC. These ultra-athletes were all dressed in amazing cow suits. We set a fundraising target of R60 000 for that year's cycle race and we raised R230 000!" enthuses Kerrin. The next year saw 140 cyclists do the same race in the attention-grabbing cow suits. By 2011 this number had risen to 350 and in 2018 they expected 500 - with herds of 'Cows' taking part in the Comrades Marathon, Aquelle Midmar Mile and several other national sporting events – even climbing Kilimanjaro. "It basically went viral and now more than ten years later The Cows have raised more than R30 million to help children with cancer," Kerrin says proudly.
Transforming lives of cancer-affected families
CHOC is today the pre-eminent childhood cancer NGO in South Africa. From providing homes for families to stay in while their children undergo treatment for cancer, to upgrading paediatric oncology wards, CHOC also gives psycho-social support and undertakes vital awareness campaigns to helping detect childhood cancers early.
Throughout their journey, the Bains have benefitted from belonging to Discovery's Classic Comprehensive Medical Plan. Kerrin says not once have they had any delays in payments to healthcare service providers. "It all just happens. The oncology treatment plan was approved easily. I must compliment Discovery Health Medical Scheme as we've never had a single issue and now that we have Gap Cover we're financially even less at risk," Kerrin says.
Her advice for parents dealing with a child's cancer?
"The Cows' motto is Love Living Life, and this is true in our own lives too. Our biggest learning is to keep a positive mindset. Focus on the present, use your support systems and try to stay healthy. You make mistakes, but life forces you to listen and sometimes you have to learn things all over again,'' she adds.
Find out more here, or visit the Cows' Facebook Page here.
Listen to our podcast on Cancers in Children and hear Kerrin Bain share her remarkable experience as a mother to two young daughters diagnosed with cancer, here.
The Discovery Health Medical Scheme is an independent non-profit entity governed by the Medical Schemes Act, and regulated by the Council for Medical Schemes. It is administered by a separate company, Discovery Health (Pty) Ltd, an authorised financial services provider.
Sisters fight Cervical Cancer together

It's hard to imagine that cervical cancer affected the lives of two sisters in the same year - and how differently. Alrita Groenewald, 41, was given less than 30% chance of survival, while her sister Tessa Supra, 46, chose to silently carry the burden of her subsequent diagnosis.