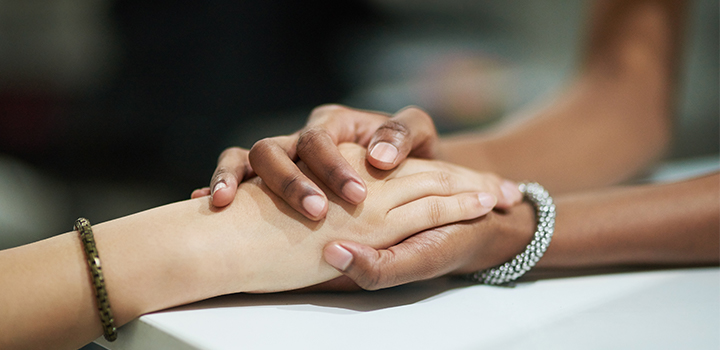 Soft-spoken and passionate cancer-educator and patient advocate, Sister Nonhlanhla Duba, has seen palliative care in South Africa evolve from being almost exclusively about cancer patients to being applied far more widely.
Listen to our podcast on emotional support for people affected by cancer, for a fascinating discussion between Nonhlanhla Duba and Norma Moller (a cancer survivor and counselling psychologist) here.
Collating hard data to influence policy
A typical CANSA advocacy day for Nonhlanhla involves fielding advice and information-seeking calls from all over the country, doing cancer screening advocacy work and supervising psycho-social support and education.
"I interact at all levels, but the grassroots are particularly important. To liaise with people like Minister of Health, Dr Aaron Motsoaledi, you need hard data and evidence from your field workers. Our work includes providing appropriate counselling and referral, and influencing policy development," she adds. "Working in CANSA's advocacy department has offered me a great opportunity to educate the public about cancer, focusing on cancer prevention and risk-reduction as well as the importance of early detection through regular screening," explains Nonhlanhla. "I have the responsibility of ensuring that the voices of cancer patients are heard – that we address the issues that are important to them and ensure that they have access to information and services so that they are able to explore choices and options, where appropriate." Her team also influences policy and legislation on cancer control issues through the use of evidence-based information and data emanating from their continuous patient-engagement experiences. "It's critical that we collaborate across organizations and stakeholders to improve the referral system and help to meet patients' and their family's needs."
Multi-pronged support to cancer patients
Another significant aspect of Nonhlanhla's work is support to cancer patients: "It's important to have a patient-centred approach so that, as a healthcare professional, you are better able to understand a cancer patient's unique psychological state and even their social situation. If you understand a person in totality, then you are better equipped to meet their unique needs. We always advocate that patients are at the centre of any supportive process and interdisciplinary medical team treating them. This team may include a psychologist, a doctor, chemotherapist or radiotherapist, a surgeon, and so on." Nonhlanhla and her team aim to see that that the patient understands their cancer as well as the treatment plan at the outset. "Furthermore, if we are able to establish the financial or social pressures that a person faces we are able to support them in these fields too as, often, stressors other than that of their illness, can negatively affect a patient's healing process. In this regard, social workers are often key pillars of support to cancer patients."
Counselling key to the cancer journey
"Counselling and information-sharing are not an event – they must be continuous processes. Cancer patients need to feel free to ask questions when they have them and ask for support when they need it. The issues that the patients raise range widely, from whether to seek out a second opinion with a new oncologist to the availability of specific treatments and even of accommodation to allow them to treatment at a centre far from their home," she explains. "These concerns are usually referred to the SA Oncology Consortium who have a number of oncologists with different expertise. Those patients who have treatment far from their homes are housed in the CANSA care homes, which are available nationally. "These homes offer a warm, friendly environment with transport and meals provided during their treatment journey, and with support from passionate caregivers."
"Most people present very late and it's not of their doing"
Asked what she'd do if she had a magic healthcare wand, Nonhlanhla replies; "Cancer affects every part of the body - it's often complex and difficult to treat. Access to cancer treatment for South Africans is not really uniform. I'd wave the wand at changing people's mindsets to ensure equal access to quality care for all cancer patients, but not just cancer care – quality healthcare for everyone. Most people present very late and it's not of their doing - it's socially determined, due to our socio-economically-skewed health infrastructure apartheid legacy and also lack of healthcare knowledge among South Africans at large. It becomes very sad when you see good intentions and policies that are not resulting in improvements on the ground. Things need to be turned around to reduce suffering. At CANSA we support universal health coverage, but the real concern is around first creating a more robust healthcare system," she adds.
"Palliative care improves quality of life"
Another area of expertise for Nonhlanhla is emotional and administrative support for patients in need of palliative care. "Palliative care improves quality of life for people suffering from life threatening diseases of every kind," stresses Nonhlanhla. CANSA is South Africa's leading cancer patient-supporting NGO. Its palliative care team trains and works with volunteers, NGOs and paid healthcare colleagues across the country. "Palliative care principles are best applied early in the disease process, and if the disease is not curable, this form of care then plays the dominant role," she explains.
Listen to our podcast on Palliative Care for Cancer – a valuable form of care, ensuring quality of life from diagnosis to end-of-life care for every patient, here.
"Patients must be heard"
She urges healthcare workers to sit down and really listen to their patients. "It may seem a waste of valuable time when you look at our overwhelming disease burden, but I can tell you education and awareness have a huge knock-on effect – they are the very best things we can do. For example, many uneducated people refer to radiation as ''ukushiswa," (to be burnt), just through ignorance of this life-saving therapy. Others, devastated by the news of their cancer diagnosis, or on harsh chemotherapy or radiation, are in no position to absorb what the nurse or doctor tells them. It's critical that we give them and their family continuous psychological support. It may seem like they understand, but we cannot assume they do. Patients must make their own decisions based on good information, be heard and be allowed to seek a second opinion," she adds.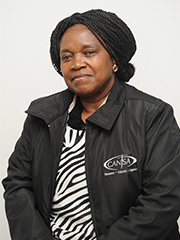 Sister Nonhlanhla Duba, CANSA's Clinical Health Specialist.
Severe illness can be life-changing. Discovery is here for you
At Discovery, we understand that an illness like cancer affects many aspects of your life. If you're a Discovery Health Medical Scheme member who is diagnosed with cancer, you are covered by a comprehensive Oncology Programme. You'll also have access to a palliative care programme, which offers unlimited cover for approved care at home.
To protect you financially, Discovery Life offers the best dread disease product in the market for cancer cover, as awarded by the Independent Clinical Oncology Network. Our award-winning LifeTime Max 200% Severe Illness Benefit offers coverage across the full spectrum of severities and coverage for remission of a cancer. Contact us to learn more.
The Discovery Health Medical Scheme is an independent non-profit entity governed by the Medical Schemes Act, and regulated by the Council for Medical Schemes. It is administered by a separate company, Discovery Health (Pty) Ltd, an authorised financial services provider.
Playing your part during treatment
Everyone's cancer journey is unique so your multidisciplinary team will work together to come up with a treatment plan determined by your needs. You can help by listening to their advice and by following their instructions implicitly.
Cancer diagnosis? Make a plan and take control!
Linda Greeff, an oncology social worker and cancer survivor herself, believes that a patient's long-term survival is most impacted by the first treatment intervention. She shares her insight from her own experience with being diagnosed with ovarian cancer.