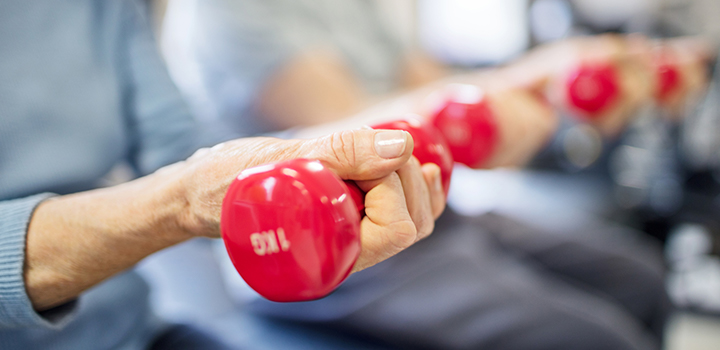 How much exercise should you be doing during your treatment journey? Being physically active both during and after treatment can help you manage side-effects, and speed up recovery.
Listen to top advice from a dietician, a physiotherapist and biokineticist on how to stay healthy – with a focus on exercise - during and post-cancer treatment here.
Marleze, a 42-year old marketing manager from Johannesburg, has always loved swimming and even did a few open water swims, including the Midmar Mile. She's also had three bouts with cancer - breast cancer in 2006 and an ovarian cancer diagnosis in 2015 with a reoccurrence in 2018.
Throughout each cancer journey, she made an effort to exercise. "Cancer is a very tough illness to go through," she explains. "The emotional toll, depression, and fear can be completely debilitating - aside from the impact of surgery and chemotherapy on your body. I found that a little gentle exercise was a great coping tool. Just going to the gym, climbing into the pool and having a short, easy swim would make me feel that I was doing something positive towards my recovery."
Her double mastectomy and reconstructive surgery severely impacted on her mobility so she roped in the assistance of a physiotherapist to help her exercise her way back to better flexibility. "I was quite unsure about what I should and shouldn't do, but eventually decided to follow my instincts and do what my body was comfortable with. I was able to slowly build up my endurance in the pool again and also found that swimming helped with regaining the mobility and strength in my arms," she adds.
Like Marleze, many cancer patients may feel unsure about exercising while they are in treatment. Mari Leach, a biokineticist for Discovery Vitality, explains that cancer treatment is associated with many difficult physiological and physical changes in the body, the result of a range of side effects including exhaustion, decreased fitness and strength, a compromised immune system, and loss of quality of life.
"Rest is one of the most important things prescribed to cancer patients during treatment to help you to cope and to recover. However, we also know from clinical studies that exercise during treatment actually helps you to cope better with fatigue, improves your physical and emotional wellbeing and overall quality of life, as well as reducing insomnia during and after cancer treatment. Having said that, you should never be too hard on yourself and you should always discuss any exercise plans or goals with your healthcare team," says Leach.
How exercise can help you
According to the National Comprehensive Cancer Network, fatigue is the most common and most distressing symptom affecting up to 80 to 90% of cancer patients. It presents as such an all-encompassing, unrelenting form of exhaustion that it affects every aspect of your daily life, so that you often find yourself completely overwhelmed. And this is where exercise comes in. Although doing anything other than lying flat on your bed is usually the last thing on your mind, research has found that patients who exercise regularly experience 40 to 50% less fatigue. Leach also adds that regular exercise can help you to better manage the side effects of cancer treatment, such as nausea and difficulty sleeping.
Before you start exercising
Leach recommends some aerobic and strength/resistance exercise and offers the following guidelines before embarking on any form of exercise during cancer treatment: "Always discuss your exercise plan with your healthcare professional and follow their advice. It's also important to understand that you may not be able to exercise at the levels you were used to and that this is okay. Even a relaxing walk on the days that you are feeling weak or tired, will be beneficial."
If you haven't done aerobic exercise before, walking is great way to get going. "Walking is an easy way to exercise as a beginner as you don't need any equipment other than a good pair walking shoes. It's also a very relaxing form of exercise, especially if you can walk outside in a beautiful park or scenic setting" says Leach.
Start with shorter sessions (10 -15 minutes) of gentle walking and gradually build up to longer sessions if you feel up to it, adding five minutes at a time. Your goal should be 20 to 60 minutes per day, for most days of the week. This can be done in one session or broken up into 10 minute sessions throughout the day (stick to the shorter sessions while receiving treatment).
Resistance training is a good idea as it can help prevent muscle loss. If you haven't done resistance training before or if you haven't exercised for a while because of your treatment, you can start with basic exercises at home using a pair of light-weight dumbbells (1 to 3kg each).
Leach also suggests trying a gentle form of yoga to help you relax and cope with anxiety. Yoga is known for its relaxing effect, as it focuses on breathing, meditation and the physical poses connect body and mind.
She concludes, "Remember to always be flexible and listen to your body. If you are tired and you need to rest, don't force yourself to exercise. While there's huge benefit in staying active during your cancer treatment, never exercise if you have a fever, are experiencing lots of pain or nausea, or have an abnormal blood count or anemia. On days when you're not feeling strong, if you do choose to exercise, do so at a lower intensity and a shorter duration."
Severe illness can be life-changing. Discovery is here for you
At Discovery, we understand that an illness like cancer affects many aspects of your life. If you're a Discovery Health Medical Scheme member who is diagnosed with cancer, you are covered by a comprehensive Oncology Programme. You'll also have access to a palliative care programme, which offers unlimited cover for approved care at home.
To protect you financially, Discovery Life offers the best dread disease product in the market for cancer cover, as awarded by the Independent Clinical Oncology Network. Our award-winning LifeTime Max 200% Severe Illness Benefit offers coverage across the full spectrum of severities and coverage for remission of a cancer. Contact us to learn more.
The Discovery Health Medical Scheme is an independent non-profit entity governed by the Medical Schemes Act, and regulated by the Council for Medical Schemes. It is administered by a separate company, Discovery Health (Pty) Ltd, an authorised financial services provider.
As a cancer patient you may be recommended radiation therapy as part of your treatment plan. It may be prescribed before, during or after your surgery depending on a number of factors such as your type of cancer and its location, size and stage.
Your doctors, in all likelihood, haven't been where you are right now. While they talk the talk - and they definitely know what they're talking about – they haven't walked the walk, which is why you need to reach out and find a cancer buddy who has.
Technology has become an integral part of our daily lives today with nearly everything you can think of having an app or gadget to make your life easier. Cancer, of course, is no exception.