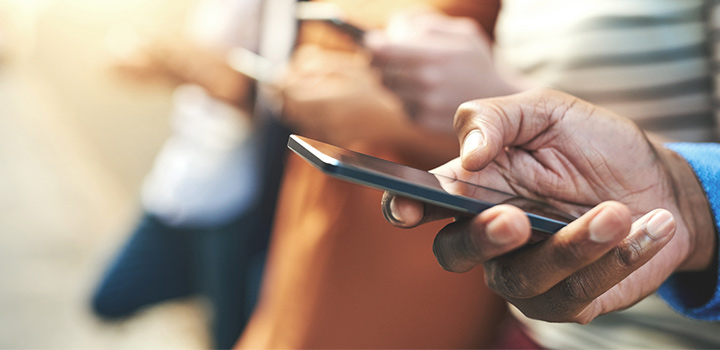 Technology has become an integral part of our daily lives. So many of the platforms we engage with each day have an associated app or gadget aimed at making your life easier. The world of cancer is no exception.
However, just like searching on the Internet, searching the app store for the term 'cancer' reveals a dizzying array of apps either designed by survivors, support groups or medical professionals. Some focus on providing you with medical information, raising awareness or connecting you to fellow cancer patients, and again, just like Internet sites, there are good, reliable and extremely helpful apps and others that need to be taken lightly. Most of them are free to download, but some do require a once-off fee or subscription to access more than just the basic content.
Remember that apps are there as a helpful supportive tool, adding another dimension to your cancer care and management, but certainly not in a 'professional' capacity, so never do anything that's app-related without getting the nod from your medical team. Dr Lucienne van Schalkwyk, a general surgeon with a special interest in breast surgery, and medical IT enthusiast Dominic van Loggerenberg take a look at some of the apps that you may find very useful.
Finding the facts
Like many of your fellow cancer patients, you're probably feeling that you're being bombarded with massive amounts of confusing information by your medical team right now. It's easy to feel overwhelmed during a consultation, and to forget to ask the questions that are constantly on your mind. And there are so many of them about your diagnosis, that you don't know where to start! Empowering yourself with accurate information is a good way to maintain some form of control, and many available apps will be able to give you the answers you need. These provide short summaries or videos on general topics such as what cancer is, how it starts and grows and a glossary of commonly used medical terms, as well as information on the diagnosis and treatment of specific types of cancer.
Try:
Keeping track
Cancer treatment can be quite complex and is usually offered by a team of specialists from different disciplines. Digital diary apps can help you to keep track of your cancer journey. Most of these apps integrate with your smart phone calendar, helping you to keep a record of appointments, chemotherapy sessions, procedures and hospitalisations. Often, these apps allow you to record your side-effects and how you are feeling on a particular day, and may even represent your progress in the form of a graph. This is a very important tool for communicating with your healthcare team as it helps them to have a clearer idea of your situation and more importantly, what they can do to help!
Try:
Making connections
Cancer support groups play an integral role in your cancer journey, especially when it comes to treatment. This role may be fulfilled by a physical support group, or increasingly, a digital support group via an app or social media. These groups will connect you to fellow patients and survivors where you'll have a platform to share stories, draw inspiration from others' journeys and to offer and receive support from those in a similar situation. More importantly, they will give you a feeling of comfort and some peace of mind, knowing that you're understood and not alone. Link to find a cancer buddy here
Try:
The alternative route
Many cancer patients decide to investigate alternative therapy in addition to conventional cancer treatment. About Herbs, an app designed by Memorial Sloan Kettering Cancer Center, offers a reference guide with objective information about a host of herbal remedies and alternative therapies- what they are, what they do, what side effects they may have and, very importantly, how they can interact with conventional treatment such as chemotherapy. A word of caution though- just because something is natural doesn't mean it's safe so always check with your medical team before going this route.
Try:
The lifelong journey
Your cancer journey is not concluded by the end of your treatment: it's a lifetime journey which is called survivorship. Link to survivorship- getting out of the cancer routine and identity here Cancer survivors may still be dealing with the long term effects of their treatment, whether surgical or medical. An example of this is breast cancer patients who experience permanent swelling of an arm (called lymphoedema) after their treatment. Survivors will also have to embark on a programme of close surveillance, which usually entails follow-up tests to ensure that the cancer has not returned. Research has shown that making certain changes to your lifestyle after cancer treatment has a definite impact on survival and the risk of your cancer returning: maintaining a healthy weight, eating a healthy balanced diet, regular physical activity and stopping smoking have all been shown to have a positive impact. Link to diet and exercise now that you are healthy here Apps specifically designed for survivors share tips on managing treatment-related side effects, encourage you to keep active, may suggest healthy recipes and can even remind you to stay hydrated by drinking plenty of water!
Try:
Discovery DrConnect provides seamless access to high quality medical information from a worldwide network of over 105 000 doctors in over 174 countries and also facilitates personalised interactions between patients and their doctors. Find out more about Discovery DrConnect here.
Already a Discovery Health Medical Scheme member? Access this functionality here or download the Discovery DrConnect app now. The first time you access this functionality, you will be prompted to download the Discovery DrConnect app on your phone. Once you have the app you can access all these features through your Discovery app.
Discovery DrConnect is brought to you by Discovery Health (Pty) Ltd, registration number 1997/013480/07, an authorised financial services provider and administrator of medical schemes
Pushing limits and shedding pounds: How Dumi found a sport she loves
Spring brings a scurry of activity as the earth bursts into life. Use this season to fall in love with a fitness activity that keeps you coming back for more. Dumisile Mthalane did just that. By finding a sport where she can soak up the sunshine, she's transformed the way she looks, thinks and feels.