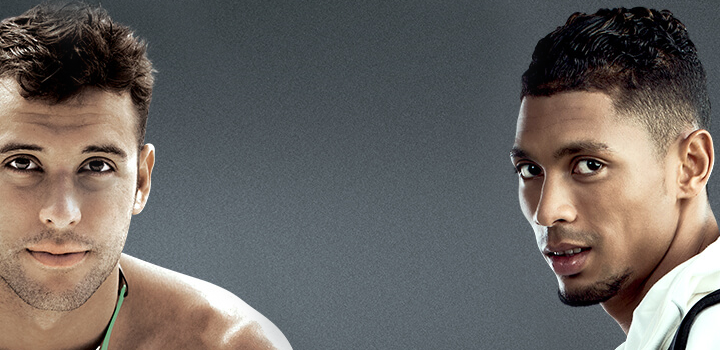 We chatted to Discovery Vitality Ambassadors Wayde van Niekerk and Chad le Clos on their recent sporting victories and gleaned pointers on how to 'get to gold' in our own health and wellness journeys.
Wayde van Niekerk and Chad le Clos have recently returned from their world championship events in victory, thrilling their fans back home and abroad. Wayde has become a double 400-metre world champion in London, adding the 200m silver to his growing list of accolades. And Chad has come full circle by overcoming his obstacles in last two years to reclaim his magnificent 200m butterfly title.
We caught up with the dynamic duo to ask for advice on how people can reach their personal fitness goals. This is what they had to say:
Chad's top tips
See yourself winning
"When I'm lying in bed or swimming warm-ups, I always envisage myself as being the champion. I was always dreaming of being the Olympic champion when I was a kid."
Picturing yourself achieving your goal and focusing fully on it helps you to achieve your best.
Chase your own best
"In the past, I was always chasing people. Now I am chasing personal improvements all the time. I'm chasing it when I'm training, I'm chasing it in racing, and I can see the improvements."
Remember that other people's circumstances and goals differ from yours, so don't measure yourself against them.
Stay committed
"After last year's disappointment in Rio, I see myself as a lot stronger, training a lot harder, learning from my mistakes, and leading by example."
It's easy to lose track of your goals when you hit speed bumps, but powering through when the going gets tough makes the reward so much more satisfying.
Discipline is key
"Throw everything at it, not leaving any stone unturned. It's about big risks leading to big rewards."
You can spend hours a week in the gym, but end up squandering the gains over a weekend if you're not dedicated - so don't be half-hearted about achieving your goal.
Enjoy what you do
"I know how to be happy, which I think is the key to success."
It's easy to get swept away by the will to succeed, but once you've lost that sense of enjoyment in what you're doing, it becomes hard to motivate yourself.
What Wayde had to say
Inspire 'the little you'
"Never forget humble beginnings. And if you look at your life today, and who you've become, do you inspire the young dreamer you were?"
Achieving greatness starts out as a dream. Imagine who you could be one day, and the advice your future self would give you right now.
Find your motivation
"When the Olympic Games were in London, I was back at home watching it and thinking 'Wow, I'm doing good things but I haven' had the opportunity yet to compete at the senior international level. That gave me really great motivation and a big push to want to be at this stage, and that is where the Rio dream started."
So have a clear vision of what you want to achieve in order to drive yourself forward.
Know yourself
"Each person has their own challenges and journey to take them to the top. Everyone must use their gifts wisely."
It's vital that you understand your strengths and weaknesses, and then, with these in mind, set specific, measurable, achievable, and realistic goals.
Focus on growth
"I love knowing that I am growing as an athlete - it's a sign of my career going forward and my performance is reaching heights that I never dreamt of. It's important that I get better and better each year. This entire year has been about growth, all the way from the 100m to the 400m."
While it may sometimes feel like you're fighting a losing battle, keep focussed on progressing. Celebrate small victories - be it dropping a dress size or improving your personal time by even a narrow margin.
Don't stop learning
"The person I am and the person I am going to be in the future is always going to develop... and I am always for learning."
Keep up to date, listen well and be open to good advice that can get you closer to achieving your goals.
Discovery. Proud supporter of excellence.
Feeling inspired? First kit yourself out with up to 25% cash back on HealthyGear
If Wayde and Chad have got you dreaming, make sure you're fully equipped before you get started!
The Discovery Vitality HealthyGear benefit offers members up to 25% cash back on a wide range of quality footwear, sports clothing, fitness devices, and exercise equipment. For a full list of items that qualify, view the Sportsmans Warehouse catalogue here and the Totalsports catalogue here.
Get ready to run - a beginner's guide
Busy? We understand. Haven't exercised in a while? Don't worry - starting running (and sticking with it) is easier than you think. But first things first: you need to get your body and your mind prepared for running.
Wayde van Niekerk sprinted to a world first and new SA record of 19.84 seconds in the 200m half-lap in Jamaica. We celebrate his extraordinary 19-second (or so) achievement with 19 key insights shared during our most recent interview with him.
'How my Apple Watch saved my life'
When Russell Pengelly got his Apple Watch, he planned to use it to get healthier through Vitality. Little did he know it would end up saving his life.