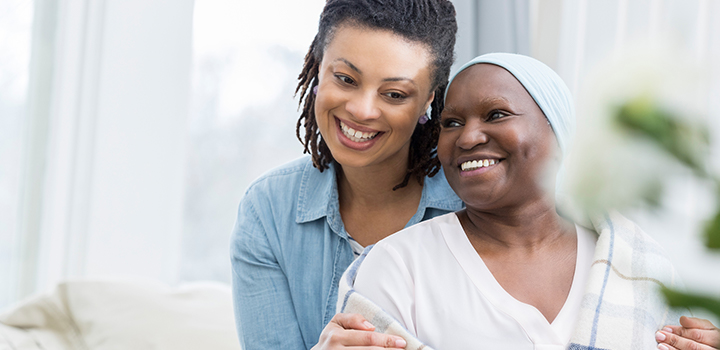 Your doctors, in all likelihood, haven't been where you are right now. While they talk the talk - and they definitely know what they're talking about – they haven't walked the walk, which is why you need to reach out and find a cancer buddy who has.
You'll discover that just having someone who's been there, who's got the T shirt and is living proof that you CAN get through this enormous challenge will go a long way in helping you to stay focused and remain positive even on the toughest of days of your cancer journey.
'You're not alone'. Those three little words will sustain you throughout your cancer journey, and the knowledge that you have a great medical team and additional support on your side will give you some much-needed peace of mind.
"I had a colleague who had survived breast cancer and she helped me to stay positive. I'd call her whenever I needed to know what was going on with me, such as after chemotherapy. She was like a coach for me," says Sibongile Mkhwebane. Like many other cancer patients, she discovered the importance of having a cancer buddy on her team, someone who had been through what she was going through, who knew exactly how she was feeling and who - by simply being there - was able to reinforce the fact that cancer can be beaten.
"A cancer buddy is a vital member of every cancer patient's support system," explains Louise Turner, Chief Operating Officer of the Breast Health Foundation, a Not-for-Profit organisation that aims to educate the public on breast cancer and breast health, increase awareness and empower women.
"Bosom Buddies, a Breast Health Foundation programme, focuses on the support of all Breast Cancer Warriors. "Every Bosom Buddy has faced breast cancer and is able to share their stories with newly diagnosed women. They'll help you to find the strength to stay positive as you fight your fight and will do their best to remove some of the fear factor by giving you practical information and answers to your questions."
A cancer buddy offers support, information and friendship at a time of crisis for anyone confronted by a cancer diagnosis. So says ovarian cancer survivor, Linda Greeff, who together with cancer survivor Carl Liebenberg founded People Living with Cancer. Adds Greeff: "Our peer-to-peer support project Cancer Buddies carefully matches and individually pairs each newly diagnosed cancer patient with someone who has fought and survived the same type of cancer. Family and friends also receive one-on-one support sessions with other caregivers and survivors and both of these free interventions and support services inspire hope and give patients an opportunity to personally interact with someone who's uniquely familiar with the experience."
What does a cancer buddy do?
Essentially a cancer buddy is a 'role model' or 'mentor' that a person diagnosed with cancer can turn to, whenever the need arises. He or she is someone who:
Was diagnosed with the same cancer as the person being supported
Has finished the majority of treatment
Has some similarities with the journey of the person they are supporting - whether in the treatment plan, age or cultural background
Is able to act as a 'sponsor' to the person supported
Is strong enough to help them through their journey without putting the burden of their cancer journey on the person who needs support.
If you've been diagnosed with cancer, it's important to reach out as soon as possible and find yourself a cancer buddy even if you are blessed with an incredible support system of family and friends. Remember that they are also struggling to come to terms with your diagnosis and what you are going through while trying to be there for you. A cancer buddy is not as emotionally invested in your journey and can therefore give you an enormous amount of what you need right now: an understanding of where you are at and an idea of what lies ahead.
And because he or she literally 'gets you' and knows far more than anyone else about what you are experiencing, your cancer buddy will be of immense help and support every step of the way.
You can also read more about the CHOC Parent-to-Parent program here. It takes volunteer parents - whose child has completed treatment or is on maintenance (medication and general care) - and puts them in touch with parents about to begin their child's cancer journey.
All medical information found on this website including content, graphics and images, is for educational and informational objectives only. Discovery Health publishes this content to help to empower cancer patients and their families by promoting a better understanding of a cancer diagnosis. The views expressed by all of the contributing healthcare providers are their independent, professional medical opinions, aimed at supporting patients. These views do not necessarily constitute the views of Discovery Health.
Severe illness can be life-changing. Discovery is here for you
At Discovery, we understand that an illness like cancer affects many aspects of your life. If you're a Discovery Health Medical Scheme member who is diagnosed with cancer, you are covered by a comprehensive Oncology Programme. You'll also have access to a palliative care programme, which offers unlimited cover for approved care at home.
To protect you financially, Discovery Life offers the best dread disease product in the market for cancer cover, as awarded by the Independent Clinical Oncology Network. Our award-winning LifeTime Max 200% Severe Illness Benefit offers coverage across the full spectrum of severities and coverage for remission of a cancer. Contact us to learn more.
The Discovery Health Medical Scheme is an independent non-profit entity governed by the Medical Schemes Act, and regulated by the Council for Medical Schemes. It is administered by a separate company, Discovery Health (Pty) Ltd, an authorised financial services provider.
Your Cancer Buddy gave you that all important hope and belief that you could get through this by simply being there, and now that you've done it, you too have an opportunity to assist others who are just embarking on their journeys.
When a loved one is diagnosed with cancer your first reaction is to do whatever you can to help. What you need to is to find a balance between feelings of helplessness and your desire to help.
Engaging with your family and friends
Literature defines cancer as one of the most stressful medical diagnoses that anyone receives with the accompanying trauma affecting not only you as the patient but also your family and friends.