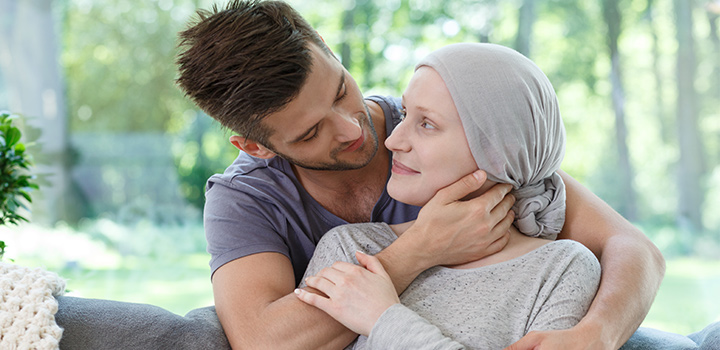 When a loved one is diagnosed with cancer your first reaction is to do whatever you can to help. What you need to is to find a balance between feelings of helplessness and your desire to help.
When it comes to how to help there are a number of things you should bear in mind. Remember that being close to the patient means that you are perfectly positioned to know their needs so always be mindful of these when it comes to all offers of help. Never forget that your loved one is exactly the same person he or she was before diagnosis, so be sure to treat them in the same way you've always done. And whatever you do don't rush in on your white horse and try to take control. This is not your life or your journey so always tread cautiously.
The 5 important Bes
Be a constant presence
This is vital at all stages of treatment – as a driver to doctors' appointments, a companion during chemo or a friendly voice regularly calling in to reaffirm that you are there. Be present but don't smother: allow distance and space when you see it's needed.
Be a silent partner
Silence is usually golden here, as is being a good listener. By all means get sussed about every aspect of the diagnosis but never volunteer information or offer any advice unless you're asked for it. Remember that each journey is unique so never mention what you've heard or read. And never, ever try to fix- you can't.
Be the bearer of gifts
It really is the little things that count: small, thoughtful gifts such as an 'I love you'message; a flower or a small chocolate on a pillow before bedtime; a bottle of really good lotion to soothe chemotherapy-related dry, blistering skin, or sugar-free candies for a dry mouth. Do your research and you'll bring a smile to a face that will help ease the stress and pain.
Be a window to the world
While your loved one is undergoing treatment his or her entire world narrows down to trying to adapt to life as a cancer patient. Add a touch of normality with funny or intriguing diversions whenever you can by sharing 'outside'news- humorous anecdotes, fluffy gossip, anything you know that will distract and amuse. But make sure you get your timing right by carefully gauging their mood: overwhelming fatigue and exhaustion do not make anyone receptive.
Be kind to yourself
While supporting and helping is top of your to-do list, be sure to prioritise your own health and wellbeing. Take time out to reenergise: you need space and distance too. Caregivers take major strain so always slot in that much-needed 'me time'.
Recommended for you by Discovery
Life insurance covers you in case of a range of life-changing events
Choose from a range of benefits with your Discovery Life Plan that cover you for disability and severe illness to ensure that you can focus on what's important: getting well.
Put your health first with OncologyCare
If you're diagnosed with cancer and once the Discovery Health Medical Scheme has approved your cancer treatment, you are covered by our Oncology Programme. We do not limit your cancer treatment costs, and cover the first part of your approved cancer treatment over a 12-month cycle in full.
Members with cancer also have access to a comprehensive palliative care programme through the Advanced Illness Benefit. This programme offers unlimited cover for approved care at home.
Cancer diagnosis? Make a plan and take control!
Linda Greeff, an oncology social worker and cancer survivor herself, believes that a patient's long-term survival is most impacted by the first treatment intervention. She shares her insight from her own experience with being diagnosed with ovarian cancer.
When you get a cancer diagnosis
Surviving cancer physically is sometimes only half the battle. The other half is the post-treatment journey. Laurie Gaum shares his emotional lung cancer survival journey.