Why you'll love banking with us
We're a bank that gets behind you
Discovery Bank is the world's first behavioural bank. Our main goal is to improve your financial health by helping change how you work with your money. Through Vitality Money, you'll learn more about what it means to be financially healthy and you'll get rewarded for managing your money well. Track your progress easily on our app and steadily improve your Vitality Money status. You'll get rewarded as you get financially healthier. How much you get out is up to you.
Dynamic Interest Rates
Benefit from lower interest rates that flex monthly - get higher interest rates on savings and lower rates on credit.
Boosted Vitality rewards
Get even more out from our Vitality partners like up to 100% cash back on your gym membership, up to 75% off flights and up to 75% cash back on HealthyFood.
Vitality Active Rewards
Earn weekly rewards for your responsible spending.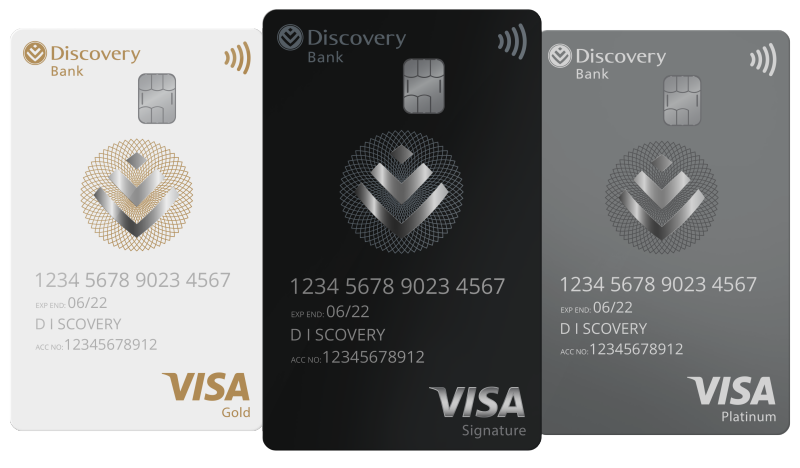 You get one bank account that does it all
Enjoy smart efficient banking with the Discovery 1 account. You'll get a single state-of-the-art card that works as your credit card and for your bank account - with one interest rate, and one fee.
Your Vitality reward cash backs and discounts will automatically be paid into your Vitality Savings Account and grow faster when you manage your money well.
Do more than you ever imagined on our banking app – and never visit a branch again
With more than 200 features on our app, you'll have your bank branch in the palm of your hand. Sign up in minutes without any paperwork and, with our unique facial-recognition technology, your selfie becomes your unique identifier.
Get a single view of your financial health – including all your accounts, Dynamic Interest Rates and rewards. You'll also see all your other Discovery balances and be able to seamlessly link to the Discovery app for more information.
Daily transacting is a breeze. You can add accounts and cards with just a few taps, and control how you'd like to see your accounts and transactions. You can also:
See all your accounts at a glance and add new accounts and cards in minutes
Sort, filter and customise your transaction views – and attach your till slips to your online statements
Allocate credit between credit cards and overdrafts, and advance credit to family members
Pause cards, set daily limits and create and manage your PIN
Improve your Vitality Money status with a range of tools
Set up budgets and track your spend, set up automated savings and get tips on how to save more
Track and improve your Dynamic Discounts and Dynamic Interest Rates
View your Vitality Money Active Rewards
View your other Discovery account balances.
Already part of the Discovery family? You'll get even more value
If you're already a Discovery client, your bank account will give you even more value:
Boost your Vitality rewards with up to 100% back on gym, up to 75% off on flights and up to 75% on HealthyFood items and more!
Enjoy seamless payments at the pharmacy with medical-co-payments automatically deducted from your bank account at your request.
Get immediate 48-hour insurance cover of up to R100 000 on any items you purchase with your Discovery Bank card.
Get more affordable life insurance with up to 15% lower contributions.
Get enhanced returns on your investments.