Become
financially savvy

with Vitality Money

We're committed to helping you become financially stronger. That's why we've created Vitality Money and partnered with organizations like Worth, who are experts in helping you master your personal finances. Through Vitality Money, we put the power to develop good financial habits in your hands with easy-to-use tools, calculators, assessments, and real-time tracking on the Discovery Bank app. The better you manage your money, the higher your Vitality Money status, allowing us to share the value you create back with you through unprecedented interest rates, retail and travel discounts, and other rewards.
Learn all about Vitality Money points

Access online financial education courses from Worth
Use our Vitality Money calculators
Watch our videos on the

five controllable

financial behaviours, how to earn Vitality Money points and more
Vitality Money measures how well you manage your finances, from paying off your debts and saving for longer to making sure you have enough cover for unexpected events.
We've put together a series of videos to help you understand and improve your financial behaviours so you can earn more Vitality Money points and get a higher Vitality Money status.
How to access our videos and Worth Money CoachingTM
Each of these short videos will give you an understanding of how the five controllable financial behaviours work and how you can earn Vitality Money points:
01 | An overview of Vitality Money points
02 | Having enough savings
03 | Managing your short-term debt
04 | Having the right types of insurance
05 | Being on track for retirement
06 | Managing your property investments
You can access these videos at any time using the Discovery Bank app for free*.
*Data charges still apply.
For more insightful courses and videos activate your Money CoachingTM membership with Worth, by paying a once-off joining fee of only R399 - an exclusive discounted offer for Discovery Bank clients. Complete the course within sixty days of registering and you will earn 10 000 Vitality Money points.
STEP | 01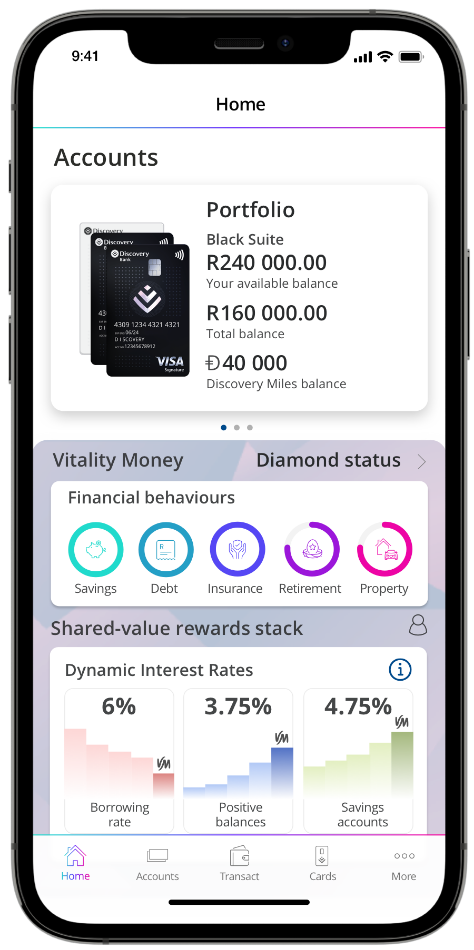 Log in to the Discovery Bank app and tap on your Vitality Money status.
STEP | 02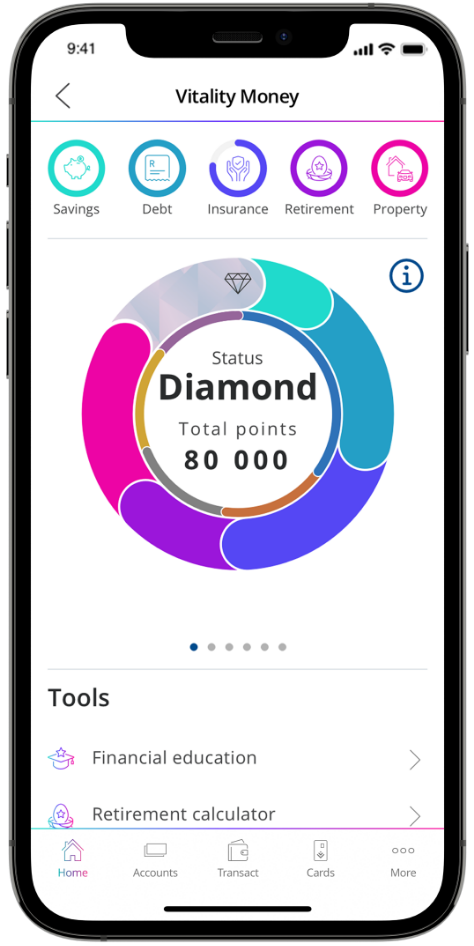 Choose Financial Education.
STEP | 03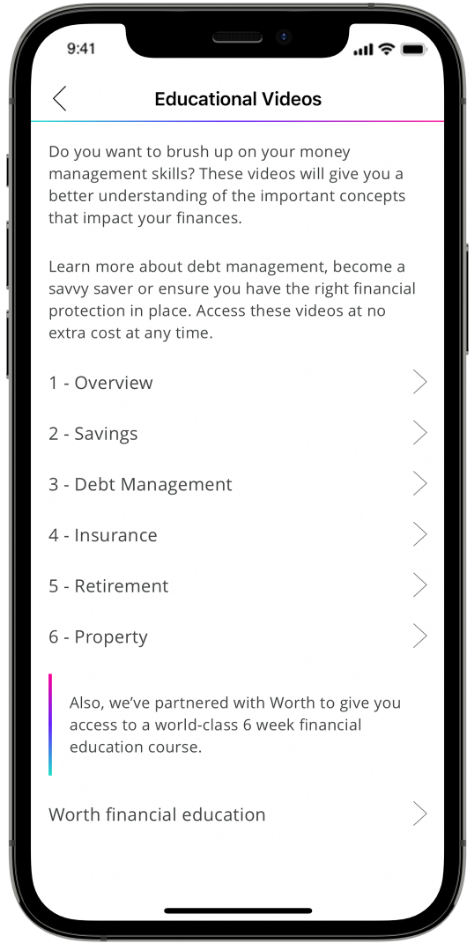 Select the video you want to watch or sign up for a Worth course.

Take control of your money in 60 days or less with

Worth
At Discovery Bank, we believe in empowering you with knowledge, so you can change how you manage your money for the better.
It's no surprise that we have partnered with a company which shares these values. Worth is the leading provider of independent financial education in South Africa and offers a range of online courses to help people learn how to manage their finances effectively.
Take control of your personal finances with help from trusted industry experts and they'll help you manage your money well and build your wealth.
Money CoachingTM courses available through Worth
As a Discovery Bank client, you get access to Worth financial education courses at greatly reduced prices through the Discovery Bank app.
Each course will take you between six and eight hours to do, but Worth gives you 60 days to complete it. All you need is your device - a laptop, tablet or cellphone - and an internet connection to access it.
Each course costs R4 999, but as a Discovery Bank client you can sign up for only R399 through the Discovery Bank app. Once completed, you will earn 10 000 Vitality money points.
Wealthy MeTM course
The Wealthy MeTM course is for individuals who want to learn and empower themselves to take control of their cash flow, get out of debt and own their freedom. Throughout the course, you'll learn these crucial skills, and swap money stress for confidence.
Wealthy CouplesTM course
The Wealthy CouplesTM course is for couples who want to learn how to manage their finances together. The course will help couples have conversations about money, so they can manage their household finances together.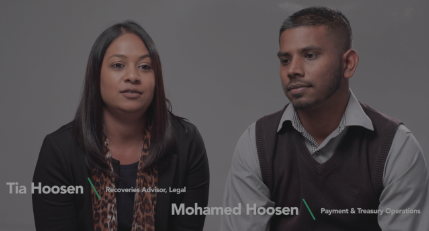 "The course gave us the tools and answers to the questions that give us sleepless nights"
watch video
Find out more
For more information about Vitality Money, rewards, our online courses, and videos on offer for you, please visit our Info and tips page.
Plan better with our financial tools
We're a bank that helps you change the way you handle your money. Only by learning more about your current financial situation can you plot a path to where you want to be financially. You can access our Vitality Money tools and calculators at any time through the Discovery Bank app to stay informed and take control of your finances.
The

Retirement

Calculator
Planning for retirement is one of the most important financial tasks you'll ever have to do. In South Africa, most people have not saved enough to retire comfortably.
The Retirement Calculator measures how well you're progressing towards your retirement goals based on your existing retirement savings and ongoing monthly contributions. All you have to do is answer a few questions, and the calculator will show you the changes you need to make to achieve your goals. It doesn't matter how old you are - the calculator will show you how likely you are to be able to retire at various ages, and how much you stand to retire with. Use the calculator as part of your conversations with your financial adviser to start planning today.
For more information about the Retirement Calculator, please visit our Info and tips page.
The

Risk Capacity

Assessment
The Risk Capacity Assessment measures your long-term financial health and your capacity to take risks with your investments. It provides you with a Risk Capacity score so you can assess your current financial circumstances more accurately.
Your ability to take on risks is what determines your long-term financial health and what you can do with your money. If you have a risk capacity that's high because of all the assets you have accumulated, you'll be able to take on more risks with your investments. However, if your risk capacity is low, you might find it difficult taking on risks and meeting your obligations.
For more information about the Risk Capacity Assessment, please visit our Info and tips page.