Experience
the only Real-Time Forex Accounts

, available 24/7 on your banking app.


Open. Convert. Save. Pay.


In seconds.

Expand your banking portfolio today with our Discovery Bank Forex Accounts - designed for smart, seamless foreign currency transactions.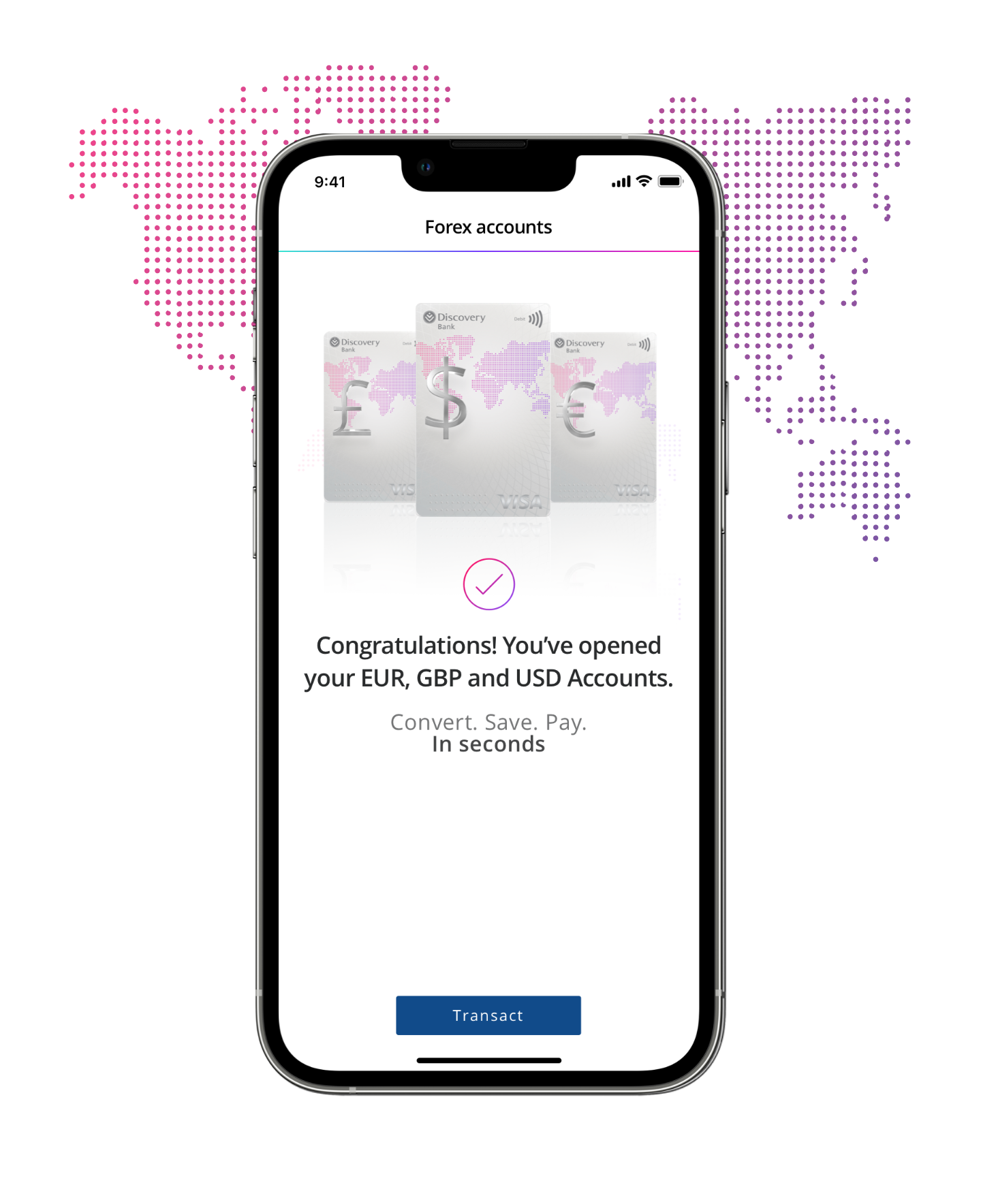 Open a British Pound, Euro or US Dollar Account on the Discovery Bank app and start transacting in seconds.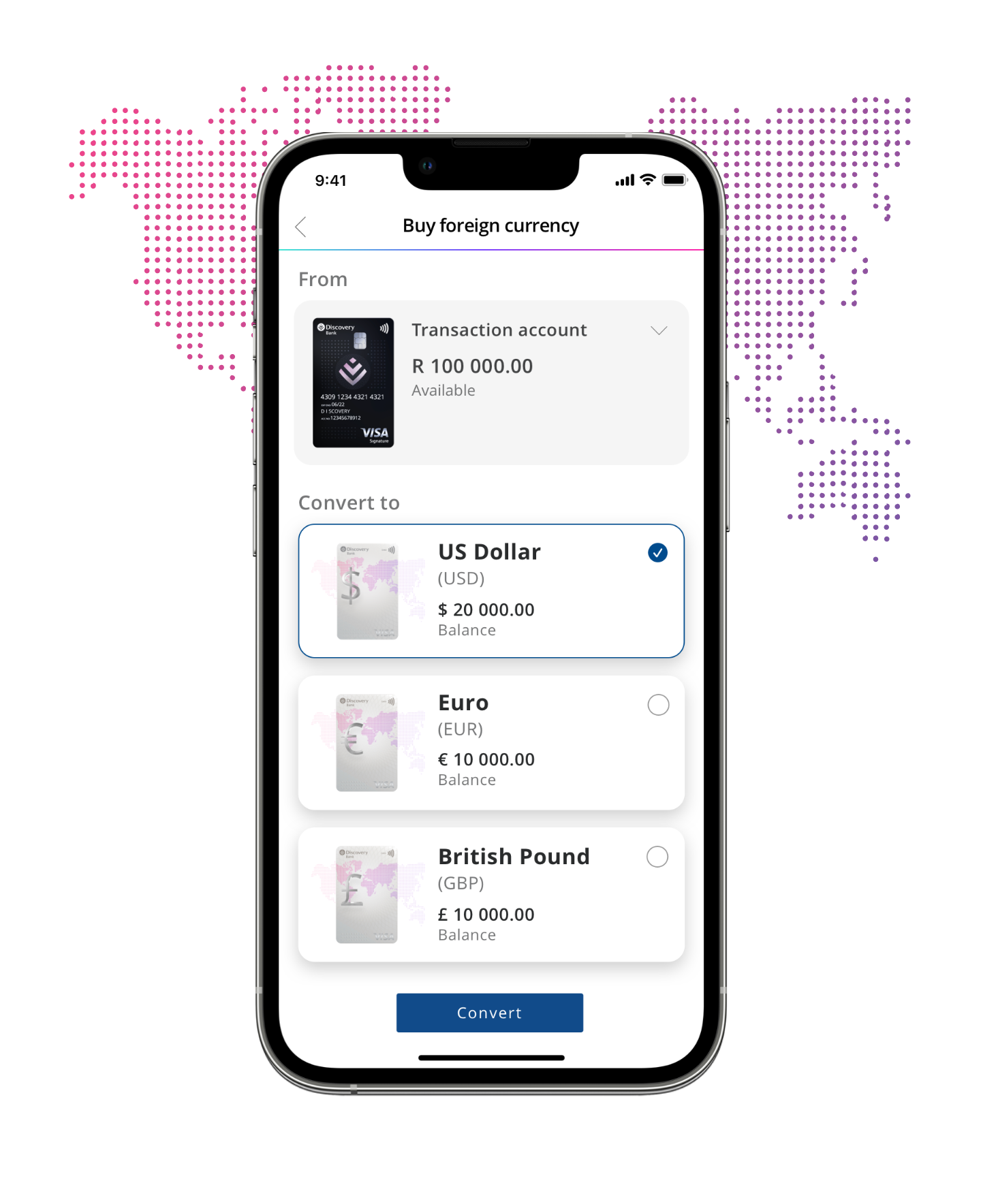 Convert between your Rand, British Pound, Euro or US Dollar Accounts in real time and pay no transfer fees.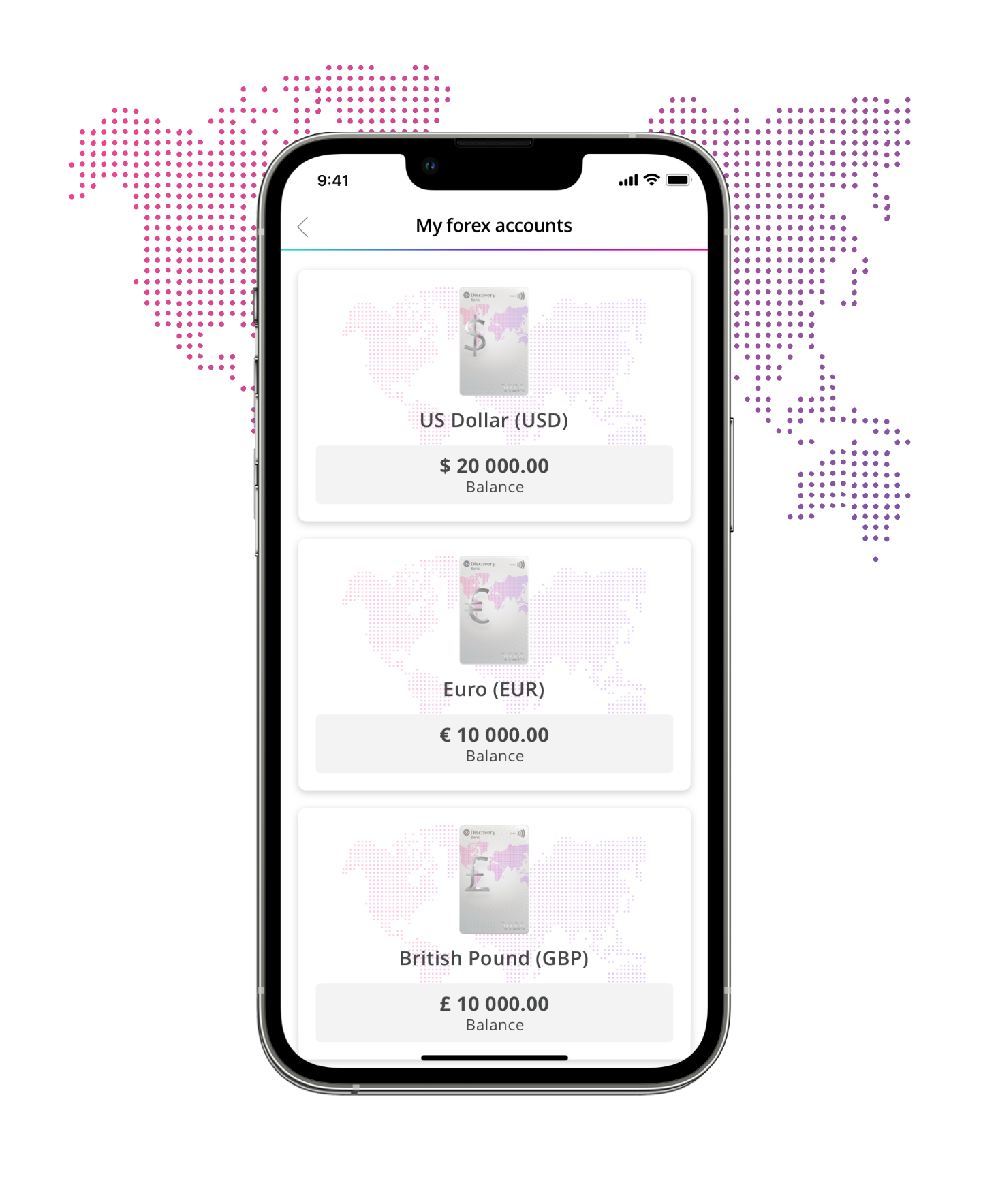 Start saving in British Pounds, Euros and US Dollars the smart way today.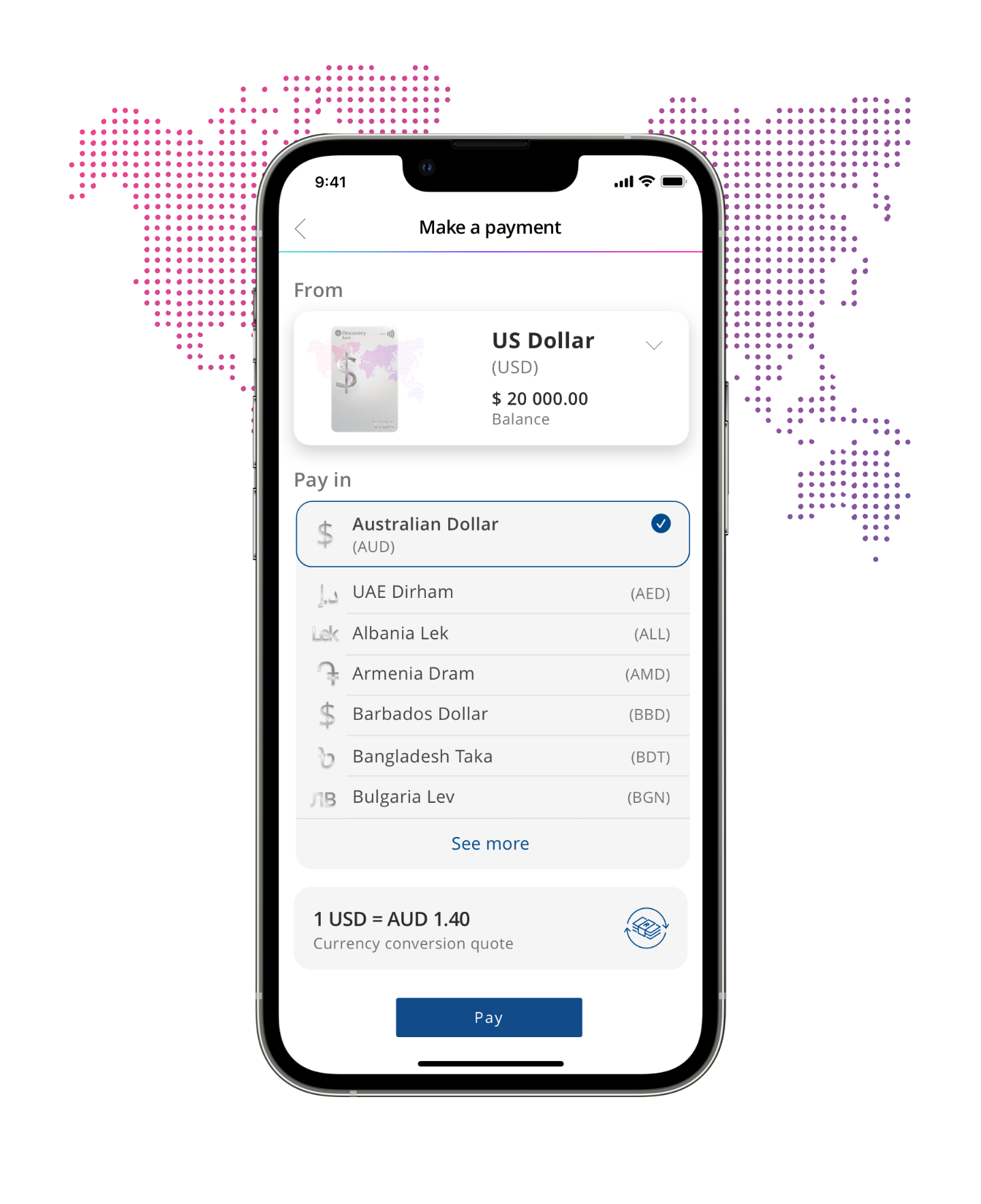 Easily receive international payments in British Pounds, Euros, US Dollars or Rands, and make secure online payments in over 60 currencies.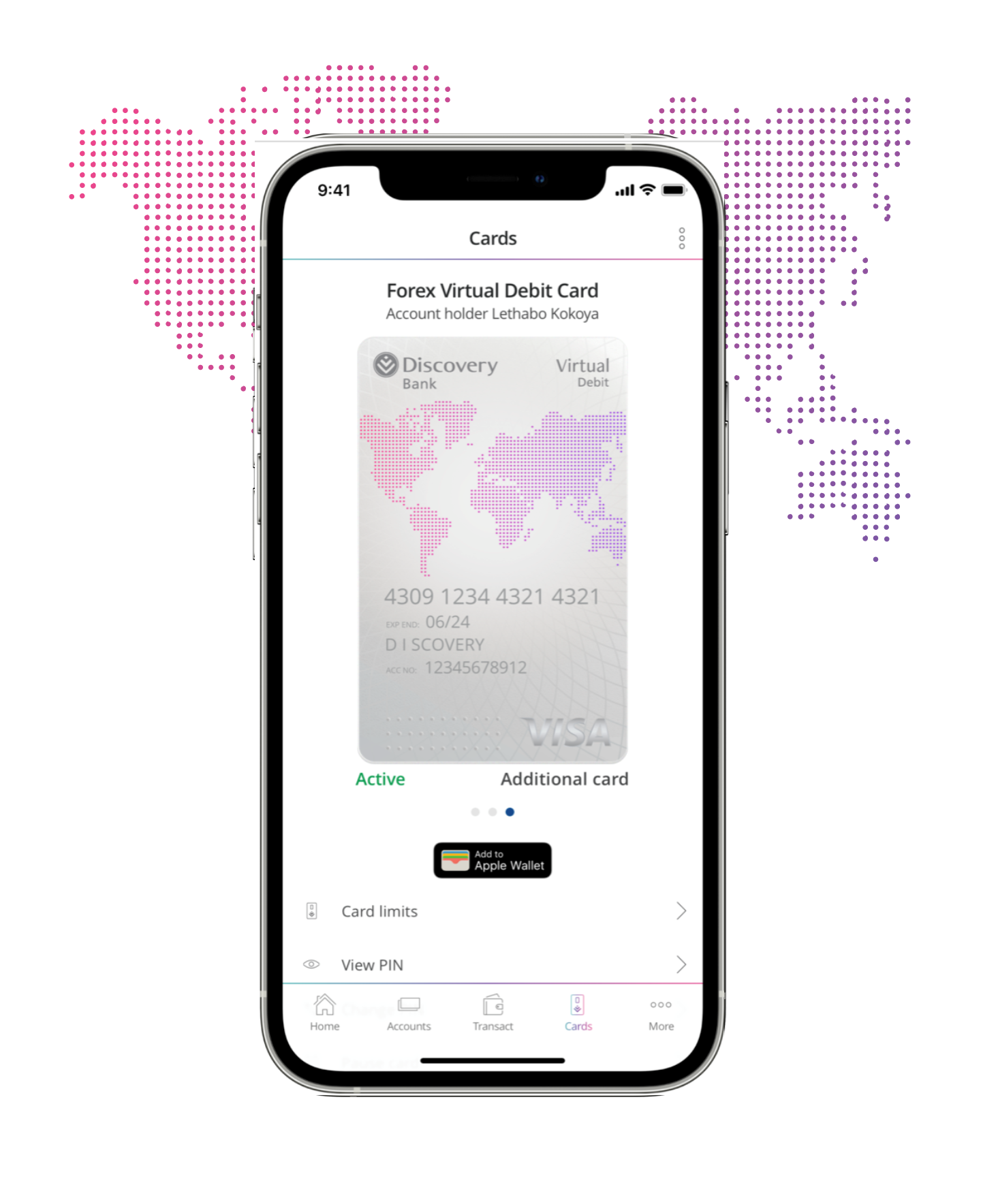 Add a free virtual card and link it to your smart device for on-the-go payments when travelling outside South Africa.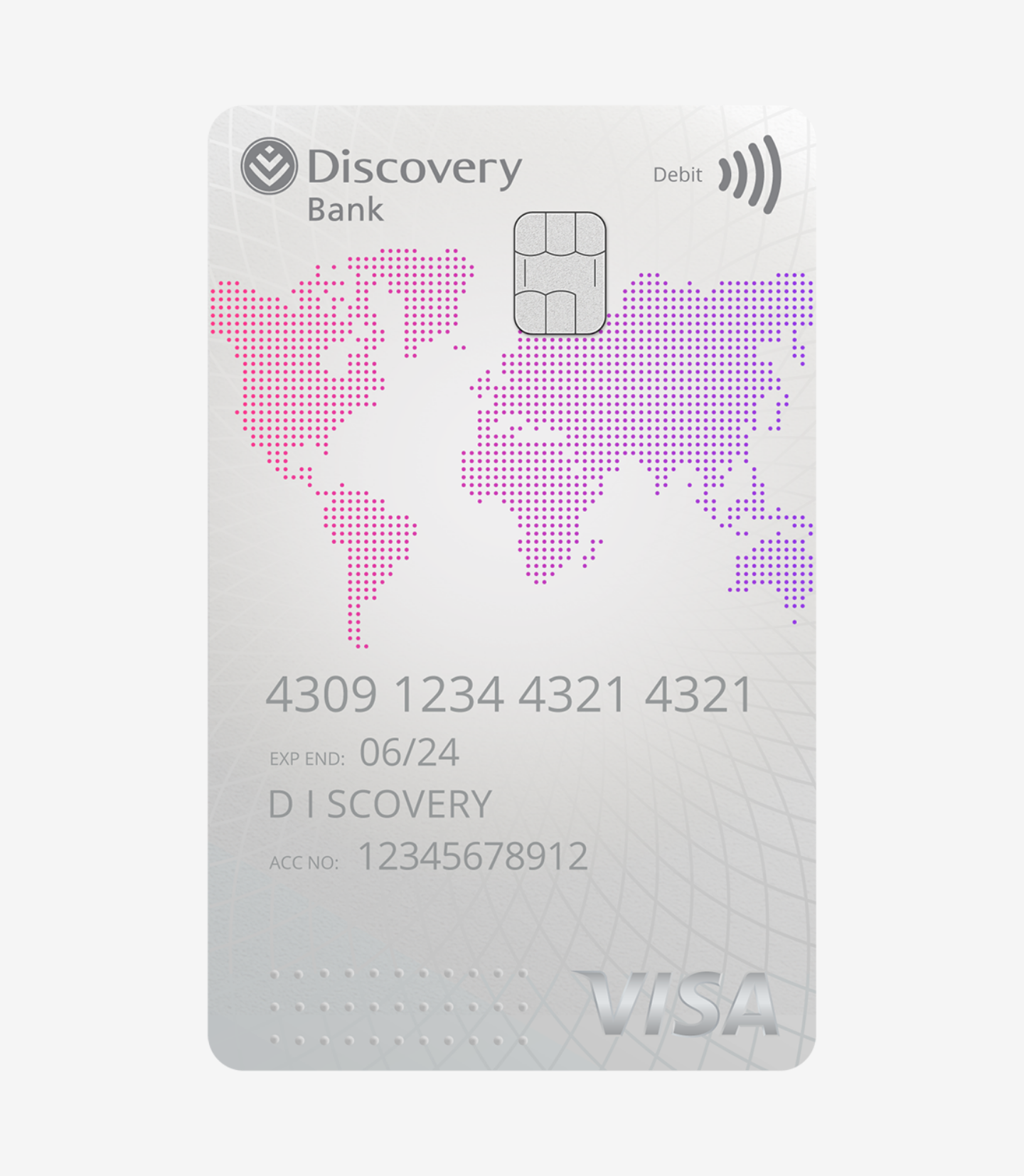 Add a physical debit card for purchases and withdrawals abroad.
See how easy it is

to save and transact in foreign currencies
More features of our
forex accounts
Our smart virtual and physical debit cards automatically select which account to use based on the purchase currency.
There's no minimum balance.
We'll help you manage your foreign currency allowances and track the foreign transactions you make using our platform.
Choose to split the transaction fees, take them on yourself or pass all transaction fees over to the beneficiary when making or receiving foreign currency payments.
Discovery Bank instantly processes your payments into the international banking system. Once your payment is received by an intermediary bank, it is subject to their processes and timelines.
Monthly

account fees
MONTHLY ACCOUNT FEES
Discovery Bank Purple Suite
FREE
Discovery Bank Black Suite
FREE
Discovery Bank Gold or Platinum Suite, Discovery Bank Card Account, or Discovery Bank Transaction Account with bundled fees
R17.501 for each forex account
Discovery Bank Transaction Account with pay-as-you-transact fees
R351 for each forex account
Card fees
Virtual cards
FREE
Once-off physical debit card issuing fee
R200
1 Effective 1 January 2023
See the complete fees guide
Who can open a
forex account
You need to be an existing accountholder of a Discovery Bank Transaction Account, Card Account or Suite and 18 years or older to add any of our forex accounts to your banking portfolio.
Not a Discovery
Bank client yet?
Choose from a transaction account for your everyday banking needs, a state-of-the-art standalone credit card or get the full banking experience with a Discovery Bank Suite - it's the account that gives you the best rewards.
Download the Discovery Bank app to get started or
Join now
Did you
know?
South Africans invest 75% of their assets in South Africa, yet South African investments make up just 0.3% of total investments globally1.
The ability to lower your risk and save and transact in foreign currency used to be a luxury that was only available to the wealthy. Now, Discovery Bank makes it affordable and easy for you to save and transact in the foreign currency of your choice.
1 World Investment Report, 2020.