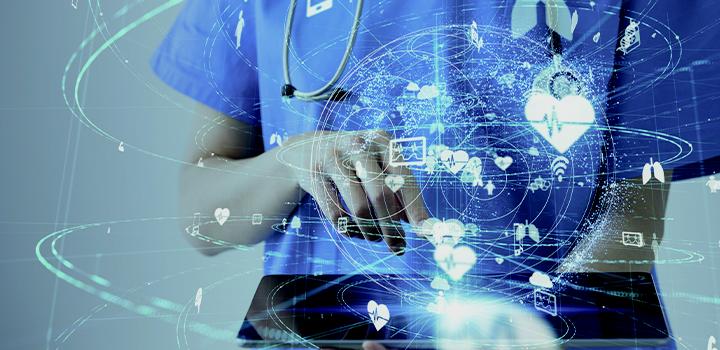 Physical distancing and other measures required to flatten the COVID-19 curve have revealed the true value of telemedicine. Here are five reasons why telehealth and online consultations are playing a critical role in transforming healthcare for good.
In the past, telemedicine was primarily used in providing services such as radiology, cardiology, remote chronic care monitoring, basic or urgent care, pharmacy, obstetrics and gynaecology.
However, in the context of global lockdowns and physical distancing to help flatten the COVID-19 curve, telemedicine has proven fundamental to keeping patients and their healthcare providers connected and safe. Many doctors the world over report that online consultations are proving to be an effective and sustainable patient-care solution.
Here are five reasons why telemedicine is here to stay.
1. Convenient care from the comfort of home
According to the New England Journal of Medicine, respiratory symptoms, which could be early signs of COVID-19, are among the conditions most commonly evaluated through online consultations. When you have a fever or a cough, the last thing you want to do is to sit in a waiting room with other sick patients. With online consultations, you can see your doctor without leaving your bed.
Dr Charlene de Greef, a GP based at Mayo Clinic in Johannesburg, explains how she uses online tools to screen patients to lower the risks of transmitting COVID-19.
"If a patient has an acute respiratory illness, it is ill-advised to bring them into a general practice. So, that's where Discovery DrConnect consultations are very useful. The doctor can screen the patient safely using online consultations. If the patient has severe symptoms that require a clinical examination, the correct route of referral would be to a centre equipped to isolate, assess and treat the patient. Such centres can be found at hospital casualties."
2. Protecting patients and healthcare providers from exposure to COVID-19
Online tools can help patients and healthcare professionals maintain their physical distance to help flatten the COVID-19 curve and limit their exposure to the virus.
Dr Sudeshan Govender, a GP based in KwaZulu-Natal, runs a digitally enabled practice using virtual consultations through DrConnect to follow up with his patients. He says that online consultations have proven invaluable in allowing his patients to keep their physical distance while continuing to receive medical care.
"In my practice alone, I have seen a tenfold increase in virtual consultations since COVID-19 began to spread in South Africa," he says. "By using virtual care, we are able to screen patients who are at high risk of having contracted COVID-19 and direct them accordingly. We are; therefore, able to protect patients who need to come in and other doctors we work with in the practice from exposure to COVID-19."
3. Providing routine care for patients with chronic conditions
It's important to remember that while we're fighting COVID-19, people with chronic conditions such as TB, HIV and AIDS, and diabetes still need routine care and medicine.
Dr De Greef says many GPs understand that their patients are extremely anxious about the risk of exposure to COVID-19 at their doctor's rooms and will avoid seeing their doctor even if they have a medical issue that needs attention. "There is a huge risk that patients who have chronic illness will not attend follow-up consultations. This could lead to undiagnosed organ damage," she explains.
Dr De Greef says with online consultations, she can provide routine care to her regular patients with chronic conditions, prescribe their chronic medicine online, and help overcome any misinformation that may add to their anxiety.
4. Improving access to quality healthcare in rural areas
Telemedicine has had great success in bringing healthcare services to people who live in remote areas, such as to the people of the small island nation of Vanuatu in the South Pacific or to Inuit communities in Canada. Telemedicine also allows the Doctors Without Borders medical teams in the field to virtually consult with a global networks of experts when they need assistance.
In South Africa, platforms like the Vula app allow for remote, rural patients to be virtually referred to specialists who are located in major centres. In a country where many people live in rural areas or have limited access to healthcare, telemedicine is a crucial way to help them access vital healthcare services electronically.
5. Using online consultations for improved mental health
Doctors can also use online tools for consultations if physical examinations are not necessary, for example when doing mental health assessments, Dr De Greef adds. In the time of COVID-19 containment measures, many psychologists and psychiatrists are also using online patient consultations to see their patients. Dr De Greef also uses online consultations to follow up with patients who have been diagnosed with COVID-19 to see if they are stable or need additional care.
How to prepare for an online consultation
To get ready for an online consultation, patients need a smartphone or computer with a video camera and a strong internet connection. Find a quiet place to do the consultation, and prepare a list of questions to ask your doctor. If you're seeing a new doctor, make sure you have your health records available to share with them.
Dr Grant Bekker, a GP working in Durban North, says: "Our practice has changed entirely and we now see some patients first through telephonic consultations or virtually through Discovery Health's DrConnect app, more for triage and screening than for diagnosis."
He explains how an online consultation works: "Patients schedule 15 or 30 minutes and once we connect, we get the patient's basic information. Then we address the health issue, followed by SOAP notes. Then there is administrative follow-up such as emailing lab referral information, medical certificates and prescriptions."
With so many ways to use online health tools to the benefit of patients, telemedicine is playing a vital role in fighting COVID-19 while changing the way countries think about healthcare.
ALL MEDICAL INFORMATION FOUND ON THIS WEBSITE INCLUDING CONTENT, GRAPHICS AND IMAGES, IS FOR EDUCATIONAL AND INFORMATIONAL OBJECTIVES ONLY. DISCOVERY HEALTH PUBLISHES THIS CONTENT TO HELP TO PROTECT AND EMPOWER ALL SOUTH AFRICANS BY PROMOTING A BETTER UNDERSTANDING OF COVID-19.
Find a healthcare professional near you
Find a doctor or hospital near you online or by using the Discovery app.

Outbreak of the 2019 novel coronavirus
The 2019 novel coronavirus (2019-nCoV) has caused an outbreak of fatal respiratory illness first detected in Wuhan, China. This is a completely new strain with no vaccines available. The best way to prevent infection is to avoid being exposed to this virus.


Novel Coronavirus - wash your hands of the threat
As toddlers, we learnt to wash our hands. But, did we ever master the skill to the extent that is needed to wash pathogens off our hands, and save lives? Multiple studies show people don't wash their hands at the right times, in the right way or for the right amount of time. We contaminate the things and people we touch with the germs we carry on our hands.