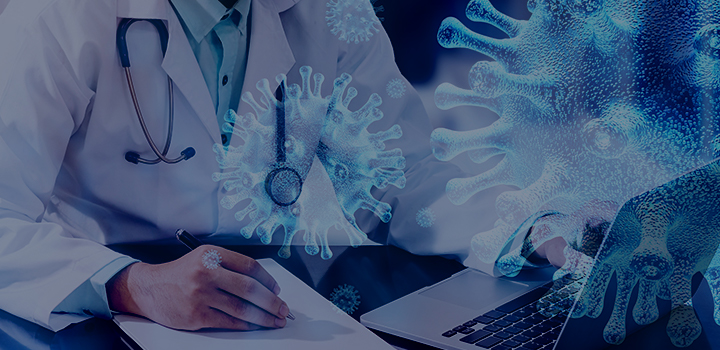 Discovery and Vodacom have partnered to deliver a simple but powerful online healthcare platform for the benefit of all South Africans during the COVID-19 pandemic.
Listen to Azania Mosaka chat to 33-year old Matshepo Matlejoane about how a free COVID-19 online doctor consultation guided her when she developed symptoms of COVID-19. Azania also explores Discovery's partnership with Vodacom to bring all South Africans have access to free COVID-19 online doctor consultations, with Ana Endres, Head of Discovery Healthcare Services and GP, Dr Sudeshan Govender.
DID YOU KNOW THAT This podcast is one of many podcasts in the "Discover Healthier" podcast series? (If you want to see this podcast interview on the podcast page, go to the Discover Healthier series and scroll down to Episode 8, Part 2. The podcast series is also available on popular podcast players like Spotify and others). Start listening now:
Globally, telemedicine has proved invaluable in the management of this disease, with many governments and healthcare systems advocating for digital healthcare tools and virtual consults to be the first step and primary means of healthcare support during the COVID-19 outbreak.
As South Africa continues to closely monitor the incidence of COVID-19, this virtual healthcare platform will work alongside other initiatives to give all South Africans free access to reliable information, risk screening and, when necessary, free online medical consultations. This partnered platform is dedicated to COVID-19-specific screening and consultations. All doctors are invited to download the Discovery HealthID and DrConnect apps from relevant app stores to join the virtual healthcare platform. Doctors will receive guidance on how to consult and how to receive payment from the dedicated fund that Discovery and Vodacom have set up for these specific consultations.
Adrian Gore, Chief Executive Discovery Group, says: "We are proud to be partnering with Vodacom on this important and powerful initiative - bringing free online doctor consultations to all South Africans who need it for COVID-19. Discovery has been built on a very simple but powerful core purpose: making people healthier. In the context of the COVID-19 pandemic that purpose is very simple - we need to keep South Africans out of harm's way. We are very hopeful that this initiative will make a huge impact on the fight against the COVID-19 pandemic in South Africa - for the good of all our citizens."
Vodacom Group Chief Executive Officer, Shameel Joosub comments: "As South Africa unites to contain the spread of COVID-19, we remain committed to supporting society and our government during this unprecedented time. Our partnership with Discovery can go a long way in alleviating any increased pressure on healthcare practitioners while at the same time empowering citizens by connecting them to doctors. As a leading technology company, we are optimistic about the capabilities of digital connectivity to transform the lives of our communities. Through the online doctor consultation platform, anyone looking for COVID-19 related information will be connected to a network of doctors who will be readily available to answer their questions."
Benefits of Online Doctor Consultations
The online doctor consultations platform makes it possible for South Africans to access a healthcare professional without having to travel to a healthcare facility.
Virtual healthcare tools can help to identify people who need referral to hospital and reduce overcrowding at clinics and general practitioner's rooms where there is greater risk of the virus spreading.
Being able to connect people to healthcare through this virtual channel limits exposure to COVID-19 and therefore safeguards the health of our doctors and healthcare workers who are providing care to patients with COVID-19.
What the online healthcare platform is for and who qualifies for free consultations
The platform offers a dedicated COVID-19 information hub and consultation platform from a computer, laptop or smartphone. You can access the service from both the Discovery and Vodacom websites.
It is dedicated to COVID-19-specific screening and consultations. The funding of consultations, made available by Discovery and Vodacom, is for South Africans who are at high risk and who need urgent consultation with a healthcare professional. If you are not at high risk, a consultation with a doctor will not be recommended. Read more about COVID-19 symptoms and who needs to be tested.
Keep everyone's health safe - book a doctor consultation from your home When you feel unwell or think you may have COVID-19, stay home. Remember:
You can have this virus and give it to others, before you feel sick.
Booking an online consultation from your phone or computer on the website is a safe way to speak to a doctor - and it will also help your doctor to stay healthy.
How the virtual healthcare platform works
Go to: www.discovery.co.za or www.vodacom.co.za
Click on the COVID-19 online doctor consultation banner
Follow the short registration process, if you are not a Discovery client already
Answer the risk assessment questions about your symptoms
If you are at high risk you will be directed to choose a doctor you know or a doctor in a dedicated COVID-19 Care Team who is available
Choose an available doctor for immediate assistance or book a time that is available in your doctor's calendar
Look out for the reminder before your consultation
When you've consulted with your doctor, here is how it works:
If the doctor recommends testing, the completed pathology form will be sent by SMS or email. The same process will apply to scripts for medicine.
Testing and collecting of medicine will be facilitated by the relevant essential healthcare service providers you need to visit.
Your doctor will receive test results electronically and can schedule follow-up appointments to discuss results and the next steps.
Protect yourself, your doctor and your community and speak to a doctor about COVID-19 symptoms without leaving your home.
We are collaborating with and inviting doctors, registered with the Health Professions Council of South Africa, to register with us and download Discovery HealthID DrConnect platform, to ensure that those who need online COVID-19 consultations will be supported during this time.
ALL MEDICAL INFORMATION FOUND ON THIS WEBSITE INCLUDING CONTENT, GRAPHICS AND IMAGES, IS FOR EDUCATIONAL AND INFORMATIONAL OBJECTIVES ONLY. DISCOVERY HEALTH PUBLISHES THIS CONTENT TO HELP TO PROTECT AND EMPOWER ALL SOUTH AFRICANS BY PROMOTING A BETTER UNDERSTANDING OF COVID-19.
Find a healthcare professional near you
Find a doctor or hospital near you online or by using the Discovery app.

Outbreak of the 2019 novel coronavirus
The 2019 novel coronavirus (2019-nCoV) has caused an outbreak of fatal respiratory illness first detected in Wuhan, China. This is a completely new strain with no vaccines available. The best way to prevent infection is to avoid being exposed to this virus.


Novel Coronavirus - wash your hands of the threat
As toddlers, we learnt to wash our hands. But, did we ever master the skill to the extent that is needed to wash pathogens off our hands, and save lives? Multiple studies show people don't wash their hands at the right times, in the right way or for the right amount of time. We contaminate the things and people we touch with the germs we carry on our hands.