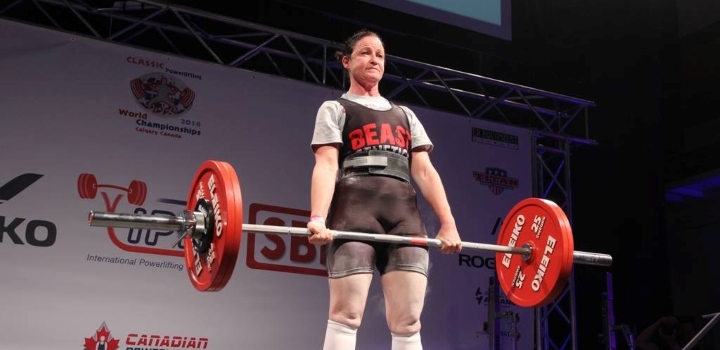 Marion Tanzer is super fit and has always been dedicated to living a healthy lifestyle, so is hardly considered high risk for severe illness from COVID-19. However, her experience of the illness has left her with a healthy respect for the way that it can affect even a low-risk person like her.
Marion Tanzer lives in Johannesburg with her husband and their son and daughter. "For me, COVID-19 was nothing like 'having a mild flu', as its often described to be" she says. Marion is 52 years old and in brilliant health.
"I have been doing CrossFit for the past 10 years and have been a competitive powerlifter for the past four years. I represented South Africa at World Masters Powerlifting in 2018 and 2019. I generally eat well, don't smoke and hardly drink alcohol," she says.
"We talked, we laughed, we pretended the world was back to normal for a couple of hours"
"This virus loves nothing more than to spread during a small gathering with people you love and want to be with. We all know how, at events like these, the rules around preventive measures are often broken."
"We had dinner with my son's girlfriend in early July. She had seen us for dinner a few days before she tested positive. Of four people in her family, three tested positive for COVID-19. Before we knew that my son's girlfriend had COVID-19, we had also met up with a small group of loved ones. It was so cold so we stayed inside with the windows closed, so there was minimal ventilation or air flow, which is so important to minimising exposure to exhaled droplets that could carry the COVID-19 virus to others."
"We had a meal, so the masks came off. We talked, we laughed, we pretended the world was back to normal for a couple of hours. Then, our family found out that we had been exposed through my son's girlfriend and my son and I got sick."
Marion and her son were tested for COVID-19. "My husband and daughter were never tested as they never developed symptoms. Oddly enough, my husband is a smoker and I would have thought he would have developed symptoms, but he was fine. I developed symptoms and so did my son."
"My son's girlfriend's mother is a doctor and she directed us for testing, but our tests came back negative. We think it's because we tested too early so we got false negative results. My own GP felt our symptoms clearly indicated that we had COVID-19 and we didn't want to repeat the test and waste test kit resources. We knew we'd had direct exposure to COVID-19"
Letting those they had been in contact with know they needed to quarantine
"When we realised that we had been directly exposed to COVID-19, we immediately began to quarantine. And we had to contact another two families we had subsequently been in touch with over the prior 14 days, to let them know that they needed to consider quarantining and watch out for any symptoms of the disease."
"One of them included a friend who has a serious chronic lung illness (she actually has MS) and so is very high-risk for severe illness from COVID-19. And we felt incredibly guilty and worried for her. She tested positive for COVID-19 but recovered after a prolonged illness, and we are eternally grateful for that. Thank God we hadn't had any contact with my elderly parents, who live nearby."
Marion makes point about exposure: "Don't play the COVID-19 blame game. You can't blame the person who exposed you to COVID-19 without realising they had contracted it. And you can't blame yourself for contracting it, unless you know you acted irresponsibly and disregarded preventive measures – like we did."
Have you heard of the country's new Bluetooth contact-tracing app COVID Alert SA? Find out all about how this app can keep you and your loved ones safe from exposure to COVID-19.
Marion develops symptoms typical of COVID-19
"I have never had lung or breathing problems before. At first, for a couple of days I had what I thought was indigestion, which was so odd. Then I had a lightbulb moment and realised there was actually a problem with my lungs – the indigestion I felt was in my lower chest. That's when I got worried."
Overall, Marion's symptoms started with a cough, persistent, dry and slightly painful. And then the headaches – constant, but not the worst I have ever had. They were manageable with painkillers that I needed to take every four hours. We also all started taking vitamin D, 500 mg of vitamin C and zinc. For a few days I also had a little bit of diarrhoea here and there. The low energy and fatigue were constant too. On day five, I began to feel pressure in my chest – a tightness in my diaphragm – and had a slight breathlessness."
"My symptoms lasted about 11 days. This virus takes time to leave your system. Recovery takes time. When you think you're absolutely fine, you're really not. Respect the fact that you have contracted COVID-19 – a new disease that we are learning about every day – and give your immune system the time it needs to work the virus out of your body.
Virtual GP consultations and access to a pulse oximeter bring huge peace of mind
Marion had ongoing telephonic consultations with her GP, Dr Sharon Cohen.
"She scheduled telephonic time for me every day and also told me to get hold of a pulse oximeter," says Marion.
A pulse oximeter is a small, lightweight, clamp-like device that fits over your fingertip and measures the amount of oxygen (oxygen saturation) in the blood. They are valuable in early detection of a potentially deadly aspect of COVID-19, called 'silent hypoxia' – a reduction in oxygen levels in the blood, over time.
If you meet the qualifying clinical entry criteria for at-risk members, you will be issued a pulse oximeter to track and monitor your oxygen saturation levels. You will also be covered for two consultations with a Discovery wellness specialist to track and monitor oxygen-saturation levels, and a follow-up virtual consultation with a GP, if necessary. Find out more.
Marion didn't qualify for this benefit as she does not fall into the high-risk category for severe illness as a result of COVID-19.
"This was the best thing she could have advised as this device provided me with massive peace of mind that my pulse and oxygen saturation levels were fine, though I felt breathless and had tightness in my chest. Every day I checked my readings and sent them to Dr Cohen. I also had to count the number of breaths I took per minute and send her that number to check my respiratory rate. I was so concerned about the fact that simply having a conversation or walking around a little caused a lot of breathlessness. So, monitoring all my metrics and sharing them with the doctor brought me great comfort. My GP was also in touch with a physician and they were ready to prescribe additional meds for me if the breathlessness progressed, but it never did. However, this level of support – remote care in the comfort of my home – was invaluable to me, and to my family."
Utmost respect for GPs
Marion feels that its GPs who are on the frontline of the pandemic as they are the first point of contact with people who have potential symptoms of COVID-19. "They are making really hard calls during remote – telephonic or virtual – consults in which they don't physically see their patients, as this is the best way to minimise risk of exposure to the patient and the doctor. I think it's so important that doctors are given due credit for virtual consultations and that they earn well for doing them as they are such an important way of accessing healthcare in the time of a pandemic, and likely well into the future."
"It's through our loved ones that we are exposed to COVID-19"
Finally, Marion adds, "Even though we are at alert level 1 of our lockdown phase it's still important to stay safe, stay home as far as possible, wear a mask when interacting with anyone who doesn't live with you or with people within the home who are considered high risk for serious illness from COVID-19, wash your hands with soap and water often and in the right way – use an alcohol-based hand sanitiser if you can't get to soap and water. I've learnt that the time of high risk of exposure if not when you're at the shops taking precautions and wearing your mask. It's when you're sitting unmasked with a friend, having a cup of tea. It's the result of dropping our guard because we're seeing a close friend of loved one who 'we know well, so they won't make us sick. We know each other's health status so we are fine to meet.' In fact, it's through our loved ones that we are exposed to COVID-19, and to our loved ones that we spread the disease."
"We all really need to work together to ensure that our country's success in overcoming the peak of the pandemic and keeping our mortality rate low is the only story we record about COVID-19 in SA. We can prevent a second wave of infection and we will only achieve this if we take the reality of COVID-19 seriously each and every day."
ALL MEDICAL INFORMATION FOUND ON THIS WEBSITE INCLUDING CONTENT, GRAPHICS AND IMAGES, IS FOR EDUCATIONAL AND INFORMATIONAL OBJECTIVES ONLY. DISCOVERY HEALTH PUBLISHES THIS CONTENT TO HELP TO PROTECT AND EMPOWER ALL SOUTH AFRICANS BY PROMOTING A BETTER UNDERSTANDING OF COVID-19.
Find a healthcare professional near you
Find a doctor or hospital near you online or by using the Discovery app.