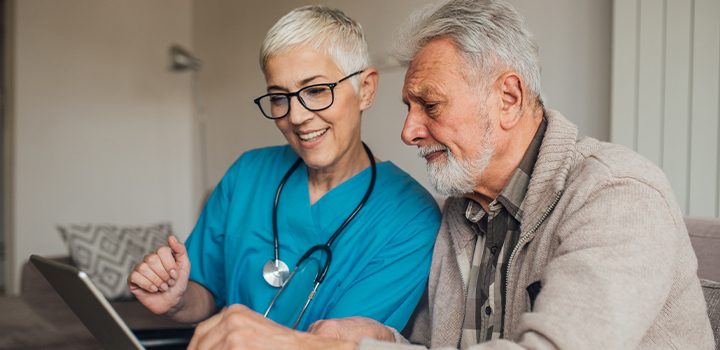 Why are people who live with a chronic illness or are immunocompromised at risk of severe illness if they contract COVID-19? And, how can this high-risk group of people stay as healthy as possible?
By now, the global and local containment measures aimed at "flattening the curve" and slowing the spread of coronavirus disease 2019 (COVID-19) are well known to us all. But, as lockdown restrictions have eased, we want to avoid a resurgence of the virus, so we need to continue adhering to preventative measures.
"Do we really understand the power of our choice to behave in ways that curb the spread of infection?" asks Dr Noluthando Nematswerani, Discovery Health's Head of the Centre for Clinical Excellence. "Slowing the spread of COVID-19 really matters for several reasons. I'll list them:
We want to personally stay healthy.
Then, if we are healthy, we ensure we do not pass COVID-19 on to our loved ones and those we interact with.
And, in so doing, in the bigger scheme of things we are protecting those members of society who are most vulnerable – we refer to them as high-risk individuals – to acquiring COVID-19 and developing a severe respiratory illness as a result. These are the people for whom COVID-19 is potentially fatal.
By slowing the spread of the COVID-19 virus we prevent our healthcare system becoming overwhelmed by a sudden influx of people who have severe illness as a result of COVID-19 and ensure that there are resources available to treat those high-risk members of our population."
Why are people who live with chronic illness at risk of severe respiratory illness from COVID-19?
"Chronic conditions may result in a weakened immune system. And, some of the medicines that are used to treat chronic conditions, cancers, autoimmune conditions, and used after an organ transplant, can also weaken a person's immune response," adds Dr Nematswerani.
Who is considered high-risk in the context of COVID-19?
"We know that a majority of COVID-19 cases will present with mild symptoms. But in others, particularly those who are immunocompromised or who have chronic illness, the disease can cause serious complications such as pneumonia, and even death," explains Dr Nematswerani.
- In the context of COVID-19, high-risk individuals include:
Other conditions that may increase the risk for severe COVID-19 disease include:
Those with chronic kidney disease
HIV and TB – especially those not on treatment or those will low CD4 cell counts
People who have received organ or bone marrow stem cell transplants
People taking immunosuppressive medicines
Even though information on COVID-19 has not shown worse outcomes for pregnant women, pregnancy could potentially increase the risk for severe disease.
How can those who live with chronic illness protect against contracting COVID-19?
1. Educate yourself around COVID-19 and ensure the information you access comes from trusted sources. Don't buy into the misinformation about this disease.
2. Understand the symptoms of illness
Keep in mind that the symptoms of COVID-19 are as follows, and monitor your health accordingly:
Fever
Cough
Difficulty breathing
Muscle pain
Tiredness
Sore throat
Loss of smell and or loss of taste
3. Understand the overlap in symptoms between COVID-19, the flu and common cold and contact your healthcare professional telephonically if you are concerned.
4. Practice preventive measures:
Understand that the disease spreads via droplets that are exhaled when a sick person coughs or sneezes, or when we touch surfaces on which these droplets have landed and then touch our faces.
Understand how to wash your hands correctly and do so frequently. Use soap and water and scrub your hands for at least 20 seconds. If you can't access soap and water use an alcohol-based hand sanitiser and ensure you cover all areas of your hands as you scrub.
Remember to wash your hands after touching money, or other frequently handled items like credit cards, credit card machines and after touching a parcel from a delivery company.
Avoid touching your face – especially eyes, nose, and mouth - with unwashed hands.
Practice social distancing, avoid crowds, especially in confined and poorly ventilated spaces, doing your grocery shopping at off-peak hours and avoid using public transport as much as possible. Avoid meetings, events and other social gatherings in areas with ongoing community transmission of COVID-19.
Wear a face mask when in public or when leaving your home to help contain the spread of COVID-19.
Work from home as far as possible during periods of community transmission of COVID-19.
"Also ensure that others in your household, or anyone you are regularly in close contact with, follows preventive measures to curb the spread of illness. Remember that people who contract COVID-19 can take up to 14 days to present with any symptoms. However, while the most of the spread of this virus is from people already showing symptoms, the virus may still spread from people who are not showing symptoms but are already infected", adds Dr Nematswerani.
5. Ensure adherence to your medicines and medical care
Ask your healthcare provider whether you should keep regular appointments, reschedule them or conduct them virtually or telephonically.
Refill your prescription medicines telephonically and have them delivered to your home so that you do not have to visit a busy pharmacy, particularly during any stay-at-home period.
Ensure that you have a sufficient supply of over-the-counter medicines and medical supplies – anything from tissues to a thermometer and pain or fever medicines.
Ensure that you take your medicine according to your doctor's prescription.
Remember that antibiotics are not effective in preventing or treating coronavirus disease 2019. What's more, misusing antibiotics can result in them not working due to the development of antimicrobial resistance.
Stay up to date with the latest news on COVID-19 in your community (ensure you're accessing credible sources only) but also take breaks from this information and relax through the activities you enjoy at home. You can also visit our COVID-19 district hotspot page to monitor which districts are considered hotspots with high average numbers of new infections.
6. Live a healthy lifestyle
Have your annual flu vaccine, either at your local pharmacy or through your healthcare provider. Ensure you practice the preventive measures listed above when you are in these facilities.
As far as possible, maintain healthy habits – eat healthily, get good sleep quality and quantity, manage your stress and stay physically active (exercise at home or outdoors instead of in any indoor settings).
You must avoid interacting with sick people.
Activate your social network. Contact family, friends, neighbours or community health care workers in advance and make joint plans on what to do when COVID-19 spreads in your community, or how you will be supported if you become ill. Ask your loved ones to check in on you regularly.
Avoid eating raw or undercooked animal products. Handle raw meat, milk or animal organs with care to avoid cross-contamination with other uncooked food. Use different cutting boards and knives for raw meat and other food. Wash your hands between handling raw food – especially meat – and any other food.
Do not eat the meat that comes from animals that have died of diseases.
Avoid non-essential travel and heed global travel restrictions.
Steps to take if you suspect you have acquired COVID-19
If you suspect that you have COVID-19 and require non-urgent medical care, contact your doctor telephonically or via a virtual consultation to allow them to assess your level of risk for the COVID-19 virus. They will guide you as to what to do next.
"If you happen to present with symptoms suggestive of COVID 19 disease, please ensure that you do not go to your doctor's consulting rooms as you risk exposing other patients to COVID-19. Your doctor should be given fair warning that they may be dealing with a patient who has potentially been exposed to COVID-19 to allow them to prepare in every way to care for you and protect themselves and others from exposure though you," says Dr Nematswerani. "Your doctor will guide you as to the next steps you need to take to get you the specific care you need also indicating whether they feel a COVID-19 test is warranted."
If you are diagnosed with COVID-19:
Unless your doctor indicates otherwise, stay at home (self-isolate) and please avoid contact with others.
When in contact with others, wear a face mask.
Rest, ensure you drink plenty of fluids and use medications (like paracetamol) as needed to reduce fever and/or pain. There is no specific treatment for COVID-19 and care is supportive.
Practise cough etiquette: When you cough, maintain your distance from others. Cover your mouth and nose with clothing, a flexed elbow or a tissue. Throw away the tissue immediately and wash your hands afterwards. Ensure those around you do the same
Avoid sharing dishes, drinking glasses, cups, eating utensils, towels, or bedding – after using these, wash them well. Only discontinue home isolation in consultation with your healthcare providers (usually after 14 days).
If you are feeling short of breath, seek help urgently. Call ahead to your doctor or health facility to alert them. As soon as you arrive tell them about your symptoms and any recent travel/contacts. Make sure you put on a mask before you enter the facility.
All medical information found on this website including content, graphics and images, is for educational and informational objectives only. Discovery Health publishes this content to help to protect and empower all South Africans by promoting a better understanding of COVID-19.
Find a healthcare professional near you
Find a doctor or hospital near you online or by using the Discovery app.

Outbreak of the 2019 novel coronavirus
The 2019 novel coronavirus (2019-nCoV) has caused an outbreak of fatal respiratory illness first detected in Wuhan, China. This is a completely new strain with no vaccines available. The best way to prevent infection is to avoid being exposed to this virus.


Novel Coronavirus - wash your hands of the threat
As toddlers, we learnt to wash our hands. But, did we ever master the skill to the extent that is needed to wash pathogens off our hands, and save lives? Multiple studies show people don't wash their hands at the right times, in the right way or for the right amount of time. We contaminate the things and people we touch with the germs we carry on our hands.