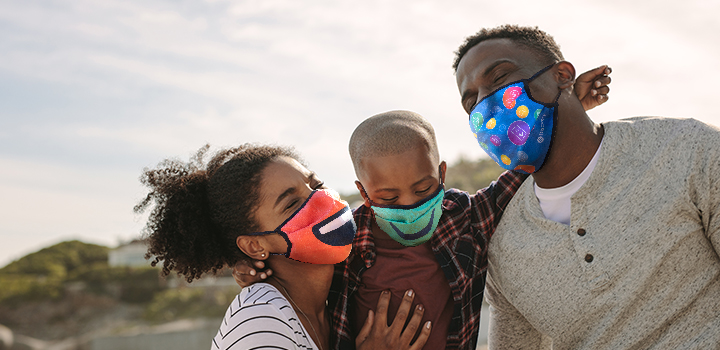 When and how should you wear a face mask? The recommendations about wearing masks have changed. Here's what the South African Department of Health and the World Health Organization have to say about who should wear face masks during the COVID-19 pandemic.
From the beginning of the pandemic, we've all had to get into new habits to prevent the spread of COVID-19. Washing our hands thoroughly for at least 20 seconds and keeping a distance of about 1.5 metres from other people are an important part of this. Wearing a mask can help to prevent the disease from spreading, but only if you wear it correctly.
FACT: South Africans should wear cloth face masks in public
In April 2020, the National Department of Health recommended that all South Africans wear cloth face masks when leaving their homes. By wearing a cloth mask in areas where there are many people, it creates a barrier so you can protect yourself and others from the virus.
FACT: Cloth face masks are not the same as medical face masks
A cloth face mask helps protect you and others around you from the COVID-19 virus by containing the droplets when you talk, cough or sneeze. These droplets are how the disease spreads. You should also keep washing your hands and practise physical distancing. Everyone should wear a cloth mask since you can spread the virus even if you don't have symptoms of COVID-19. You can wear a cloth face mask again after washing and ironing it.
The World Health Organization and the National Institute for Communicable Diseases (NICD) have recommended that only healthcare workers wear medical masks like the N95 or surgical masks. The WHO updated their recommendation in June 2020 to include people over the age of 60 and anyone with an underlying health condition. So, if you are at higher risk of getting COVID-19, you should wear a medical-grade mask. Everyone else should wear cloth face masks.
How to wear a face mask
Here's what the World Health Organization has to say.
FACT: When wearing a mask, be careful when you put on the mask, take it off, and put it away for washing. If you do not follow these steps, the mask can become another source of infection as there could be COVID-19 virus on the mask. Generally, only wear your mask for one day at most.
Putting the mask on
Clean your hands with an alcohol-based hand rub or soap and water (wash for 20 to 40 seconds).
Pick up your mask by its strings and inspect it. If it is damaged or dirty, don't wear it.
Pull out the elastics on either side and secure them behind your ears or tie the mask's strings securely behind your head.
Make sure that the mask covers your nose, mouth and chin and fits well. There must be no gaps between your face and the mask.
Do not touch your mask while wearing it. If you accidentally do, clean your hands.
Removing the mask
Before touching the mask, clean your hands with an alcohol-based hand rub or soap and water (wash for 20 to 40 seconds).
Take hold of the elastics from behind your ears or untie the strings behind your head.
Do not touch the front of your mask because it may be contaminated with a virus and you will then transmit this onto your hands.
Remove the mask holding the strings or elastics and put it into a container that has a lid or directly in the wash. Close the lid.
Clean your hands with an alcohol-based hand rub or soap and water (wash for 20 to 40 seconds.)
Make sure you have your own mask and do not share with anyone.
FACT
:
Avoid touching the front of the mask. If you touch it accidentally, wash your hands.
Replace your mask with a new one every time it becomes damp.
Never wear a dirty mask. Wash and iron your cloth face mask before wearing it again. If your mask is not made of cloth, you can only use it once. Wash your mask with soap and hot water after each use.
Watch these videos on the World Health Organization's website for step-by-step guidance on how to wear a cloth face mask and how to wear a medical mask if you're over 60 or have a medical condition.
The organisation has also published new guidelines on how to make a three-layered cloth face mask:
The outer layer should be a water-resistant fabric like polyester or a polyester blend.
The inner layer should be a water-absorbent material like cotton.
The middle layer acts as a filter and should be made of non-woven materials such as polypropylene.
You can also download these WHO infographics on the dos and don'ts of wearing a cloth face mask.
All medical information found on this website including content, graphics and images, is for educational and informational objectives only. Discovery Health publishes this content to help to protect and empower all South Africans by promoting a better understanding of COVID 19.
Find a healthcare professional near you
Find a doctor or hospital near you online or by using the Discovery app.

Outbreak of the 2019 novel coronavirus
The 2019 novel coronavirus (2019-nCoV) has caused an outbreak of fatal respiratory illness first detected in Wuhan, China. This is a completely new strain with no vaccines available. The best way to prevent infection is to avoid being exposed to this virus.
Feeling the flu? Why and when to taper back on training
Feeling under the weather? There's a reason doctors always prescribe rest when you're ill. Here's how to be mindful of your body's needs, plus an easy way to earn 1 000 Vitality points for keeping the flu at bay with a flu vaccination.