New on Vitality Active Rewards: Get your Discovery reusable fabric face masks and keep safe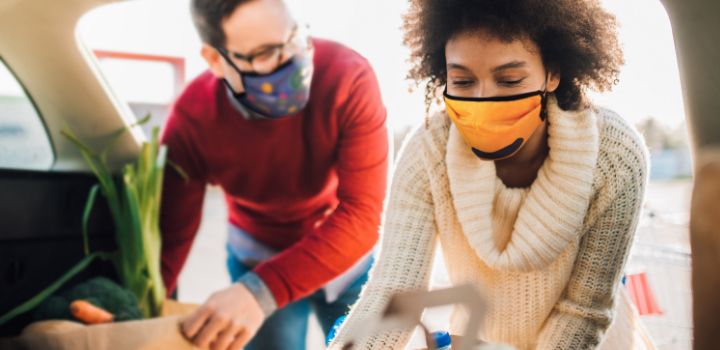 Now, you can choose a Discovery custom-made fabric face mask through Vitality Active Rewards and help contain the spread of COVID-19. Vitality members can get a reusable fabric face mask as a reward for achieving their Vitality Active Reward goals.
Vitality members, now you can stay safe when you go out for essential goods with a new reward through Vitality Active Rewards: Discovery custom-made reusable fabric face masks to help to contain the spread of COVID-19.
Our face masks have been made to align with government guidelines. It is a three-layer fabric mask with the outer layer made from woven polyester water-repellent fabric and the inner part made from poly-cotton Vilene. The lining includes single jersey knit so you can breathe easily.
How to earn and redeem your Discovery fabric face masks
You will need 200 Discovery Miles to redeem your fabric face mask through Vitality Active Rewards. You can earn at least 450 Discovery Miles by achieving your weekly exercise, drive or money goal.
So why not reward yourself by using 200 Discovery Miles to get your fabric face mask from Dis-Chem or online from takealot.com. The masks will also be available to all South Africans to buy from Dis-Chem and takealot.com for R39.95 a mask. You can even share your Vitality Active Reward with a friend or family member to get their own fabric face mask. Stock is limited, but stock will be topped up, so keep an eye out while stocking up on all your essential items.
Get your Discovery fabric mask and help to keep others healthy and safe
The Discovery reusable fabric mask is a not for profit initiative by Discovery, proceeds from every fabric mask bought through Dis-Chem or takealot.com go towards the SA Solidarity Fund. So when you get a Discovery fabric face mask from Dis-Chem or takealot.com, you are also helping to keep others healthy and safe.
Coming soon: You will also be able to get a Discovery kids reusable fabric face mask and a spray hand sanitiser. More information on this will follow soon.
How to stay safe with a fabric face mask
In addition to preventive measures like staying home, washing your hands for 20 seconds and maintaining social distance, a fabric face mask can help reduce the amount of coronavirus or flu virus droplets in the air. It can also keep you from touching your face after potential contact with contaminated surfaces.
Here's how to best use your fabric face mask to stay safe:
Wash your mask before you use it, and again after every use.
Iron or steam your mask: this is the best way to disinfect it.
Cover your mouth and nose completely.
Do not lower the mask to speak, cough or sneeze.
Don't touch your mask, especially not on the inside.
Wash your hands for 20 seconds with soap when you remove the mask.
Wash the masks with warm soapy water and iron dry.
Have an extra mask for when the other one is in the wash.
These are just some of the many ways Discovery is working to help keep you safe. Stay home. Stay healthy. Stay rewarded.
Need inspiration to get active? Here's how you can achieve your exercise goals at home.
Visit the Discovery COVID-19 information hub for the latest updates and insights.