Can't get to gym? Here's how you can keep moving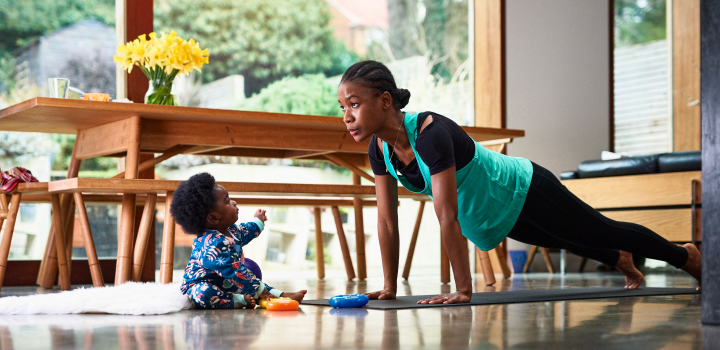 Our exercise routines have had to change during lockdown. But this does not mean you can't stay fit and healthy, and meet your exercise goals at home.
Responsible behaviour around the COVID-19 pandemic is essential to keep panic levels low, and prioritise good health. But if you are healthy and able to exercise, you don't need to stop. Considering restrictions on public gatherings, here is a guide on how to exercise safely in your home.
Discovery Vitality biokineticist, Mari Leach, says: "It is best to get an exercise session done first thing in the morning. That way, you can prioritise the rest of your day. This can also give you structure in a work-from-home environment."
"Technology is a great way to boost your exercise routine at home. It's no surprise that wearable tech has claimed a top-three spot on the American College of Sports Medicine's list of global fitness trends for the past few years. Wearable technology gives you greater flexibility and control over your health and fitness goals," says Leach.
Vitality members can earn 100 points, equivalent to a gym visit, by walking 10 000 steps. In addition, members can earn up to 300 points for 30 minutes of running or aerobic exercise – such as lunges, skipping or burpees – when they track this using a heartrate monitor.
Simple ways to achieve your fitness goals
"There are many home-based exercise programmes that don't require equipment. And there are amazing fitness apps and online resources that will help you achieve your physical activity goals," says Leach. These include:
Fitbit coach
Huawei Health
Garmin Connect Training Workouts
Suunto Moves Count
Samsung Health
Polar Fitness Zone
Technogym Wellness Coaching app
Vitality Health members can activate Device Booster and get up to 75% cash back on a qualifying Fitbit, Garmin, Huawei, Polar, Samsung or Suunto heart rate fitness device. Buy your heart rate fitness device online from Sportsmans Warehouse or Totalsports, Vitality's HealthyGear partners. Alternatively, activate Vitality Active Rewards with Apple Watch and fund your Apple Watch in full by achieving your monthly Vitality Active Rewards exercise goals for 24 months.
A sample exercise routine could include some of the following:
Cardio: Jumping jacks, knee lifts, running on the spot, burpees, skipping, tuck jumps, jump squats and lunge jumps
Core: Planking, (front/side/back), sit-ups, bicycles, push-up with rotation and bear crawls
Upper body: Push-ups, varied from narrow to wide, tricep dips and push-up planks
Elastics workout: Bicep curls, tricep push-downs and shoulder presses
Lower body: Squats, lunges, pelvic lifts, squat jumps and calf raises
Vitality launched the Vitality Home-Workout Channel in March. The channel has a daily schedule of FREE HIIT workouts, yoga, fitness challenges and more for the whole family. Choose from livestreamed workouts with JEFF to convenient pre-recorded sessions with amazing trainers from Virgin Active. PLUS, get valuable insights from our Vitality fitness experts. We are making staying fit and healthy that much easier with #VitalityAtHome. Check out the workout schedule here.
Leach says members can also use social media hashtag "#fitspiration" to interact with people while getting active when you can't meet in person. From online communities to motivational workouts from fitness vloggers, social media has facilitated a whole new way to stay motivated and connected, in the comfort of home.
"Technology means you can still cycle in the Tour de France or jog along a secluded mountain path using fitness consoles and apps that make use of virtual reality. So turn on your surround sound and get moving. It even has a name: exertainment," she says.
And if you feel sick…
"It's best to stop exercising if you're sick, until about a week after recovery," says Leach.
All medical information found on this website including content, graphics and images, is for educational and informational objectives only. Discovery Health publishes this content to help to protect and empower all South Africans by promoting a better understanding of COVID-19.