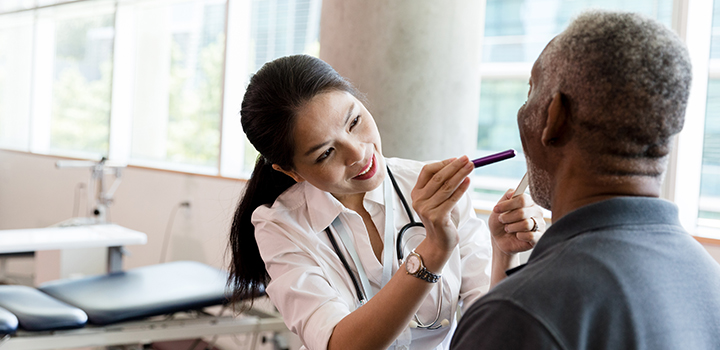 Here's all you need to know about being tested for COVID-19. It's important to ensure that COVID-19 tests are available to those who need them. That's why the tests are reserved for those people whose doctors find that they meet specific case criteria.
COVID-19 tests must remain available to those who need them
On 15 March 2020, President Cyril Ramaphosa announced a 'national state of disaster' within South Africa and listed measures to combat the spread of COVID-19.
"It is crucial for everyone to understand the COVID-19 virus and to follow good hygiene and other habits that can help to contain the spread. While awareness of these steps grows, so too does concern around acquiring – and being tested for – the disease," says CEO of Discovery Health, Dr Ryan Noach.
"It's understandable that many South Africans want access to testing to determine whether they have acquired COVID-19 or not. However at this stage it is impossible to test everyone. We must therefore take care not to overwhelm testing centres with inappropriate demands for tests. It is very important that we ensure that we make test kits available to those healthcare providers and patients who really need them. In this way we ensure that we allocate resources within the healthcare system in a structured and responsible way."
"To get access to testing you must meet certain clinical criteria. These criteria are based on the clear testing guidelines set out by the World Health Organization and the South African National Institute for Communicable Diseases (NICD – which falls under the National Department of Health). There is also a specific process you have to follow to undergo the testing."
Remind me of the symptoms of COVID-19?
People who contract coronavirus 2019 may take from 1 to 14 days to develop symptoms, which include:
Fever
Cough
Shortness of breath or difficulty breathing
Who will be referred for a COVID-19 test?
Remember that at this stage testing is only available to patients who have been assessed by their doctor or healthcare provider and determined to require a COVID-19 test. These patients must meet the COVID-19 case criteria which indicate that they:
Have a severe acute respiratory illness, with fever or history of fever and cough with pneumonia, or
Have acute respiratory distress syndrome (based on the clinical signs or X-ray findings) that requires you to be admitted to hospital
And:

Have a documented travel history to any country where COVID-19 has occurred within 14 days before symptoms start
or
Have had close physical contact with a person with COVID-19 while they had symptoms
or
Have had close contact with patients with severe acute respiratory infections

Specifically if you are a healthcare professional dealing with patients who have severe acute respiratory infections and where the cause of the patients' symptoms hasn't been confirmed.
What to do if I suspect COVID-19 and require NON-EMERGENCY care?
If you suspect that you have COVID-19 and require non-urgent medical care, contact your doctor telephonically or via a virtual consultation to allow them to assess your level of risk for the COVID-19 virus. They will guide you as to what to do next.
Please ensure that you do not go to your doctor's consulting rooms as you risk exposing other patients to COVID-19
Your doctor should be given fair warning that they may be dealing with a patient who has potentially been exposed to COVID-19 to allow them to prepare in every way to care for you and protect themselves and others from exposure though you. Your doctor will guide you as to the next steps you need to take to get you the specific care you need, and explain how to obtain samples for testing from you, if they feel a COVID-19 test is warranted.
DID YOU KNOW THAT members of Discovery Health Medical Scheme can book a virtual consultation by logging in to the Discovery app and contacting one of the healthcare providers in the Discovery network?
Unless your doctor indicates otherwise, stay at home (self-isolate) and please avoid contact with others. Follow preventive practices to reduce the risk of possible transmission of the COVID-19 virus to others and follow your doctor's advice about treating your symptoms while waiting for the tests results.
Remember that doctors can only treat the symptoms of COVID-19 as they present
– we have no current vaccines or forms of treatment for the disease itself. These symptoms also overlap with the symptoms of seasonal flu. This means that, in assessing your risk of acquiring COVID-19, you also have to be aware of the specific risk factors listed in the criteria for testing for COVID-19.

You cannot access a test through these labs directly
COVID-19 is diagnosed by a laboratory test called a polymerase chain reaction (PCR) molecular test. The test investigates a sample taken from a patient's respiratory tract - nose, throat or chest. All requests for tests must be facilitated by healthcare professionals. No private individual can approach a pathology lab and ask for a test to be done.
Your healthcare provider will send your sample to a South African pathology lab for assessment. See below the laboratories that offer testing including drive-through facilities:
Testing is critical for infected people to get the treatment they need and for health officials to accurately track the spread of the coronavirus. We need to ensure we use the test kits responsibly and for the correct people.
You don't need to test if:
You have NO symptoms
You are just looking for reassurance- the test kits are in shortage so we want to ensure that the right people get tested.
You think you were in contact with a contact who has Corona virus- i.e. a distant contact. "Contacts of contacts" don't need to be tested.
Please check the criteria before you try to get tested and always contact your doctor 1st to see if you qualify for testing before you present to any laboratories.
A yes to 1 and 2 is a strong indication you should get tested:
Do you have fever, a cough, sore throat or shortness of breath?
Have you travelled outside of South Africa in the past 14 days?
or
Have you had DIRECT contact with someone confirmed as have contracted COVID-19?
or
Work in or attended a healthcare facility where patients with coronavirus infection were being treated.
What do I do if I suspect COVID-19 and require EMERGENCY care?
If you are feeling very ill and need care immediately, call emergency services or go to the emergency department at your nearest healthcare facility.
Tell the emergency services or department telephonically BEFORE your arrival that you have, suspect you have or are being evaluated for, COVID-19
Put on a face mask before you enter the emergency transport or healthcare facility
What do I do if I have recently travelled and returned from a high-risk area?
The NICD has recently updated their guidance on testing if you have travelled to a high risk area: "The benefit of testing people who may have been exposed but are still asymptomatic is still unclear. While in some cases it is warranted, for example, those who were repatriated from Wuhan, the sheer number of people who have travelled in the last 14 days from high-risk countries could overwhelm the country's laboratory services. It would also cause delays for those in genuine need of testing and deplete the limited global supply of testing kits. We would, therefore, like to clarify the role of testing. Only those who have returned to South Africa from countries with local transmission within the last 14 days AND who have developed some respiratory symptoms should be tested for COVID-19. People without symptoms do not need to be tested. All individuals returning from high and medium risk countries are requested to self-quarantine for 14 days and monitor for respiratory symptoms. Should symptoms develop, they should present for testing."
Do I have medical scheme cover for my COVID-19 test?
Discovery Health Medical Scheme provides cover for COVID-19 from the World Health Organization Global Outbreak Benefit. This Benefit, complements existing DHMS benefits and is available on all DHMS health plans.
In combination with the existing DHMS plan benefits, confirmed cases of COVID-19 are covered for:
Diagnostic testing
Diagnostic testing for influenza
Consultations with healthcare professionals
Defined supportive treatment and medicines
Resources
All medical information found on this website including content, graphics and images, is for educational and informational objectives only. Discovery Health publishes this content to help to protect and empower all South Africans by promoting a better understanding of COVID-19.
Find a healthcare professional near you
Find a doctor or hospital near you online or by using the Discovery app.

Outbreak of the 2019 novel coronavirus
The 2019 novel coronavirus (2019-nCoV) has caused an outbreak of fatal respiratory illness first detected in Wuhan, China. This is a completely new strain with no vaccines available. The best way to prevent infection is to avoid being exposed to this virus.


Novel Coronavirus - wash your hands of the threat
As toddlers, we learnt to wash our hands. But, did we ever master the skill to the extent that is needed to wash pathogens off our hands, and save lives? Multiple studies show people don't wash their hands at the right times, in the right way or for the right amount of time. We contaminate the things and people we touch with the germs we carry on our hands.