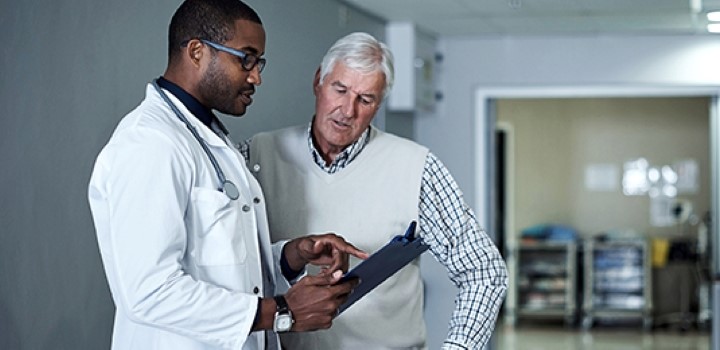 The spread of the COVID-19 virus in South Africa is cause for concern, as the virus can cause severe illness in immunocompromised people(such as those who have HIV or TB, or both). How should this group of people stay as healthy as possible?
In South Africa, 7.7 million people live with HIV. Over 300 000 South Africans have tuberculosis (TB), a disease caused by bacteria spreading through the air from person to person. Half of the people who have TB also live with HIV.
"This burden of disease means that, compared to other countries, the COVID-19 virus is likely to have a particularly significant impact on South Africa," says Dr Noluthando Nematswerani, the Head of the Centre for Clinical Excellence at Discovery Health, "The danger that the virus poses to this large group of people is quite possibly what has motivated the South African government to act so quickly in announcing stringent preventive measures under a state of disaster."
South Africans are also asked to self-isolate in general and particularly if they show any symptoms of COVID-19. Social distancing is encouraged for everyone. "Not only do these measures aim to 'flatten the curve' or slow the spread of the COVID-19 virus, but also to limit exposing vulnerable, high-risk individuals - such as people who live with HIV or TB - to the disease," adds Dr Nematswerani.
HIV and TB as risk factors for COVID-19
"It isn't known yet whether people living with HIV or TB have a similar or higher risk for acquiring coronavirus disease 2019 than anybody else does," says the South African National Institute for Communicable Diseases (NICD). "But it does appear; however, that individuals who live with HIV or TB or both could be at higher risk of developing serious health complications as a result of acquiring the disease. This is based on what is known about other viral infections such as influenza."
This is confirmed by Dr Nematswerani: "While flu causes mild illness in most people, it can cause severe and life-threatening illness in more vulnerable groups who might see their flu develop complications like bronchitis or pneumonia."
People living with HIV, even those on antiretroviral therapy, are at higher risk of developing serious health complications following influenza. The risk is especially high in those who have very low CD4 counts or those who are not using antiretroviral therapy, according to the NICD. It is estimated that over two million people in South Africa live with HIV and are not on antiretroviral medicine.
The seasonal flu kills 4 000 to 10 000 people every year in South Africa, according to the NICD. "We encourage everyone to get their flu vaccination as a protective measure, and especially people living with HIV and TB. There is, as yet, no vaccine against COVID-19," adds Dr Nematswerani.
Those living with HIV (and those who are immunocompromised in general) have a higher chance of getting pneumonia due to influenza, and a three-fold higher fatality risk, according to a recent statement released by the Academy of Science of South Africa (ASSAf).
Vulnerable groups include not only those with HIV and TB, but people over 60 and those with underlying medical conditions that could have an impact on the body's ability to fight infection. These underlying conditions include chronic illnesses such as heart disease, diabetes, chronic respiratory disease and cancer, says the World Health Organization (WHO).
How can those with HIV and TB protect themselves from the COVID-19 virus?
The NICD advises people who live with HIV or TB to take the same preventive actions that are recommended for everyone else. They also strongly encourage people to get tested for HIV if they don't know their HIV status, so that they can start antiretroviral therapy if they're HIV positive. People who are already on antiretroviral therapy are urged to take their medicine regularly. The NICD urges anyone with respiratory symptoms such as a lasting cough or a fever to get tested for TB, and, if they test positive for TB, to start treatment immediately.
Overall, people living with HIV and TB must:
"Remember that good nutrition, regular physical activity and enough good-quality sleep does wonders in building up a strong immune system, which will stand you in good stead when the winter and all its common illnesses come around," explains Dr Nematswerani.
The best way to prevent getting COVID-19 is to avoid being exposed to the virus, maintain a healthy lifestyle, and to keep taking your medicine, says the Centres for Disease Control and Prevention (CDC).
Dr Jonathan Louw, the CEO of the South African National Blood Service, adds, "everyone has to do what they can in their immediate environment – keep a distance from others, avoid touching people, regularly wash hands, and clean surfaces that you and others touch often."
South African challenges that increase the risk of COVID-19 for those who have HIV and TB
"In other countries, we have seen how the virus actually accelerates after a certain tipping point, so the best advice for Africa is to prepare for the worst and prepare today," WHO Director-General Tedros Adhanom Ghebreyesus said in a virtual press conference held on 18 March 2020.
ALL MEDICAL INFORMATION FOUND ON THIS WEBSITE INCLUDING CONTENT, GRAPHICS AND IMAGES, IS FOR EDUCATIONAL AND INFORMATIONAL OBJECTIVES ONLY. DISCOVERY HEALTH PUBLISHES THIS CONTENT TO HELP TO PROTECT AND EMPOWER ALL SOUTH AFRICANS BY PROMOTING A BETTER UNDERSTANDING OF COVID-19.
Find a healthcare professional near you
Find a doctor or hospital near you online or by using the Discovery app.

Outbreak of the 2019 novel coronavirus
The 2019 novel coronavirus (2019-nCoV) has caused an outbreak of fatal respiratory illness first detected in Wuhan, China. This is a completely new strain with no vaccines available. The best way to prevent infection is to avoid being exposed to this virus.


Novel Coronavirus - wash your hands of the threat
As toddlers, we learnt to wash our hands. But, did we ever master the skill to the extent that is needed to wash pathogens off our hands, and save lives? Multiple studies show people don't wash their hands at the right times, in the right way or for the right amount of time. We contaminate the things and people we touch with the germs we carry on our hands.