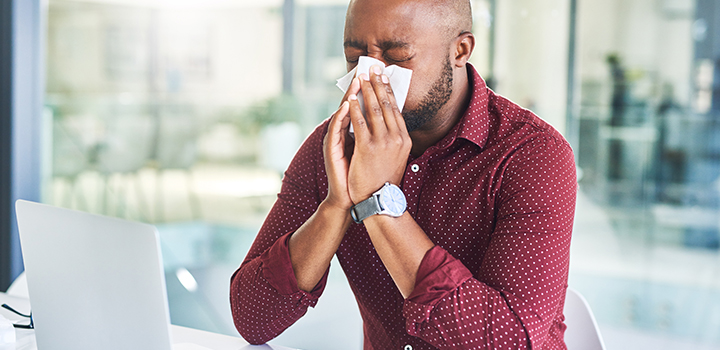 As the COVID 19 pandemic continues to spread across the world, containment measures are critical to slowing down the spread of the virus so that national healthcare systems can cope, and are not overwhelmed by too many sick patients at once. How do we achieve this objective? By engaging in social distance, self-quarantine and self-isolation practices explained below.
Why these measures matter
Viruses like the novel coronavirus easily spread between people in close range. Close contact is generally defined as being at a distance of less than 2 metre from someone, for at least 15 minutes. One of the best ways to prevent the spread of the virus is to practice preventive hygiene habits (handwashing, cough etiquette, elbow bumping instead of handshakes etc.).
The other critical way of containing the spread, particularly if you have been at risk of coming into contact with the virus or you are already sick, is to practice social distancing, self-quarantine and self-isolation. Here's what you need to know:
Social distancing - when you don't suspect you have the virus but want to help contain it
Social distancing has been recommended by the Center for Disease Control in the US, and other expert authorities, as a means to increase the physical spaces between people, and thus reduce the rate of virus transmission. Many experts suggest we should all be engaging in social distancing to minimise the spread of the virus, and in his address to the nation on the 15th March, our President instructed implementation of social distancing measures including a ban on gatherings of over 100 people, as well as school closures nationwide.
Social distancing does not just mean avoiding large public gatherings it also includes avoiding moderate sized gatherings including, for example joining groups of friends for sporting and entertainment events, crowded bars and restaurants or other events where are people mingling in groups in close proximity in a way which facilitates spread of the virus.
While engaging in social distancing you can leave the house and go to work or to the park but make sure to wash your hands before and after these journeys, observe a 1m distance from other people, and do try to restrict travel within your local neighbourhood. At the same time, you should consider taking precautions like stocking up on food that has a long shelf life, as well as investing in plenty of soap and hand sanitiser to support frequent handwashing. You should also you contact your doctor to get a 90-day supply of medications so that you can be sure of an uninterrupted supply of any critical drugs you require.
You do not need to wear a mask when you are observing social distancing. The most important thing to remember is the less close contact people you have with other people, the less the virus will spread - even if you have absolutely no symptoms.
Self-quarantine - when you might have symptoms or have been exposed to the virus
If you feel sick (with possible coronavirus symptoms) or might have been exposed to the coronavirus (for example via someone who has been diagnosed, or is suspected to have contracted the virus), or you have returned from travelling to a high-risk area (as per the latest WHO list), you should engage in self-quarantine. This means that you remain in quarantine for 14 days, or as otherwise advised by your doctor based on remote consultation.
During your 14 days of self-quarantine you should take your temperature twice a day and monitor your symptoms, particularly for COVID-19 signs including a fever, coughing and trouble breathing. Should you develop symptoms or have concerns about your health during this period do consult your doctor but via phone, so that they can advise on treatment without running the risk of infecting others.
While in self-quarantine you can go outside to do things like taking your dog for a walk, or collect mail from your postbox, it is recommended that any other outings should be restricted, including food shopping or other errands. In the event that you need to leave the house, you should wear a mask.
Self-isolation - when you've been diagnosed with the virus
If you have been diagnosed with the disease, you will be required to self-isolate, and not leave your house for any reason, or receive visitors, while staying away from other members of your family. You will need to stay in your own room and use a different bathroom from other members of your family, to ensure that you don't infect them. You will also need to follow other preventive measures like not sharing eating utensils, plates, and cups and sanitising high-touch surfaces daily, as well as trying to keep fresh air circulating.
Your healthcare professional will give you the necessary medical advice and care (remotely), and you should always follow your doctor's guidance. You will also get advice on whether you should wear a mask. Guidelines for using facemasks safely should be followed at all times so as to limit exposure to anyone else who may be living in the household.
Keep track of your symptoms and if you require medical treatment or hospitalisation, for example if you have difficulty breathing, contact your doctor or emergency services immediately.
Next Steps
If after 14 days of either self-quarantine or self-isolation, your symptoms are under control, and your doctor has given you the go-ahead, you may leave the house, however, you may still want to practice social distancing for a while longer, just to be on the safe side, so rather plan for a gradual return to your normal activities, dependent on your doctor's advice.
For more information on coronaviruses:
For more information and support:
Contact Discovery Health on 0860 99 88 77 for more information.
Visit the NICD website.
All medical information found on this website including content, graphics and images, is for educational and informational objectives only. Discovery Health publishes this content to help to protect and empower all South Africans by promoting a better understanding of COVID-19.

Outbreak of the 2019 novel coronavirus
The 2019 novel coronavirus (2019-nCoV) has caused an outbreak of fatal respiratory illness first detected in Wuhan, China. This is a completely new strain with no vaccines available. The best way to prevent infection is to avoid being exposed to this virus.


Feeling the flu? Why and when to taper back on training
Feeling under the weather? There's a reason doctors always prescribe rest when you're ill. Here's how to be mindful of your body's needs, plus an easy way to earn 1 000 Vitality points for keeping the flu at bay with a flu vaccination.