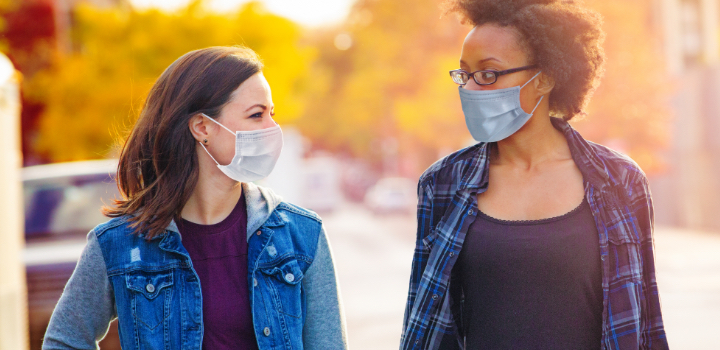 By now, you may have received your partial or full COVID-19 vaccine dose. It is still important to maintain the measures that have kept you safe from exposure to COVID-19, regardless of your vaccination status. This is important as we currently do not have enough vaccinated people to offer broader population protection.
"As much as we all long to return to our pre-COVID freedoms, we must continue practicing the measures that protect us from contracting COVID-19. These measures are still necessary even after we are fully vaccinated against COVID-19," says Dr Noluthando Nematswerani, Head of the Centre for Clinical Excellence at Discovery Health. These measures are:
Mask wearing
Make sure that you wear a cloth or surgical mask that covers both your nose and mouth whenever you are in public or in contact with anyone outside of your family. Masks offer the best protection against the spread of the virus that causes COVID-19.
Physical distancing
Maintain a safe distance of at least 1.5 metres from others. If you do meet with other people, ideally do this in an outdoor or well-ventilated venue.
Avoid super-spreader events where there is a high risk of one sick person infecting many others with COVID-19. These could range from family gatherings to larger social events. Meet others outdoors or in well-ventilated areas as far as possible.
Hand washing
Wash or sanitise your hands regularly and avoid touching your face.
Three reasons why vaccinated people should stick to preventive habits
Though we know that COVID-19 vaccines are highly effective in preventing severe COVID-19 illness in vaccinated people, this is what we currently know and are also still learning about:
Whether vaccines prevent individuals from getting infected with COVID-19

Vaccines are not fully protective against asymptomatic or mild disease. As a result vaccinated individuals may still be at risk of contracting COVID-19, their illness will however be mild.

Whether the vaccines stop transmission of disease

It is currently not known whether vaccinated individuals can still spread the disease to others, which is why caution is still required.

How effective vaccines are against new viral variants

The emergence of variants continues to pose challenges for vaccine efficacy and effectiveness. With every variant that emerges, laboratory studies are conducted to test for vaccine antibody neutralisation against that variant. Early data shows that the available vaccines work against most of these variants but could have reduced efficacy against some. Even in cases where reduced efficacy has been reported, the vaccines still retain effectiveness against severe illness and death. "The fact that we can still contract COVID-19 after being vaccinated, and possibly also spread the virus to others in the process, means that we need to continue to practice all the known preventive measures. That's the take-home message for now for all people who have been vaccinated," says Dr Nematswerani. "All in all, we should not drop our guard."
How long will we need to practice preventive measures for?
Dr Nematswerani explains: "At this stage, it seems that we will continue to practice preventive measures until a significant number of people in the population have been vaccinated and the levels of circulating virus are significantly low. The impact of emerging variants will also influence the decision to relax these preventive measures. This is currently the experience in other international countries where the emergence of highly transmissible variants such as the Delta variant has resulted in previously relaxed preventive measures being reinstated.
Is population immunity ever likely in the case of COVID-19?
In a nutshell, she explains that it is far more realistic that a population will become immune to a virus and reach "population immunity" where the virus in question is stable. In contrast, viruses that cause illnesses like COVID-19 and the flu are highly variable - they mutate on an ongoing basis as they spread.
This creates viral variants such as the Beta variant (first detected in South Africa) and the Delta variant (first detected in India but now evident in South Africa). This means that it's more likely that we will manage COVID-19 as we do the flu, with yearly vaccinations (booster shots) that aim to provide protection against the new year's viral strains.
This also means that we will reach a situation in which COVID-19 disease is endemic - in other words, it will always be circulating in the population however, we will no longer see the high rates of mortality currently seen from the disease.
It is currently unclear when South Africa will reach the point of sufficiently high population immunity and adequate containment of COVID-19 to allow for relaxation of preventive measures.
There is an end in sight. For example, the US CDC considers people fully vaccinated two weeks after the second of a two-dose vaccine (like Pfizer-BioNtech or Moderna) or two weeks after a single-dose vaccine (like Johnson & Johnson). Currently, in South Africa the guidelines consider people to be fully vaccinated 28 days after all required doses have been administered. In the United States, fully vaccinated people can resume pre-pandemic activities without wearing a mask or social distancing in many areas. And in the UK during the UEFA tournament, people attended stadiums without wearing masks. However, masks are required on public transport.
Eligible for your COVID-19 vaccine?
All you need to do to get your COVID-19 vaccine is to follow these two steps:
Register on the national Electronic Vaccination Data System (EVDS).
Book your vaccination at a Discovery vaccination site near you using our COVID-19 Vaccination Navigator.
We will support you with all the information you need at every step of your vaccination journey. Visit our Vaccine Hub or access our WhatsApp service to get instant answers to questions about the COVID-19 vaccine.
Other support tools and channels
If you don't have it yet, download the COVID Alert SA app which turns your smartphone into a life-saving device. If you do test positive for COVID-19, remember to capture it on the app. Your details remain anonymous, but others will be notified if they were a close contact.
You can complete a daily COVID-19 risk assessment to check any symptoms you may have and want guidance on. This will help you assess your likelihood of contracting COVID-19 and get advice on what to do next.
All medical information found on this website including content, graphics and images, is for education and information objectives only. Discovery publishes content to help to promote a better understand of COVID-19 and COVID-19 vaccinations. The content covered is an overview of key concepts and is not exhaustive in nature. We encourage further reading from other credible sources where necessary.
South African organisations:
International Organisations: