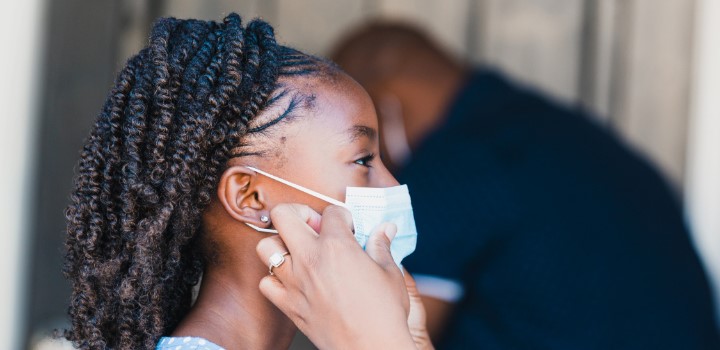 Forget capes. The modern-day superhero wears a mask. Here's everything you need to know about wearing a face mask the right way.
In addition to being the latest fashion accessory, face masks are a symbol of social responsibility and one of our biggest weapons in the fight against COVID-19.
Wear to care
As we reach the peak of infections in our country, the need to practise healthier and safer habits every day is becoming more and more important.
According to the Centres for Disease Control and Prevention (CDC), 40% of people infected with the virus don't show symptoms, which is why it's even more important to wear a mask at all times. It helps keep you safe from others and others safe from you.
While face masks act as a shield against these stealthy germs, this needs to go hand-in-hand with practising physical distancing and regularly washing your hands. This simple, yet powerful triple threat is key to preventing the spread of COVID-19.
Top 3 mask myths debunked
We're getting so many COVID-19 updates daily, and it's sometimes hard to know what to believe. From fake content about how the virus is spread to conspiracy theories about how it all started, it's clear we are battling a pandemic of misinformation too.
Here are some FACTS about mask-wearing:
1. Yes. It is safe to wear a mask while exercising.
It may take some getting used to, but wearing a mask while you exercise is safe. According to Professor Christa Janse van Rensburg who specialises in exercise science at the University of Pretoria, avoid paper and surgical masks for exercise because these get wet when we breathe into them vigorously, so it loses effectiveness. Rather choose a fabric (cloth) mask made from breathable, synthetic materials.
TOP TIP: Keep yourself and others safe on your run. We are all exercising with masks and you should too. You can also use the FREE Vitality Home-Workout channel to motivate you to keep moving in the comfort of your home.
2. "I feel healthy so I don't need to wear a mask." No.
Whether you feel healthy or not, wearing a mask is a safety precaution to not only protect you from contracting the virus, but to also protect others in case you have the virus without knowing it yet.
TOP TIP: Get your kids excited about wearing a face mask by encouraging them to pick their favourite colour ones, decorate their mask themselves or let them choose their next Vitality Kids mask.
3. "Keeping a safe physical distance is not needed if I wear a mask." No.
Leaving your home without a face mask is not only illegal, it's dangerous to you and those around you (whether you keep a safe physical distance or not!). One of the biggest ways to stop the spread of coronavirus is for people to practise all three healthy habits together: washing hands regularly, maintaining a safe physical distance and wearing a face mask correctly.
TOP TIP: Get at least two masks so that you always have a clean one and keep it with your car keys or by the front door so that you never forget to take it with you. If it's out of sight it might be out of mind.
Wear your mask – the right way
Wearing a mask before heading out sounds simple enough, but there are some things to get right to make it as effective as possible. Think of it as your face-underwear: you want them clean, without holes, and covering you properly.
PUTTING YOUR MASK ON
Wash your hands for at least 20 seconds before wearing your mask.
Inspect your mask. If it has been damaged, it's time to replace it. If it's dirty, wash it before wearing it.
Take hold of the mask straps and secure them behind your ears.
Adjust your mask to cover your nose, mouth and chin. There should be no gaps.
Remember: Do not touch the mask while wearing it. If you do, wash your hands immediately.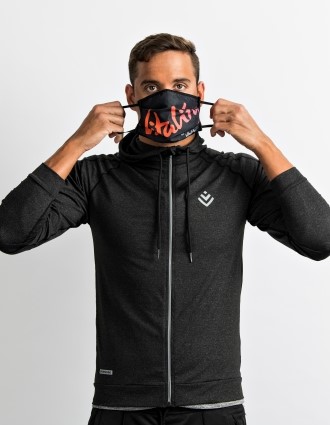 TAKING YOUR MASK OFF:
Wash your hands for at least 20 seconds before removing your mask.
Take hold of the mask straps around your ears and move it away from your face.
Place the mask in a container for washing or throw it away if it's disposable.
Wash your hands for at least 20 seconds.
Remember: Do not touch the front of the mask while removing it.
Wearing a mask really does make you our superhero.
Thanks for keeping us all safe.
For more information, visit the Discovery COVID-19 information hub.
ALL MEDICAL INFORMATION FOUND ON THIS WEBSITE INCLUDING CONTENT, GRAPHICS AND IMAGES, IS FOR EDUCATIONAL AND INFORMATIONAL OBJECTIVES ONLY. DISCOVERY HEALTH PUBLISHES THIS CONTENT TO HELP TO PROTECT AND EMPOWER ALL SOUTH AFRICANS BY PROMOTING A BETTER UNDERSTANDING OF COVID-19.
Find a healthcare professional near you
Find a doctor or hospital near you online or by using the Discovery app.