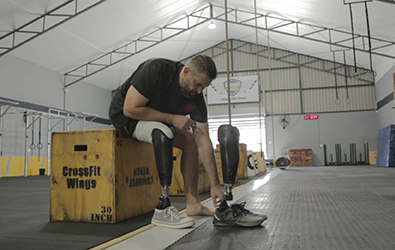 Jaco's worst nightmare of having his leg amputated has left him a better man than ever and with a leg that is almost as good as the one he was born with
Jaco van Staden - Discovery Health Medical Scheme member
The devastating aftermath of a road accident left Discovery Health Medical Scheme member Jaco van Staden a single below-the-knee amputee. Yet, for this videographer and resident of George (Western Cape), the accident began a chain of events that would lead to both renewed passion for life and better health than he ever enjoyed as an able-bodied person. Jaco shares his remarkable story:
"I have been a member of Discovery Health Medical Scheme for the past 9 years. In 2012 I was in a massive motorcycle accident that changed my life forever. Not only did Discovery Health Medical Scheme assist us financially, covering most of our hospital bills, you also helped me to get a fantastic prosthesis! I'm not sure you fully understand the difference you made in my life! Although you do not personally know me, I would like to thank you. Your generosity has made such a great difference in my life - something I think you will never fully understand." Jaco van Staden's Facebook post to Discovery South Africa.
I remember looking at the time on my motorcycle clock the moment before impact. My accident happened at 12h12.
That morning, with my parents down from Kuruman for Christmas, we decided to spend the first day of January on the beach. It was such a beautiful day that I decided to ride to the beach on my bike while the family all drove down in a car. Michelle shared my passion for adventure riding. We had purchased a BMW 1150 GS dual purpose bike in the months before that morning and spent almost every weekend enjoying our new-found freedom. We never missed a weekend ride.
After a morning on the beach we decided to head home for lunch. The family left 15 minutes before I did, to make a grocery stop along the way. Michelle decided to go with them in the car, which was very unusual considering how much she loved to be on the bike.
I was on the road towards George and approaching the Geelhoutboom Road turnoff just after the airport. I was also looking out about 400m ahead of me at cars turning at a yield sign I was approaching. It was noon and, with the sun directly overhead, I didn't see a massive pothole in the middle of the road and hit it dead-on. I immediately lost control. I remember hearing the rim scraping on the tarmac as my tyre deflated in an instant. I was doing around 70-80km/h. I was flung toward a post that held road signage indicating the turn off and lay there in shock unable to take in what had happened and completely unaware of how bad things were as I couldn't see my leg. It was trapped between the motorcycle and sign board. I was however conscious throughout and began to think of my marriage, my family, us moving to George and of other key life moments.
I wondered whether I was paralysed as I was lying so still. I started to move my arms and neck. I was lying on my stomach so I did a small push up to see the state I was in, but couldn't see my leg or how bad it was. I didn't try to get up. In hindsight, it's an absolute miracle that the damage I suffered was localised to my leg. I was very lucky.
I tried to call my wife Michelle. Devastated I realised her phone was on silent because we'd been inundated with New Year's well-wishes and messages which she only wanted to check once off the beach, so didn't immediately reach her. Within minutes a wonderful man, an employee from the nearby Red Berry Strawberry farm located at the next the turn off, arrived. He asked me to lie still not to try to turn around. He had seen that my foot was so twisted it was facing my head. All he told me was that my leg was badly broken. I asked him to use my belt to make a tourniquet around my thigh to prevent bleeding and hadn't really been in any pain until then. He called the ambulance, my family and my wife.
Michelle arrived while the paramedics attempted to stabilise me. At first she was panicked when she saw my leg but she realised that the paramedics would not allow her to sit with me if she wasn't calm. She created shade over me as it was midday and very hot. My mom and sister stayed in the car as my dad didn't want them to see the leg. They were all praying for me. Though I had by then been given morphine, I was in so much pain in the ambulance en route to George Mediclinic that I only really remember three to four minutes of that trip before I blacked out.
Desperate attempts to save my leg
For eight hours, surgeons tried to put my leg back together. It took 4 hours to find a pulse in my foot and that was the only reason they decide to try to reconstruct rather than amputate then and there. I woke up in ICU and, over the course of the next 2 months underwent 27 surgeries including skin grafts, debriding, muscle transplants and more. Three weeks later I was moved to Vincent Palotti Life Hospital in Pinelands, Cape Town, as I needed additional care that could be met by the specialists there.
I had a gaping wound on my leg that just wouldn't close. They immediately removed all my leg's internal screws and steel which they said were contributing to infection, and put an external fixator onto my leg from knee to ankle. The look of the so-called ex-fix reminded one of my friends of superhero character Ironman and that's what brought about a nickname that stuck from that day. Michelle created a group on Facebook to inform all my friends of my progress in hospital and called it: JAKES AKA IRON MAN. Those who can stomach the pictures can refer to my blog to see what we meant by Iron Man!
Every day saw me in and out of theatre to remove dead tissue and begin muscle flap and skin transplants. The first skin and muscle were taken from my upper left quadriceps area and transplanted to the inside of my ankle on my right lower leg. This transplant failed due to a lack of blood flow to the new tissue. We repeated the process for another 4 to 5 weeks. I was given an epidural throughout so, for about 10 days, I lay in bed unable to move and needing to be manually turned all the time.
It was a very trying situation but there wasn't ever a chance that I would be left to spiral into depression. My family, my friends, our local community and the fact that I have a very good relationship with God made it easier for me to cope with what was happening. Eventually Dr 'ABC' - Plastic surgeon Dr Andrew Bruce Chwatt - came to talk to me about amputation. The damage to my ankle was so extensive that it would never function remotely normally again. Even thought we had finally closed the gaping wound, there was so much bone loss that he strongly suggested we rethink any further surgeries.
I was only 34-years-old and not ready to accept that reality. We rely on medicine to fix whatever needs to be fixed. But the reality is your body can only recover from trauma to a certain extent. I said, let's try to keep the leg. Orthopaedic surgeon Dr Pierre Elhers was keen to fixate my ankle - to fuse the joints with a bone graft from the pelvis and eliminate my pain. But I would not have movement in the ankle. Also, the injured leg would be 30cm shorter than the other. I needed to consider my options very carefully.
I was discharged from hospital almost 4 months after my accident and with my external fixator still attached to my leg. A theatre nurse from the George Mediclinic that we knew from church came to my home every day to tend to my wounds without ever charging us. My bedroom looked more like a hospital room for a good few months. I healed very well. I had been visiting Dr Ehlers on an ongoing basis but still couldn't walk or bear any weight on my ankle. I was on very strong pain medication to keep the pain at bay and still in and out of hospital to deal with small infections around my injury requiring ongoing intravenous antibiotics.
When one considers that I am, by profession, a wedding videographer and my wife a photographer, one can imagine my frustration. My work entails being able to carry out long stints on my legs and for 2 years I couldn't carry a camera bag, let alone walk.
Agreeing to an amputation
I met up with a Dr Adriaan Van Zyl, known as Voete van Zyl, a foot specialist who reviewed my x-rays and sat me and Michelle down and gave us two options. One, a 4-year commitment to surgery that would shorten my leg while lengthening the bone, with an expected success rate of 50 percent. Two, to amputate the leg below the knee. Without trying to sway my decision he gave me information to assist my decision, and particularly on the extraordinary feats being achieved by people wearing today's prostheses. I took a good hard look at my quality of life and where I wanted to be in the next 10 years. We sat in his office and both Michelle and I immediately had peace about the decision to amputate my leg. I try to tell people that if you are in the amount of pain I was in, you would understand. Pain is a strange thing. You will do pretty much anything to get rid of it. I had steel rods through my knee and all the way down to my ankle and a lot of screws holding the fractured bone together. All the bone fragments in my ankle meant any movement was extremely painful. On a scale of 1 to 10 my pain was constantly at an 8. There was never release except for when I took harsh medicines which also had a lot of side effects, like constipation - a scenario I now understand very well. There is a massive addiction risk to many of the meds and I worked with my GP to wean me off them later.
My leg would be amputated 150cm below my knee and I would then be fitted with a prosthesis. I went into hospital on the 27th of September 2014. I still have the photo we took of me signing the form consenting to a lower leg amputation. Dr Van Zyl was kind enough to come up from Durbanville to George for the surgery. The amputation wasn't simple and had to be done in a particular way so as to make use of my calf muscle to close up the wound next to my leg and also remove the muscle in a way that would allow for a comfortable socket fit. I woke up to see my leg gone - a sobering sight. But I immediately focussed on what that meant for my future. I didn't get stuck on losing the leg. I wanted a prosthesis and I wanted to get on with my life. Mentally and emotionally I was fine, but there were difficult days when I would question whether I would be able to walk normally again, work with my wife again and more. We took one day at a time. My wife Michelle is the biggest champion you could hope to meet. She drove all the way from George to Cape Town multiple times. She ran our household for two years and supported my every decision.
A foot that made me feel I had my own back
Six weeks later we met up with Allan Oats of Barclay and Oats. He started the coning process to wrap bandage around what is left of the limb to shape the soft tissue into a tapered shape to be able to receive a socket to which to attach a prosthesis. I wore liners that compressed the limb for six weeks to get ready for a trial socket before a plaster cast was made of my stump around which to create the socket and attach the prosthesis. I was walking again after 6 weeks and it took a further 3 weeks to get used to the prosthesis. I described it as having to walk in the Sunday-best shoes your mom made you wear but that were two sizes too small for you but were expensive and hurt like hell. I had a lot of pain around the stump. The challenge is to use your crutches less and less and bear more weight on the stump. Before I knew it, I could walk without crutches and I took it slow. At first I used a C-Flex foot which is a small carbon fibre foot - a rigid energy-storing foot that allowed me to move around in a limited way as it didn't react to gradient. It caused me knee and lower-back pain as it wasn't made for everyday use. Yet, it allowed me to start to exercise at the local CrossFit Box which I had never done before, even when able-bodied. The foot cost approximately R86 000.
Then I came across Ossur's Pro-flex foot with an articulated ankle . Ossur kindly sent us a foot to use for a 30-day trial period. For amputees on prostheses the toughest surfaces to take on are inclines and declines. This carbon-fibre mechanical foot with built-in ankle motion closely mimics regular biomechanics and makes walking a pleasure. I felt I had back the foot I was born with. For the first time, I felt no pressure on my stump, my gait was natural and I had no problem going up and down inclined and declined surfaces.
At my CrossFit Box, my coach was amazed at the natural way in which I was moving. Clearly better movement had many health benefit implications for going forward, not least of which would be preventing an early hip replacement which many amputees face to compensate for the wear and tear of an unnatural gait over time. I once again got motivation letters from my GP and biokineticist who had been working with me for 2 years and I wrote Discovery Health Medical Scheme a letter to thank them for all the help so far. Discovery Health Medical Scheme contributed towards my expenses for 3 months in hospital and it didn't stop there as my treatment overall cost R1.6 million.
I posted a video on Facebook to say thank you! I am just a patient, a member with a number, making claims remotely but I felt like Discovery Health Medical Scheme understood my unique case and will never really understand what they have done for my quality of life.
Losing weight and becoming a father
Today my knee pain has subsided and I can do so much more including going for walks on the beach, doing my work and even upping my exercise regime. I am now Cross-fitting regularly, have lost about 45 kg (before the accident I weighed 145 kg and I am 1.89 m tall) in an attempt to preserve my knee which is still not in great shape. I could still lose a few more kilograms and likely will to keep up with our little Duracell battery - our 11-month old son. I am 110 percent back at work and better than before. I hold two CrossFit box records attained while competing against able-bodied guys in our class. The first is for an overhead shoulder press where 82 kg is my overhead record. The second, is for our Hero Workout - workout done in the shortest time possible, which I did in four minutes and two seconds coming in under the top ten on the leader board in the class. My coach, Jan Fourie from Crossfit Wings in George, motivates me a lot. I hope to soon compete as an adaptive athlete in the national Crossfit Games!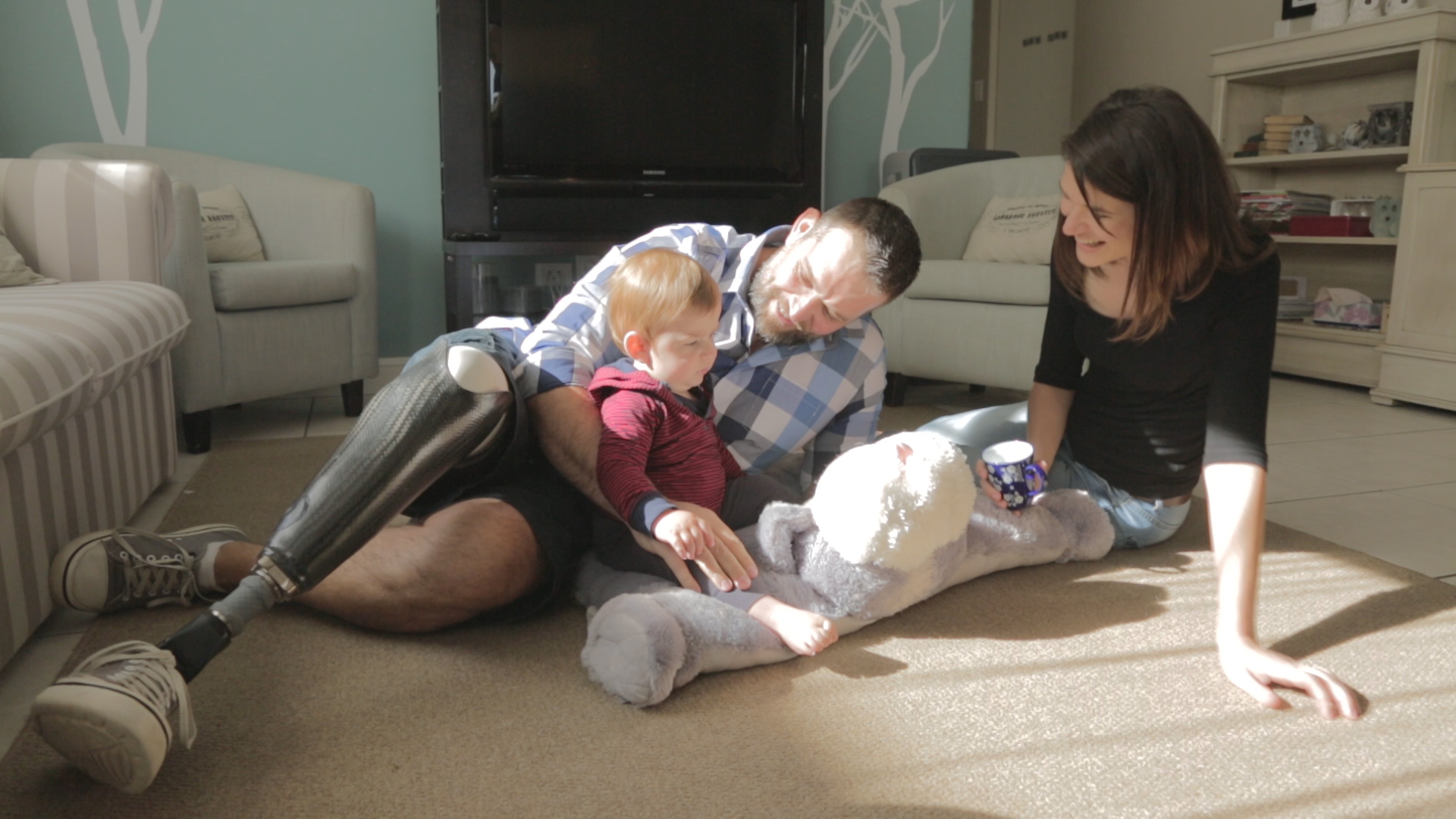 Following my accident, I am a better and stronger person. I can honestly say it was only strengthening to me. Had it not been for my faith in God I would not have the positive attitude that continues to sustain me. Some mornings I wake up and forget that I am an amputee. I put on my leg in the way others would put in their contact lenses.
There is a part of a human being that is physical and limited and a part that is spiritual which can only get stronger.
When you get a cancer diagnosis
Surviving cancer physically is sometimes only half the battle. The other half is the post-treatment journey. Laurie Gaum shares his emotional lung cancer survival journey.
'How my Apple Watch saved my life'
When Russell Pengelly got his Apple Watch, he planned to use it to get healthier through Vitality. Little did he know it would end up saving his life