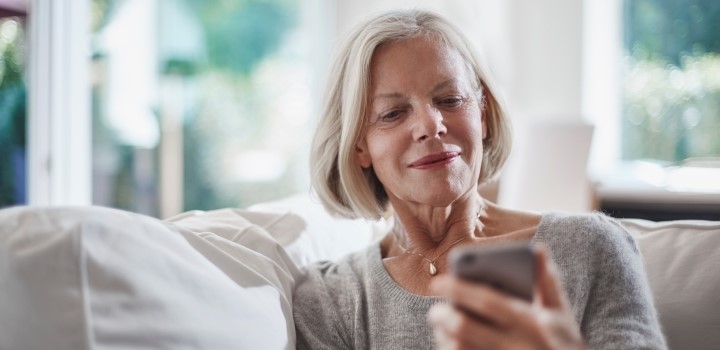 As of 17 May, people over the age of 60 can register for their COVID-19 vaccine. Registration is digital process on the Discovery COVID-19 Vaccination Portal. Many older people aren't tech savvy. That's why we should reach out to loved ones and help them to register!
Paediatrician and infectious disease specialist Dr Fikile Mabena works at Chris Hani Baragwanath hospital. She has a message for us all:
"We know that elderly people are at high risk of severe COVID-19 illness and death. Where older people have one or more chronic illnesses, this increases their risk of serious outcomes if they contract COVID-19. The COVID-19 vaccine not only decreases their risk of severe COVID-19 illness, but will also accelerate our return to a more normal way of living."
"Young people are often more tech savvy than the elderly. That is why it is important that each reach out to elderly loved ones and to those in our communities to make sure we assist them to register for their COVID-19 vaccine. We can even assist them with transport or logistics on the day of their vaccination."
What are South Africans saying about helping their elderly loved ones to register?
Hear from tech-savvy people who registered or helped their elderly loved ones to register on the Discovery COVID-19 Vaccination Portal
84-year-old Dr Theo Kretzmar registered with assistance from his colleagues at work. He says, "I want to really encourage all of the younger, tech-savvy people out there to do all they can to help their older loved ones register. Find out if they have registered and how you could help them. And stay involved by seeing if they need help getting to their vaccination site on the day they are scheduled to go."
Gill Land has registered herself, her 75-year-old husband and her 100-year-old mom Doreen Bourhill for their vaccines. "Both my mom and husband would not have managed registration without help, as they are simply not digitally savvy," says Gill. "We all need to reach out to older loved ones and ask them if they need help to secure their registration. We then also need to get involved in helping them to diarise the event, to get to a vaccination site, or to coordinate any other logistics required for them to be vaccinated. Doing this means playing our part in keeping them safe and also protecting others in our communities. Our increased immunity to COVID-19 means less of a risk of contracting and passing the virus on, which is so important. This is also how we will reach population immunity."
Ernest Floyd is 84 years old. He has registered both himself and his 102-year-old mom Sophy for their COVID-19 vaccines. "I found the compulsory registration extremely simple," says Ernest. "I registered us both on the Discovery COVID-19 vaccine portal, which I quite quickly managed. We both strongly advise younger people out there who are fortunate enough to have their older parents, relatives or loved ones with them to help them to register as soon as possible so that they do not miss the chance to access their vaccines now that we are heading into phase 2 of the national rollout. I urge those who have older loved ones to also do all they can to help them on the day of their vaccination and to ensure it's an easy process for them."
Malcolm Coombs has assisted his dear friend, (almost) 102-year-old Helen Groves, to register on the Discovery COVID-19 vaccination portal. He says: "I am a firm believer in COVID-19 vaccination and am horrified by anti-vaxxers who spread confusion and misinformation online and elsewhere, thereby discouraging people from having their vaccine. This puts people's lives at risk. We must help our elderly loved ones to sift through the noise and also to register on the Discovery COVID-19 vaccination portal. And, we need to be there to assist with the logistics of accessing their vaccine on the designated day and planning around this. If we are blessed to have elderly loved ones, this is the best we can do to keep them safe in the current context."
For now, we must continue to wear our masks, wash our hands and social distance where necessary.
Dr Noluthando Nematswerani, Head of the Centre for Clinical Excellence at Discovery Health, acknowledges that restrictions aimed at curbing the spread of infection have disrupted elderly people's daily routines. She says, "It has limited visits with loved ones and worsened isolation, leading to concerns about mental health impacts. For older adults - those who live at home as well as those in residential care facilities - contact with friends, family and caregivers has been limited for over a year."
"As much as we all long to return to our pre-COVID freedoms, mask-wearing, hand hygiene and physical distancing are still necessary. This will be the case until we've reached population immunity, where 67% of the South African adult population has been vaccinated."
"People who are vaccinated are not exempt from mask-wearing regulations. We must keep in mind that the data is still emerging around the degree of protection that COVID-19 vaccines provide against variants of the COVID-19 virus. For now, people who have been vaccinated should continue to take all the precautions we've been taking for the past year. And, those who spend time with older loved ones who have been vaccinated should also adhere to the same precautions."
Here's how you can register on the Discovery COVID-19 Vaccination Portal
All you need to do to ensure that you can get your COVID-19 vaccine is to register on Discovery's COVID-19 Vaccination Portal. By registering on Discovery's COVID-19 Vaccination Portal you will automatically be registered on the national Electronic Vaccination Data System (EVDS) to make the process easier for you.
Once you're registered we will support you with all the information you need at every step of your vaccination journey.
Find out all you need to know about registering on the Discovery COVID-19 Vaccination Portal today.
Remember to visit the Discover COVID-19 Vaccination Portal or access our WhatsApp service to get instant answers to any questions about the COVID-19 vaccine.