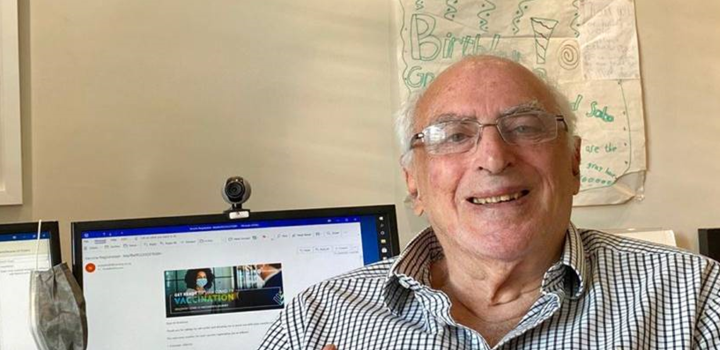 Dr Theo Kretzmar has long looked forward to the day he and his wife would be able to register for their COVID-19 vaccines. They registered on the Electronic Vaccination Data System (EVDS) and then the Discovery COVID-19 Vaccination Navigator - a process they found extremely quick and easy.
Very early in the COVID-19 pandemic, it was shown that age is a risk factor for severe COVID-19 illness," says Theo. "This had a big impact on our lives over the past year, limiting the freedom and independence we are used to. That's partly why we eagerly anticipated the start of Phase 2 of the country's vaccine rollout, when we became eligible for our COVID-19 vaccine. I firmly believe that access to these vaccines is the only way to really put COVID-19 to bed."
Theo, now 84, has worked in a corporate environment for the past 30 years and is currently working from home. Before this, he practised as a surgeon. His medical background gives him good insight into the importance of COVID-19 vaccines.
"I would advise everyone in South Africa to register for and receive their COVID-19 vaccination as soon as they can," he says. "These vaccines are a very important public-health intervention and the most effective way we will overcome the pandemic both in South Africa and in the world."
Registering on EVDS and booking on the Discovery COVID-19 Vaccination Navigator
"As Discovery clients, we were thrilled to find out that once we'd done our registration we could also access extra support on the Discovery COVID-19 Vaccination Navigator," says Theo.
Theo urges younger people to do all they can to help their older loved ones register for and receive their vaccination
"Registering on both EVDS and the Discovery COVID-19 Vaccination Navigator was as easy as filing in a few details, then click, click, click and we were done," says Theo. "My wife, who is a few years younger than I am, also found the process very simple."
"That said, I want to really encourage all of the younger, tech-savvy people out there to do all they can to help their older loved ones navigate both websites and register. Find out if they have registered and how you could help them. And stay involved by seeing if they need help getting to their vaccination site on the day they are scheduled to go."
Here's how you can register for your COVID-19 vaccination
Step 1: (Compulsory) Register on the national EVDS. This is required by the National Department of Health for all South Africans. Once you have registered on the EVDS, you will get a vaccination code to use on the day of your scheduled vaccination. The National Department of Health manages this process.
Step 2: Everyone can then register and book for their vaccination on the Discovery COVID-19 Vaccination Navigator.
You can register and book for your vaccination on the navigator and access added benefits tailored to their COVID-19 vaccination journey. This includes a host of support, such as:
A view of where you fit into the national prioritisation framework.
Access to information on what to expect when being vaccinated and how to prepare for this.
Information on accredited vaccination sites nationwide, where vaccinations will be given (including pharmacies, GP practices and hospitals, and dedicated vaccination sites), and the location of Discovery's dedicated vaccination sites.
Reminders of your upcoming second dose, if you get a two-dose vaccine.
Access to a digital version of your paper vaccination card for safe keeping.
Find out all you need to know about registering and booking on the Discovery COVID-19 Vaccination Navigator today.
How is your COVID-19 vaccination paid for?
If you are a member of a medical scheme
The Council for Medical Schemes (CMS) has stated that funding for the COVID-19 vaccine is a prescribed minimum benefit (PMB). This means all medical schemes must, by law, fund the COVID-19 vaccine as a PMB for every member of the scheme, in line with South Africa's vaccine prioritisation guidelines.
The cost of a COVID-19 vaccination will be covered in full for members of a medical scheme administered by Discovery Health. Members of other medical schemes will be covered through each scheme's risk pool of funds.
If you are not a member of a medical scheme
People who are not members of a medical scheme will receive the vaccine through government-funded structures.
Remember to: