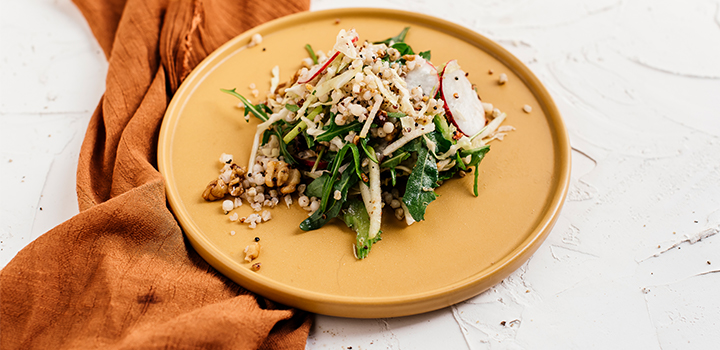 In reaction to the global obesity crisis, we can positively influence people's food choices through innovative products and partnerships.
Why? We have a big fat problem
"Globally, 2.1 billion people are overweight or obese. This is around 30% of world's population, and as a result, 4.5m people die from obesity related illnesses," says Dr Craig Nossel, Head of Wellness at Vitality.
"The big picture is worse in South Africa. Nearly 70% of South African women and 31% of South African men are overweight or obese. And worrying, 13% of South African children are overweight, which is twice the global average," he says.
What's causing this obesogenic environment?
"Unhealthy diets are responsible for more deaths than any other risk globally, yet improvement in diet could prevent 1 in 5 deaths," says Nossel. "Added to that is how little we are exercising."
Some sobering stats include that physical inactivity is responsible for 9% of premature deaths worldwide, yet 31% of adults worldwide (50% of South Africans) are physically inactive. And we are eating the wrong types of food. In high income countries, 50% of the kilojoule intake comes from ultra- processed foods and drinks. South Africans are eating twice the amount of sugar recommended (6 to 12 tsp a day).
"South Africans are also spending R41b on fast food per year, and 82% of teenagers are eating fast food at least once a week," says Nossel.
How does good nutrition = good health?
"Countless global studies highlight the critical role of nutrition in helping to reduce the overwhelming burden of disease on society. Numerous studies show, for example, that cutting down on processed meats reduces cancer risk. The benefits of including more plant foods for heart health and reducing the risk of diabetes, are also well supported," he adds.
Evidence shows that there are a number of eating patterns associated with positive health outcomes, such as the Mediterranean, DASH (Dietary Approaches to Stop Hypertension) and well-planned plant-based diets.
At Vitality we advocate for a diet that gives preference to:
Inclusion of a variety of minimally processed foods
daily intake of plenty of vegetables and moderate amounts of fruit, in a variety of colours
Inclusion of wholegrains, legumes, nuts and seeds
Inclusion of healthy (unsaturated) fats and limiting saturated fats
Choosing healthy proteins like fish (especially oily fish), seafood, chicken, lean meat, or eggs daily, and avoiding processed meats
Importantly:
Limiting foods high in sugar and excluding sugary drinks (including fruit juice). (Sugar intake should be limited to 6-12 tsp a day).
Limited intake of salt and high-salt foods. (Less than a tsp of salt a day is recommended).
What buy (better), cook (more often), eat (healthier) means for you.
Vitality continuously evolves to stay up to date with the latest clinical evidence around fitness and nutrition – to encourage the healthiest lifestyle for our members.
This also applies to Vitality's HealthyFood benefit, which is underpinned by learnings from the field of nutrition. The HealthyFood benefit uses the power of behavioural economics and big data analytics to inform our approach towards encouraging healthy, sustainable eating among our members.
Our recommendations – and rewards – around nutrition have evolved, for the better. This means you have better options for nutritious, delicious meals, more often.
Buy: The Vitality HealthyFood benefit incentivises members to buy healthy foods, specifically choosing more whole, unprocessed foods that are lower in salt and sugar. (The recommendation is 6 – 12 tsp a day of sugar and under 1tsp a day of salt)
Cook: Our HealthyFood Studio aims to inspire South Africans to prepare delicious food at home more often, using raw, whole, unprocessed and seasonal ingredients, and healthy cooking styles.
Eat: The Vitality HealthyDining benefit rewards members for choosing healthier options when they out or buy take-aways via our restaurant partners.
Why: "The latest evolution of the HealthyFood benefit is a combination of clinical evidence and behavioural economics that aims to address the global epidemic of chronic diseases of lifestyle which are plaguing society. It is grounded in research that shows that people can make a significant impact on their health by changing their lifestyle and their buying behaviour," says Nossel.
Step 1… Buy (better): The Vitality HealthyFood benefit
Vitality's HealthyFood benefit rewards members up to 25% cashback for purchasing healthy foods at Woolworths and Pick n Pay. Through the HealthyFood benefit, Vitality aims to enable members to make better decisions and take effective action in making healthier food choices, optimising their nutritional status and overall health.
The benefit aims to shift member behaviour to purchase more healthy foods and consequently less unhealthy foods.
"In a world in which the average person is surrounded by unhealthy food choices on a daily basis, it's important that people are empowered to choose to enjoy a variety of minimally-processed foods and ensure that healthy eating is given appropriate attention each day. We should all carefully judge diet, food, and drink advertisements and promotions within the context of healthy eating. And, more importantly, we should focus on preparing our own food, learn to enjoy cooking, and limit junk-and fast-food intake," says Nossel.
Discovery Vitality will continue to review and update the HealthyFood catalogue in line with this thinking. The benefit supports you to apply the following top 5 tips to change the way you shop:
Always include fresh or frozen vegetables and fruit in your basket.
Choose breakfast cereals, breads and crackers lowest in sugar and sodium (salt) and highest in fibre.
The less processed food is, the better.
Opt for fresh fish, as smoked fish can contain up to 23 times more sodium (salt).
Canned beans, lentils and chickpeas in brine are a quick and easy way to up your legume intake. They can be drained and rinsed to easily remove excess sodium (salt).
How are food groups classified?
Healthy foods: Minimally processed or whole foods that are nutrient-dense and low in added sugar and/or salt (sodium). When a variety of healthy foods are combined, they create a diet which promotes good health.
Unhealthy foods: Unhealthy foods and drinks are highly processed, high in added sugar, and/or sodium (salt). These foods are characteristically energy dense and nutrient poor which, if eaten in excess, can be harmful to health.
Neutral foods: Neutral foods still have a place in a healthy diet depending on the portion consumed as well as ones age, health status and exercise habits. Members are not rewarded or penalised for choosing them and within this category, members are still encouraged to make the healthier choice.
Results – Members engaged with the HFB shift their purchasing behaviour
↑29% Increase in amount of fruit and veg purchased
↓33% Decrease in amount of sugar purchased
↓31% Decrease in amount of salt purchased
Step 2… Cook (more often): The HealthyFood Studio
Teaching basic cooking skills and encouraging people to cook more often are crucial to support healthy eating habits.
Vitality's HealthyFood Studio teaches both children and adults how to transform whole, unprocessed and seasonal ingredients into easily-prepared, appealing, delicious, and nutritious meals. Launched in 2016 and based in Johannesburg, the HealthyFood Studio runs in partnership with Woolworths and the Prue Leith Chefs Academy.
In line with our philosophy to be a force for social good, Vitality has collaborated with the Nelson Mandela Foundation to support the nutritional needs of children. Early Childhood Development practitioners operating in townships and informal settlements provide 2-3 daily meals to children that attend their centres. Despite being so involved in what children consume, people who prepare food at these centres do not receive any training on nutrition nor food preparation.
Vitality are launching a project on 30 July to train 400 Early Childhood Development practitioners to prepare affordable nutritious meals for the children in their care, as well as drawing from research conducted by Vitality, to provide awareness about malnutrition in infants and children and how to curb it. These practitioners will be from mainly township and informal settlement areas in Gauteng and the North West.
And now:
Step 3… Eat (better): The Vitality HealthyDining benefit
"We're very aware that, in the past, families often ate meals together and, in general, consumed home-cooked food in reasonably-sized portions. Today, it has become increasingly common for people to eat meals (say, bought from a drive-through window or convenience store) alone, while driving or distracted, and for prepared meals to be brought into the home in place of home-cooked, healthier foods," explains Nossel.
"And, as much as Discovery Vitality's focus is on encouraging the better dietary choices, particularly through the purchase of healthy foods to be prepared at home, we also recognise that many people consume convenience and fast-food meals. This why Vitality, in partnership with Uber Eats, launched our HealthyDining benefit," he says.
"HealthyDining encourages members to improve the nutritional quality of their meal choices when ordering in and eating out. We aim to make the healthy choice the easy choice. Eating away from home does not have to equate to unhealthy choices – with the newly launched Vitality HealthyDining benefit we aim to further empower our members to make their health a priority (and save money while doing so), even when eating out or ordering in."
"The goal is not to be purist in recommending better menu options, but instead to be realistic and guide members at every point at which they consume food, in order to more effectively encourage healthy eating as a whole," says Nossel.
Using the HealthyDining benefit
Users can order and pay for a qualifying healthy meal from selected partners (Col'Cacchio, Doppio Zero, Nando's and Ocean Basket) and earn cash back (between 10 and 25% for adults and 50% earned on all kids' meals).
Find out more about the new Vitality HealthyDining benefit here.
Buy

(better).

Cook.

(more often).

Eat

(healthier).
Related articles
Why your kids need healthier options when eating out
The typical kids meal at restaurants is generally just one that's half the portion size of an adult meal, with a fruit juice and occasional plastic toy thrown in. But with obesity rates of South African kids rising, here's why that needs to change.
Technofoodology: How is technology shaping your food future?
Welcome to Technofoodology – technology profoundly changing the way in which we interact with food. Will it boost us into the #superhealth stratosphere and get us eating whole, natural foods again, or will it make us #supersick&lazy? It's up to you.
How to entertain and eat out the healthy way
In our third edition on nutrition and woman's health, we delve into a few small but sensible habits that can make a huge difference to your health. Here is how to entertain and eat out the healthy way.