Discovery Bank Launch
September 2021
At Discovery Bank we continuously strive to bring clients cutting-edge functionality to make banking with us seamless, convenient, and rewarding. It's the Future of Banking. Now.
Strong growth and a focus on
shared value frames our performance to date
Discovery Bank has shown tremendous growth since its launch, with over 377 000 clients and approximately R8.4 billion in deposits. Discovery Bank has been the fastest growing bank by deposits in South Africa in 2021 and is now the seventh-largest bank by deposits.
Discovery Bank remains at the forefront of digital innovation by launching innovations such as Live Assist - a first in South Africa, which allows clients to get real-time help on their app.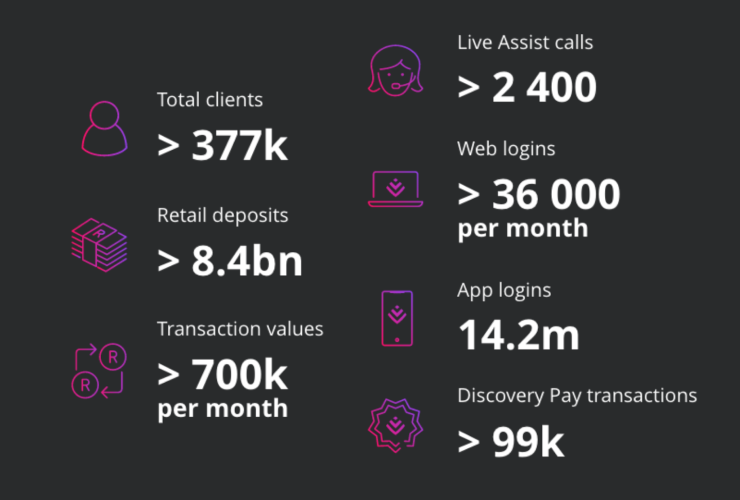 Discovery's core purpose is to make people healthier and enhance and protect their lives. There could not be a clearer manifestation of Discovery's core purpose than in Discovery Bank. Our shared-value model and world-class digital capabilities support clients to improve their financial wellbeing while also making their lives easier.
Our shared-value model is proving effective. Clients on Gold and Diamond Vitality Money status have a 99% lower chance of defaulting and have 17 times higher deposits. This translates into market-leading rewards across every element from interest rates to lifestyle rewards and discounts.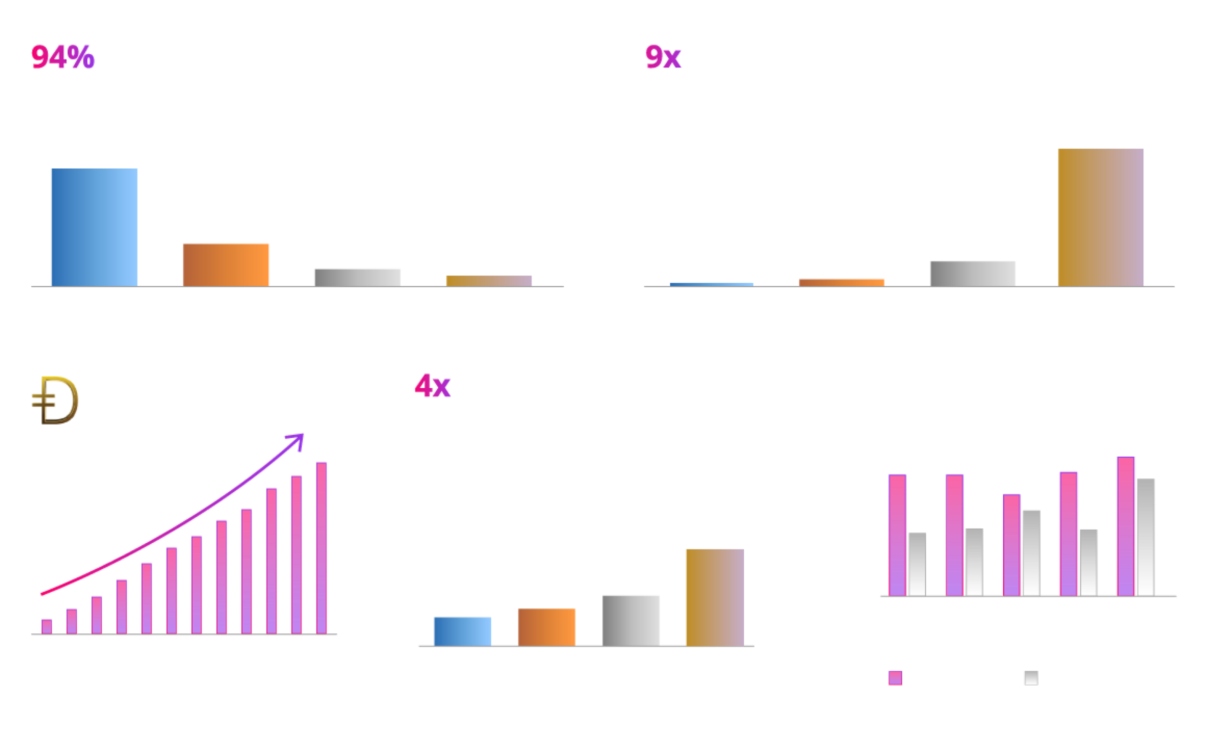 The global fintech landscape is growing exponentially in five key but fragmented categories
More fintechs went public during 2020/2021 than the previous five years combined. Growth has come from five clear categories, however capabilities remain fragmented. Discovery Bank's product enhancements coalesce these five categories for the first time in a single app.
Investments, trading and e-currency
Cryptocurrencies and e-currencies have gained remarkable momentum in the past few years. Blockchain, the technology they rely on, proves to be robust, secure and scalable. Over Bitcoin's history, it has undergone rapid growth - approximately 84% a year - to become a significant currency that is being increasingly recognised globally.
Digital currency has been gaining so much attention that some central banks across the world are piloting projects to host their country's official currency in digital wallets. The pilot projects show promise, which has led to even more central banks exploring the opportunity.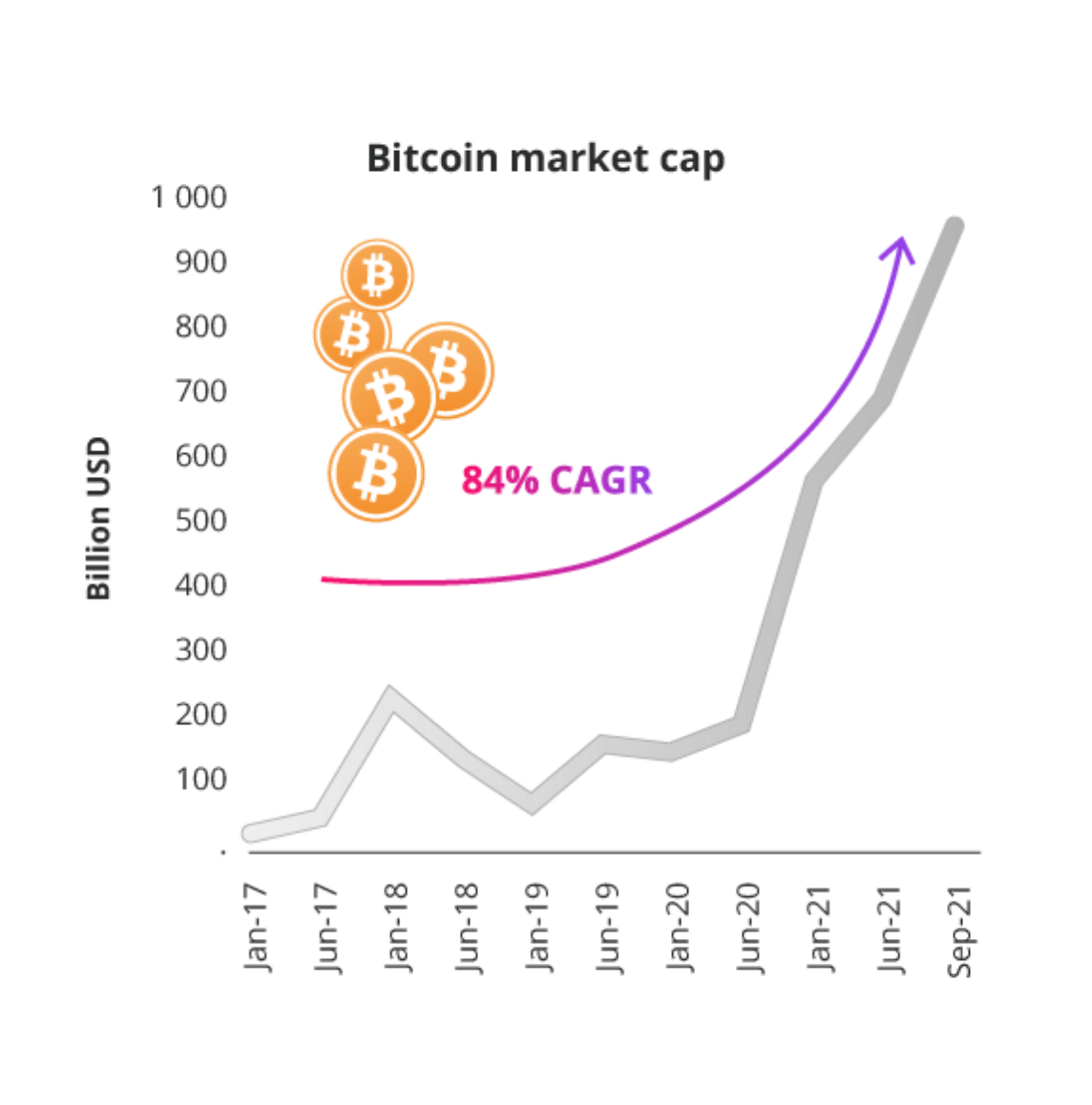 Behavioural rewards
As the world economy reopens, rewards are becoming more relevant to consumers. They're seeing the value that they receive from their rewards and behaviour change programmes. Miles D-Day has established Discovery Miles as the most valuable rewards currency in South Africa. Discovery Bank clients spent more Discovery Miles on Miles D-Days than they did on Black Friday - the biggest shopping day in the world. Travel rewards and discounts are also becoming increasingly important as consumers want to resume travelling and domestic travel starts surging across the world.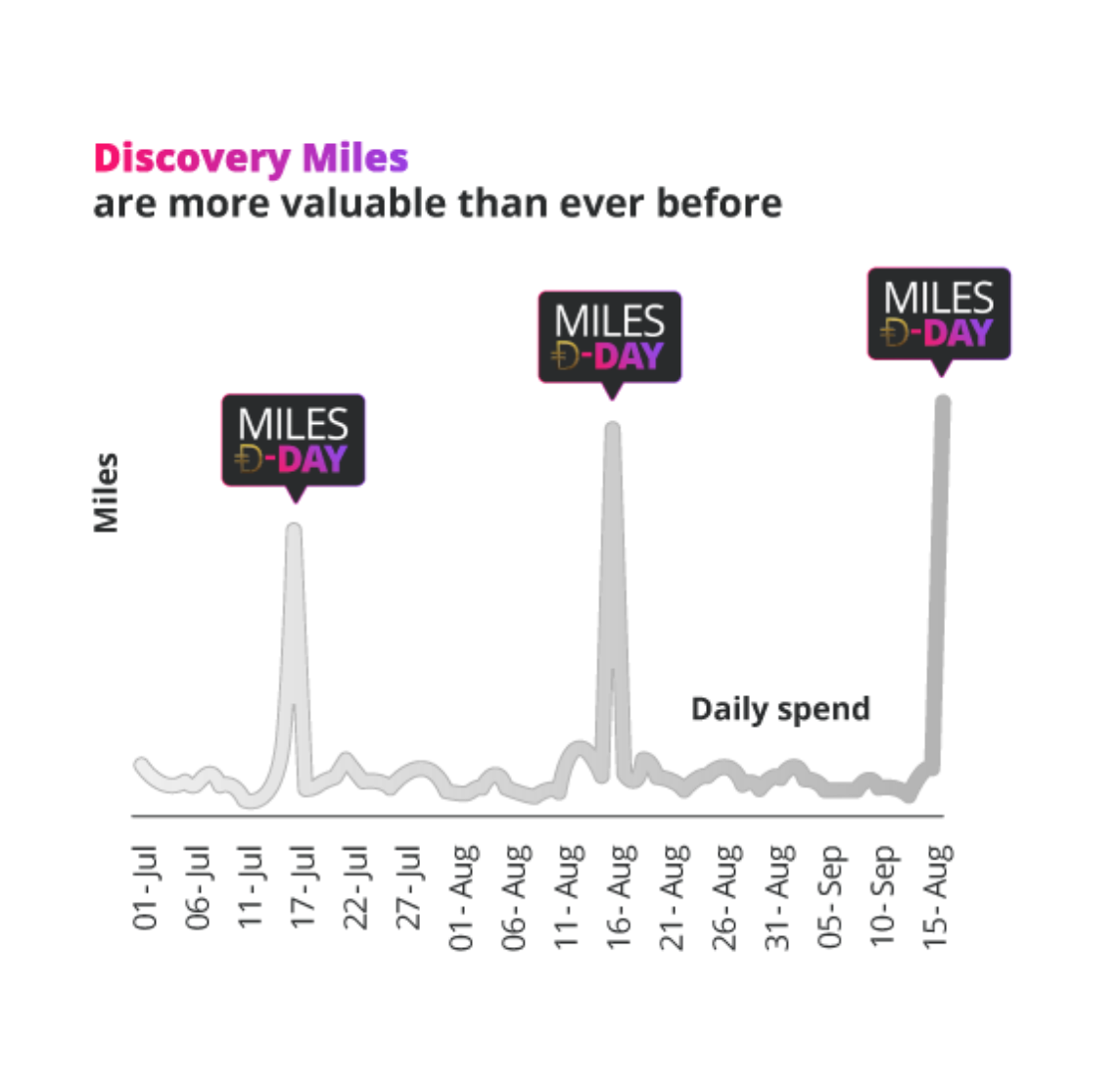 Digital and online

payments
Digital payments have increased dramatically during the pandemic and are here to stay. Signs of a move to more robust digital payment methods were evident before the pandemic, but as the lockdown restrictions increased, consumers were forced to buy more online. This adoption of digital payments has become permanent. Contactless payment methods also increased significantly for safety and health reasons.
As restrictions eased, growth in real-time clearance payments, online spending, and mobile payments remain strong and are showing resilience against traditional non-digital payment methods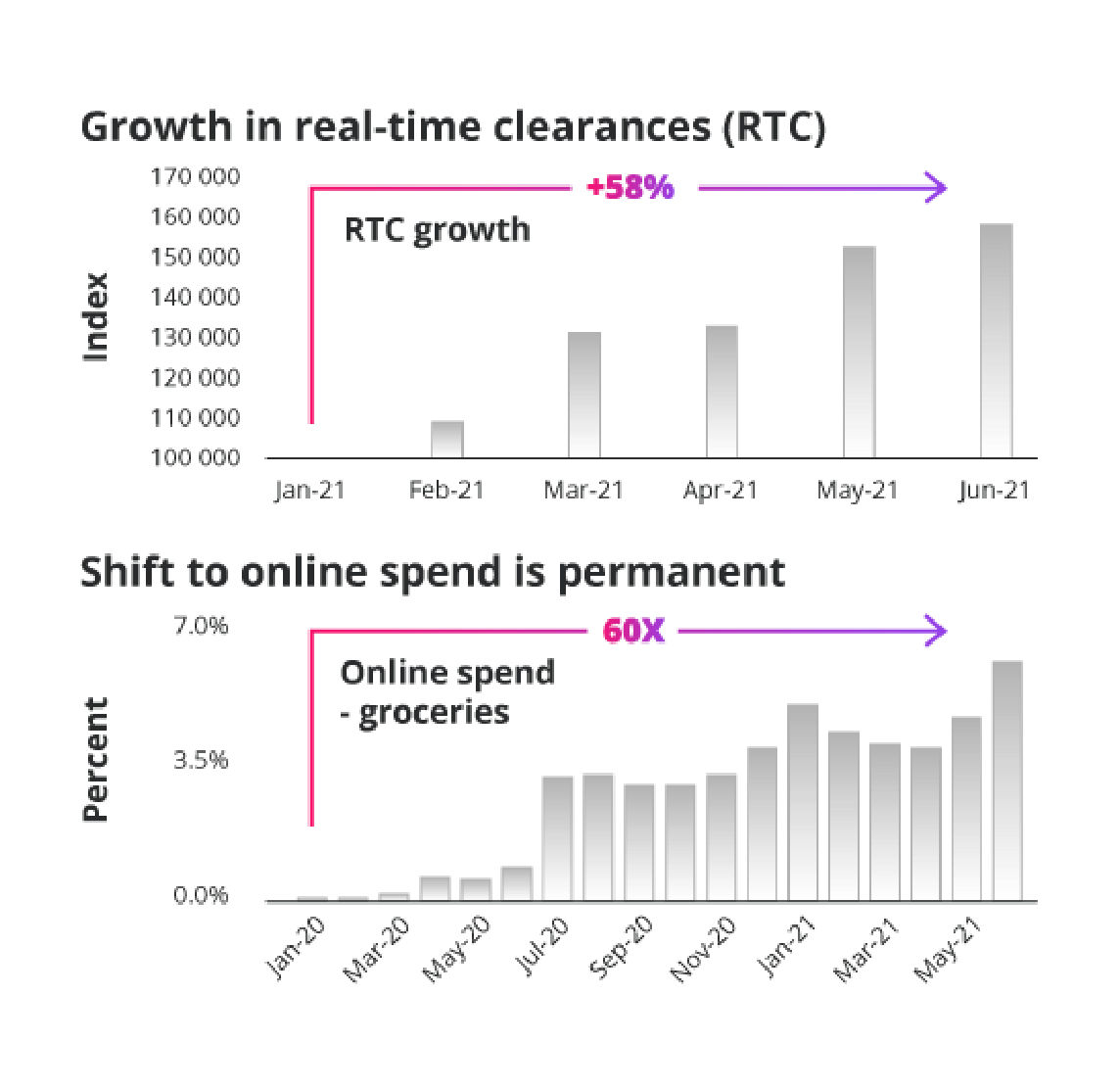 Data and
advice tools
Big data, machine learning, and artificial intelligence (AI) are driving the finance industry towards digitalisation. With the help of big data analytics, companies aim to offer improved customer services which, in turn, can help increase profits for their businesses. Businesses within the Discovery Group have collected and processed over 50 terabytes of data in a continuous effort to enhance our service offering to clients.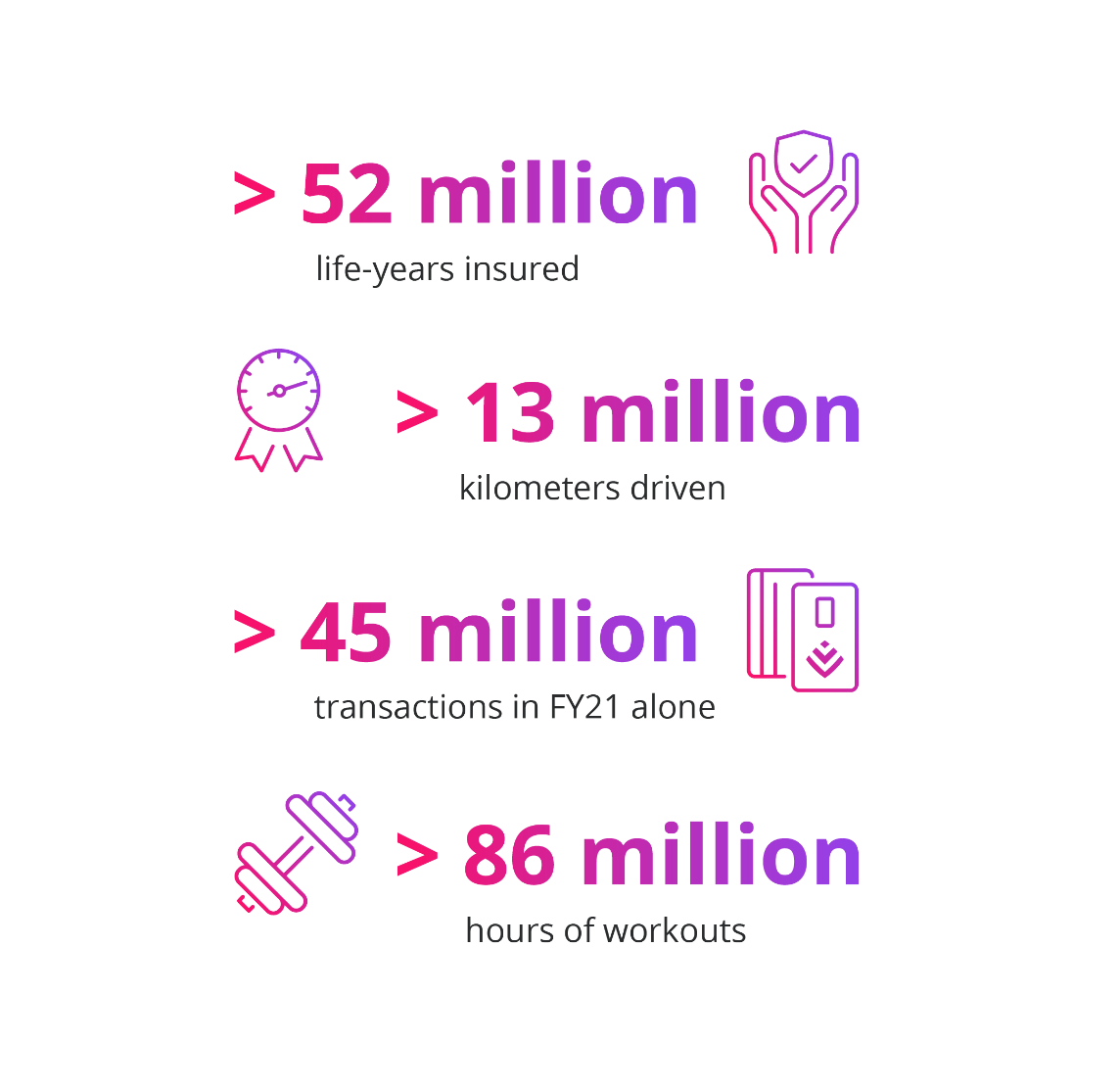 Platforms and ecosystems
With the adoption of e-commerce and digital payment methods growing, mega apps have become a global phenomenon. Globally, we see mega apps leading the markets. Chinese-based Tencent Holdings Limited's mega app, WeChat, has reported over 1 billion active monthly users, and continues to grow rapidly.
Discovery Bank is in a prime position to offer clients a mega app experience, creating a platform for all Discovery products.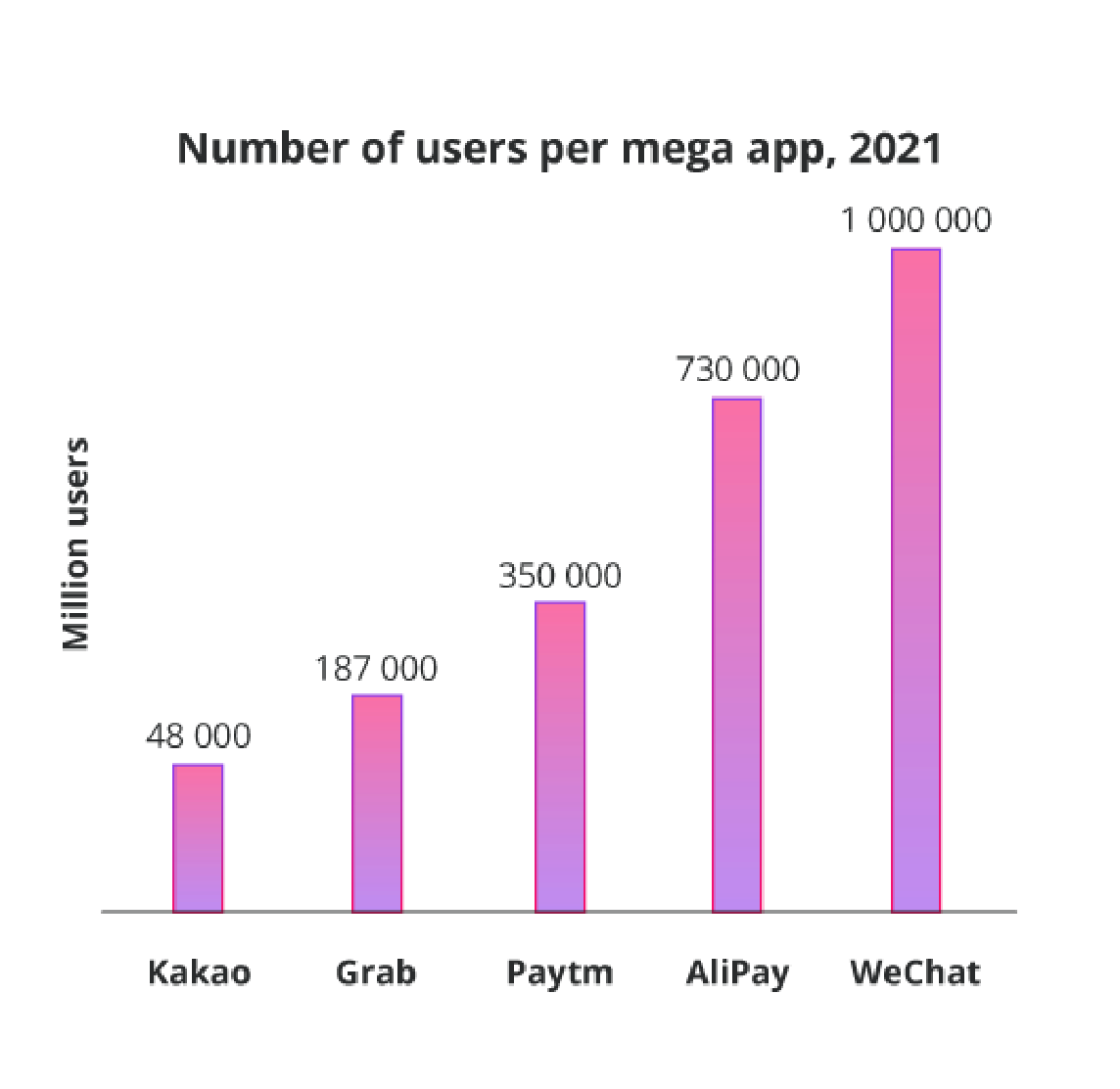 Foreign currency accounts
The new Discovery Bank Forex Account allows clients to easily transfer, save and transact in US dollars, Pounds and Euros.
Clients can open an account in just three easy steps, and can start transacting immediately. They can add a smart virtual card to their accounts and make purchases in any of the three major currencies using just one physical debit card.
There are no fees for transfers between their ZAR (rand) account and their GBP, USD, or EUR accounts. Exchange rates are quoted in real time and without any conversion fees. Clients can also manage their foreign currency allowances for transactions made through Discovery Bank.
The ability to make and receive international payments has also been extended to all clients with transaction and credit card accounts.
All this through the Discovery Bank app.
Share trading
Discovery Bank has partnered with EasyEquities. Clients can now link their existing EasyEquities account to Discovery Bank. They can:
See a full view of all EasyEquities shares locally and internationally
Buy, sell and store shares in the EasyEquities app, and immediately see these changes and transactions within the Discovery Bank app. Best of all, clients will automatically earn Vitality Money points for their investments through EasyEquities once they have linked their account in the Discovery Bank app.
The Vitality Money Financial Analyser
The Vitality Money Financial Analyser gives clients the insights to manage their money well and get the rewards they deserve. It uses advanced analytics to show clients comprehensive and personalised financial information about their income, savings and spending habits.
The Vitality Money Financial Analyser allows clients to:
Get a simple, real-time view of their finances
Categorise their expenses into more than 160 categories
Create personalised segments
Use multi-level budgets with intelligent insights and regular alerts on how they're doing.
Clients can boost their Vitality Money status and get up to 5 000 additional Vitality Money points by setting up their Vitality Money Financial Analyser budget and sticking to it.
Credit based on investments with Discovery Invest
Clients can enjoy the benefits of a structured credit facility of up to R5 million with Discovery Bank with the backing of their existing Discovery Invest investments. They won't give up their investments or pay penalties or taxes. You can request securitised credit when onboarding a client to Discovery Bank or convert their existing facility if they already have one with Discovery Bank.
Clients receive a Black or Purple Discovery Bank Suite and are eligible for full rewards and benefits.
Vitality Travel
We've enhanced our travel rewards, and clients now get:
An automatic minimum 10% discount on local, regional and international flights, accommodation, car hire and travel packages for Suite, credit card and transaction clients
Boosted flight rewards of up to 75% on flights with Vitality Health and Vitality Money
Even more flights with up to six one-way local or regional flights and two international bookings a year
Boosted accommodation and car hire discounts of up to 25% and 15% off all travel packages and deals
Exclusive access to travel packages and deals.
We've developed an all-in-one convenient, digital travel experience that allows clients to:
Explore travel deals and book their entire trip, including flights, accommodation, and car hire - with a convenient single basket checkout
Pay securely without leaving the app using their Discovery Bank card or Discovery Miles
Access all their important travel documents like boarding passes, travel itineraries and even passports and visas
See their current travel insurance cover and purchase top-up cover
Open a Discovery Bank Multicurrency FX Account and transfer funds immediately into their GBP, USD, or EUR account, then add a virtual card and easily transact on their trip without having to carry any cash
Skip the queues with Discovery Bank Priority Fast Track.
Discovery Bank app enhancements
We've updated the Discovery Bank app with many additional features. Among these features are AI-driven push notifications, which alert clients of any transactions or activity on their accounts. This includes intelligent notifications from the Vitality Money Financial Analyser on how they're tracking against their budgets.
We've enhanced Discovery Pay
First, we brought clients Discovery Pay to give them the ability to pay other Discovery clients using just their cellphone numbers.
Now, we've enhanced Discovery Pay to include:
Seamless co-payments at pharmacies, hospitals, laboratories, and over 6 400 doctors across the healthcare system
Pay as you Gym access for Vitality Health members
Giving DHMS and Vitality members access to the Discovery Bank app and features
Now Discovery Health Medical Scheme and Vitality Health members can get access to Discovery Pay. All they need to do to activate Discovery Pay is download the Discovery Bank app and they'll get access to additional benefits including Vitality Money, Discovery Miles and Vitality Travel.
Members will:
Receive a free virtual card
Earn Discovery Miles for their HealthyLiving rewards and completing their Active Rewards goals
Get up to 30% discount when spending their Discovery Miles within our partner network.
Get all the features of the new and enhanced Discovery Pay.
Members also get access to Vitality travel:
Discovery Health Medical Scheme members get 10% off airline tickets at participating airlines
Vitality Health members get up to 35% off airline tickets with participating airlines.
Shared-value rewards stack for DHMS members

Shared-value rewards stack for Vitality members

Compare bank accounts
across South Africa
See how Discovery Bank compares to competitor banking products in just a few clicks.
The new Discovery Bank competitor comparison tool compares over 50 bank products across South African banks, and will give you and your clients an easy-to-understand comparison across:
Rewards and partners
Positive balance interest rates
Transaction fees
New Leads Suite
campaigns available
We've been hard at work creating new Discovery Bank campaigns with prioritised client leads that you can use to identify priority Discovery Bank sales opportunities. Request your new Leads Suite campaigns directly from the Financial Adviser Zone.
Current campaigns include:
HealthyFood and HealthyCare boosted rewards for engaged Vitality Health members
Previous Discovery Card upsell to Discovery Bank credit card products
When you can
expect all these great features
| LIVE | Q4 2021 | 2022 |
| --- | --- | --- |
| Vitality Money Financial Analyser | Discovery Bank Multicurrency FX Account | Share trading with EasyEquities |
| Push notifications | Additional credit with Discovery Invest | Discovery Pay account |
| Discovery Bank competitor comparison tool | New Leads Suite campaigns | Enhanced Discovery Pay |
| | | Vitality Travel |