Have you asked our new chat bot a question yet?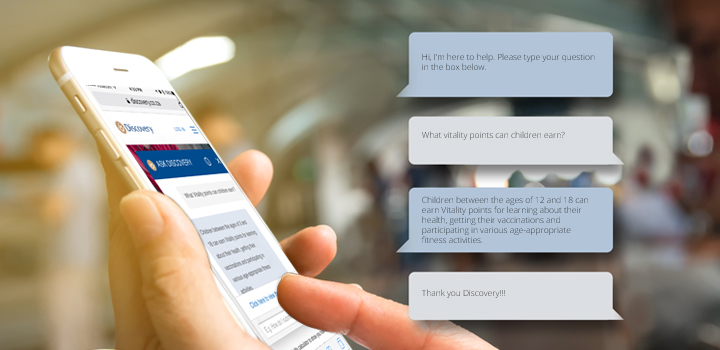 Discovery is taking self-service into the future with the launch of Ask Discovery, our chat bot powered by artificial intelligence. You can now ask all your Discovery product-related questions, including your Vitality questions, in your own words and receive an immediate automated response.
How will Ask Discovery help you?
You get answers more quickly
You can refine your searches
You get to know our website and what it has to offer
You no longer have to wait in the call centre queue
How does Ask Discovery work?
Ask Discovery is available as a chat box on the Discovery website and as part of the website search function. When needed, you can expand the chat box or site search to ask your questions.
Ask Discovery will respond with a short answer and links to more details. The response will also include links to related answers, as well as a list of the top questions being asked that day. You'll be able to rate the answer as helpful or not and this feedback will help us to improve our content.
What information will Ask Discovery provide?
For now, Ask Discovery will provide general information about products and processes. We're working on future versions to give logged-in users personalised policy-related information. Eventually, users will also be able to use the platform for their transactions with Discovery.
We're offering this world-class digital experience to make sure you get the best self-service. Try out Ask Discovery for yourself and remember to send your feedback to AskDiscovery_Feedback@discovery.co.za so we can improve our service!
Did you know?
The world's first chat bot was ELIZA, named after the female lead character in George Bernard Shaw's famous play, Pygmalion. She was created in 1966 to act as an empathic psychologist.
The most famous and used bots today, are Amazon's Alexa, Apple's Siri and Google's Assistant (activated by saying "Ok Google").
"Hi" and "Hello" are the two most popular ways to start a conversation with a chat bot!
Some Ask Discovery stats...
Since we launched Ask Discovery on 13 June 2017, our users have asked 305 000 questions, averaging 4 800 questions a day.
106 000 people have used Ask Discovery and we have 1 500 new users every day.
The most common questions received to date are "How do I get my tax certificate" and "How do I find a doctor".