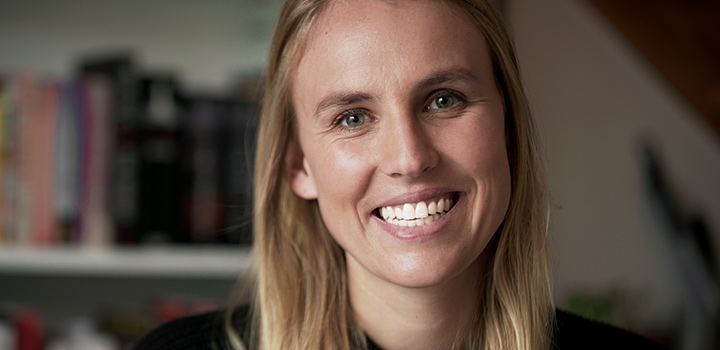 Driven by her high-pressure job, Amy Rabie, 24, believed long hours were the cause of her tiredness, headaches, constant thirst and blurry vision. Little did she expect she had life-threatening Type 1 diabetes.
In April 2017, while working at Cape Town's Foreshore, Amy Rabie was offered a Vitality Health Check at her employer's Wellness Day. "I viewed it only as an easy opportunity to earn valuable Discovery Vitality points - nothing more," she says. "Nobody had ever before tested my blood sugar levels." Her reading was alarmingly high. "I had no idea what a blood sugar level of 24mmol/L meant, because I felt like I normally do - in other words, fine," she recalls. Amy was advised to see a doctor right away but she didn't understand the insistence. Discovery Vitality later followed up with an SMS emphasising the need for her to see a doctor urgently.
Watch Amy tell her story in her own words or read the article below
"My blood sugar levels were more than five times above the normal range (4mmo/L to 7mmo/L)," she says. "I happened to have a routine check-up with my family GP scheduled in my home town of Worcester, Cape Town, the next day, so I stayed calm." Amy was in fact only casually mentioned her results to her GP as she was leaving his rooms.
"He asked me how high the levels actually were and I told him, not knowing what they meant. He literally paled and began to sweat. He tested my blood sugar and ketone levels. My blood sugar level had risen to 34mmol/L. My blood was like treacle. Clinically I should have been in a coma, but I felt fine - well, the usual kind of fine, given that I'd got so used to being tired, thirsty and headachy over the past 12 months," she explains.
The GP called her mother, a local audiologist, asking her to take Amy straight into hospital. "I told him I was running a national campaign the next day and asked, do we have to do this now?" she recalls. His answer was unequivocal.
No easy explanation for Amy's type 1 diabetes diagnosis
"It seemed that everybody was freaking out unnecessarily. During a hospital nursing shift change that night and while awaiting my HbA1c (glycated haemoglobin) blood tests, I overheard some nurses discussing my chart. They were whispering, asking how I was still alive, why I hadn't slipped into a coma. I guess that, my final confirmatory diagnosis of my Type 1 diabetes, and a visit from a long-standing Type 1 Diabetic friend, convinced me this was actually serious," Amy adds.
Amy had experienced no illnesses or traumatic experiences that might have brought it on. "Frustrating as it was not knowing the cause, I decided - either I handle it or things can go really sour. It was sink or swim; so, I swam," says Amy. It was a relief to have a diagnosis and an explanation for what had been causing her protracted, debilitating symptoms. "It was like, Ha! I'm not making this up. I knew something was wrong," she adds. Amy is the first to admit that Type 1 Diabetes is no picnic. Her diabetic friend warned her it was like a fractious one-year old child that never grows up; tantrums and moods the one day, happy the next.
She started putting herself and her body first. Although fairly fit, having played provincial tennis at school, being a hockey goalie and a swimmer, she now turned her attention to yoga and cardio training. Within two years she'd reached Diamond Vitality status.
Handling Type 1 diabetes - Amy's approach
Amy has a continuous glucose monitor that gives her constant real-time readings of her blood sugar levels. Her glucose monitor needs calibrating in the morning and evening. Once a fortnight she changes the needle/monitoring pod plaster from the left to the right-hand side of her stomach. It's linked to her cell phone - and her mother's and boyfriend's phones too. Apart from her phone, she has a blue tooth-connected reader that has a four-day battery life, obviating the need to have a constantly-charged cell phone. She finds the cell phone a bit pesky when her boyfriend in Johannesburg or her mum in Worcester get automatic alerts as her blood sugar levels fall - and call to ask if she's eaten. "But it's actually great if you live alone, which I do in Cape Town - you can imagine the danger; if I fall unconscious, without that safety net I could actually die."
She has two insulin preparations for injecting with a painless pen; the one long-acting, lasting for almost 24 hours, and a short-duration one for what she calls all the low-insulin bumps. She explains that this happens at meal or snack times when her blood sugar levels spike (for every 15g of carbohydrates, she injects one unit of insulin). Amy likens the long acting insulin to a slow air-conditioner that hums in the background, just cooling the room to keep you comfortable. She tries to keep her snacks below the injecting line (i.e. less than 15g carbohydrate content).
"I can't believe how much energy I have again. I don't feel tired and vaguely sick any more ? I'm back to my old self, she enthuses." She's on a low carbohydrate diet, gyms every day and sticks to low-GI food. She tries to drink mainly water and uses Xylitol as a sweetener. She avoids white wine and sticks to the occasional whisky or gin and sugar-free tonic at parties.
Asked if she's had any scares, she recalls only one amusing episode where she woke up and ignored a low sugar level alert, deciding to quickly shower and grab a bite to eat before injecting and starting her studies. She later found she'd only partially dressed, while putting the rest of her clothes into her wash-basket with her pyjamas. "The combination of clothes I had on was hilarious, plus I had mismatched socks and my hair was a complete mess! Your thoughts and actions no longer match and you get a bit disoriented," she explains.
Taking a 799km hike in Chile while handling her diabetes
Having quit her high-pressure job and graduated in December 2017, she's currently doing her post-graduate teaching internship at her home town high school in Worcester. She took some time off after graduating to walk the 799km Camino de Santiago in Chile with her boyfriend, proving several friends concerned at the risk posed by her newly-diagnosed diabetes, spectacularly wrong. "It wasn't easy, with my backpack filled with medical supplies, I was a walking, talking pharmacy. The continuous glucose monitor on my body chafed so much I stopped wearing it and resorted to manually checking my sugar levels and short-term insulin injections. I got by with that and eating bags of sweets. I wanted to prove to myself that I can do whatever I want so long as I'm careful and prepared."
She's very grateful for the Vitality Health Check that probably saved her life. She also loves to exercise and earn her weekly Vitality Active Rewards which allow her free popcorn at movies and free smoothies at gym, not to mention her 35% discount (thanks to her hard-earned Diamond Vitality status), on Kulula flights that enable her to regularly see her boyfriend in Johannesburg.
All her hospital bills were covered by her Discovery Health Medical Scheme health plan. Amy adds: "I don't think we fully understand the value of a medical aid that persuades you to do medical screening tests. It's a huge thing. It saved my life."
The Discovery Health Medical Scheme is an independent non-profit entity governed by the Medical Schemes Act, and regulated by the Council for Medical Schemes. It is administered by a separate company, Discovery Health (Pty) Ltd, an authorised financial services provide
Early detection with the Vitality Wellness Assessment
Preventative screening is important to make sure that medical conditions are detected early. As a Discovery Health Medical Scheme member, you have access to screening and prevention benefits at any one of our wellness providers.
Diabetes and exercise: how, what, when and why
If you're diabetic (or nearing it), you've no doubt heard that regular exercise can reduce your risk. If you're not sure what it entails, here are answers for all your FAQS about exercise!