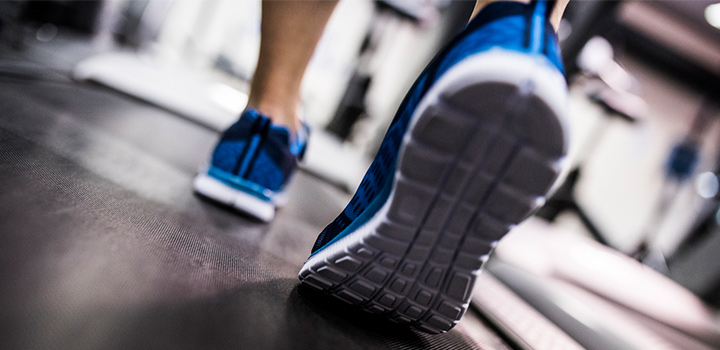 Vitality Weight Loss Rewards is a weight-loss journey that aims to help you lose weight in short, manageable cycles until you reach a healthier weight. You earn rewards for participating and for reaching goals. This is Sean Venske's story.
For Benoni construction site health and safety officer, Sean Venske, 42, Christmas and New Year of 2016/17 were not very much fun. At 132kg and morbidly obese, his joints ached, he had permanent pain in his right knee and he couldn't walk without feeling out of breath.
Sean is married to Lydia, a colleague in his profession and raising two children, Nicholas, 11, and Brandon, 8. His sedentary lifestyle and eating habits, both at work and home, began seriously impacting his health. By January 2017, he was emotionally at rock bottom, avoiding restaurants or socialising with anybody but his closest friends and family. Sean, was, as his GP put it, suffering from a general malaise.
"I'd had two rough years emotionally and financially and with that stress on top of my weight, my health took quite a knock. I had no will left to deal with the weight. It was literally a case of do something now or put it on hold and wait to die," he says - dramatic words, but very close to the truth.
When heart palpitations started in mid-2016, he went to see his GP who hooked him up to an electrocardiograph and told him he was at risk of a heart attack. Then, when he did a cholesterol measure during a Vitality Health Check early in 2017, it showed his cholesterol was elevated. "My body was starting to tell me that I was pushing my luck," he says.
Three Vitality Weight Loss Reward Cycles, back to back
Being overweight was not unusual for Sean. He's struggled with this all his life and some 15 years ago he managed to lose 40kg - but soon put it on again. That common companion of morbid obesity - low self-esteem - was something he had learnt to endure. His wife Lydia, also struggling with weight, joined the Curves women-only gym in October 2016. Through hard work and determination, she started shedding weight. In retrospect Sean believes his innately low blood pressure was the only thing that kept him from suffering some debilitating or fatal health event. He knows this because as a regular blood donor, he had his blood pressure checked monthly, and it stayed fairly normal. However, seeing Lydia take the bull by the horns got him going. "It made me realise that I must keep up or I'll fall by the wayside," he says.
In February 2017 he began doing Weigh-Less and continued for nearly three months with some success - until he came across Vitality Weight Loss Rewards (WLR), in mid-April that year. Then, so motivated at having come down to 113 kg (from 132kg), especially having been rewarded with up to 50% in Vitality HealthyFood cash back on his grocery purchases, he reached his first cycle goal of 109 kg in nine weeks, (on June 27th). This was three weeks short of the recommended 12-week cycle, also earning a bunch of Vitality Active Rewards points in the process. He immediately began a second 12-week Vitality WLR cycle on June 27th, (starting at 109kg), and had reached his 100kg goal weight by September 16th - two weeks short of the 12-week cycle. (Vitality recommends losing a maximum of 1kg per week as part of a safe weight-loss journey). On a roll, Sean began a third cycle two days later and had reached 97.4kg after three weeks - and then spoke to Vitality to share his story.
His lifestyle has changed completely, what he calls a 100% turnaround. He's exercising every day, eating properly and going out regularly with his kids. Sean is trying out free weight training, using his own body weight to get his muscles toned up. He's back eating the right amounts of the right food groups.
Before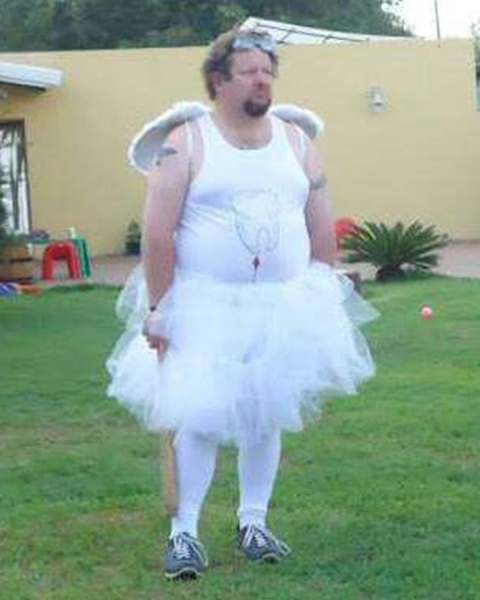 Sean clowning around before
joining Vitality Weight Loss Rewards
After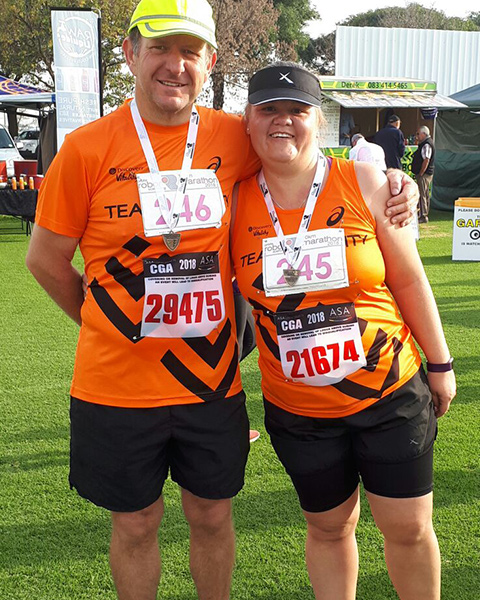 A proud Sean after completing
three cycles of Vitality Weight Loss Rewards
Tapping into the numerous Vitality benefits
Now exceptionally motivated, Sean says the weekly self-tracked weigh-ins and verified weigh-ins at the end of his cycles is just the right medicine to continue improving. "Also, Vitality congratulates you in so many ways," he enthuses. "Vitality Active Rewards are working for me. I'm logging my steps on my daily walks which keep me on the straight and narrow. The HealthyFood cash back benefit is a major financial windfall at the end of every month," he adds, having achieved a 50% discount on all healthy foods for his three months on Vitality WLR. He reports that his family's joint status on their Vitality membership has soared to Silver and because of the concomitant flight discounts on Kulula, they now use this airline regularly.
"It's been quite an eye-opening experience to utilize Vitality to its potential. As soon as my weight is under control I'm going to start parkruns and use the ShoeBooster benefit too," adds Sean.
What did Sean think of his WLR experience?
"Considering where I was at the beginning of this year Vitality Weight Loss Rewards has been a tool to turn my life around. I'm really very grateful to Discovery and Vitality for helping me and other people improve their lives and lifestyles."
What is Vitality Weight Loss Rewards?
Vitality Weight Loss Rewards (WLR) is a weight-loss journey that aims to help you lose weight in short, manageable cycles until you reach a healthier weight. You will earn rewards for participating and for reaching your goals.
Find out more about activating WLR and changing your life.
Self-discipline is that much easier with Vitality Weight Loss Rewards
Vitality Weight Loss Rewards just helps you keep going with its encouraging feedback messages and enabling you to track your weight loss. That's very motivating. Once I got into the habit of eating properly and doing all the right things, it changed my way of life. Read Dawn Zaal's weight-loss story.
Vitality Weight Loss Rewards boost CEO's health & fitness journey
Vitality Weight Loss Rewards (WLR) is a weight-loss journey that aims to help you lose weight in short, manageable cycles until you reach a healthier weight. You will earn rewards for participating and for reaching your goals. This is Johan van den Berg?s story.
'How my Apple Watch saved my life'
When Russell Pengelly got his Apple Watch, he planned to use it to get healthier through Vitality. Little did he know it would end up saving his life